Signs of cooperation
The German Federal Foreign Office is showing an exhibition on the central aspects of the German involvement in Mali.
Germany and Mali are connected through longstanding and close cooperation. Germany was the first state to recognize Mali's independence in the year 1960. In the years and decades since, Germany has given advice and support to the country during various stages of its development and has continually expanded its involvement, in particular since 2012.
Germany is helping implement the Agreement for Peace and Reconciliation with projects designed to support the peace and stabilization process. A central aspect for Mali's stabilization lies in supporting peacebuilding and the country's ability to prevent and manage crises. Among other things, Germany supports the UN peacekeeping mission MINUSMA, the EU training mission EUTM as well as the civilian training mission EUCAP Sahel in Mali.
The hand-written manuscripts of Timbuktu
The exhibition "Mali and Germany – partners for peace and stabilization" in the Federal Foreign Office addresses the central aspects of German involvement in Mali. The projects, which are vividly illustrated in the exhibition, range from reconciliation schemes or small arms control to measures taken for the preservation of cultural heritage. This includes the project to salvage Timbuktu's hand-written manuscripts. The Timbuktu-manuscripts, which are hundreds of years old, are among the most important collections of written sources of West African literature. Individual examples are showcased in the exhibition.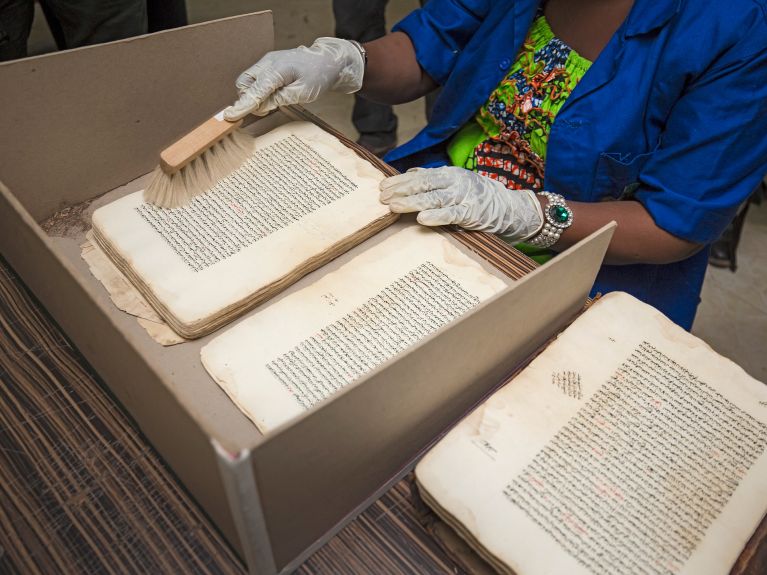 The exhibition is on view in the Federal Foreign Office atrium from 18 October through 30 November, 2017. Opening times are Monday through to Friday from 10:00 a.m. through to 7 p.m. Entrance is free of charge.