"We cannot take a life in freedom for granted"
Holding her father's hand as they walk past burning synagogues – in our interview Charlotte Knobloch explains how she experienced Kristallnacht.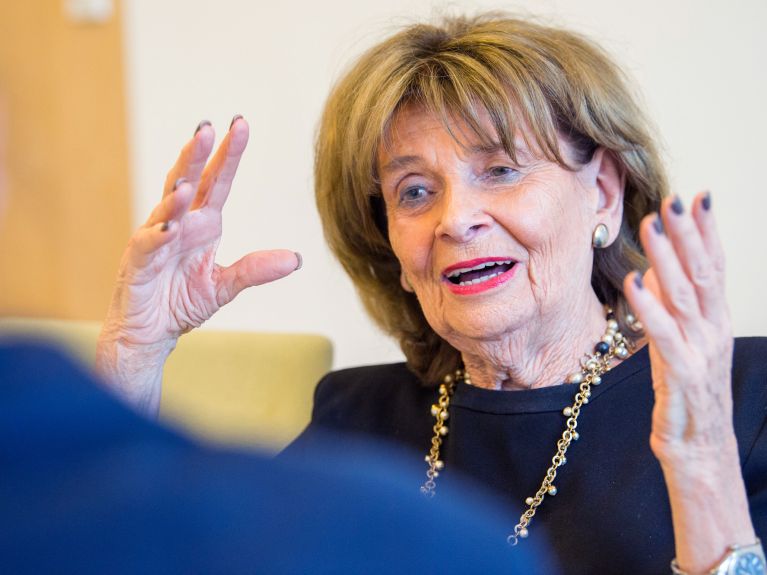 10 November 1938. The day after. Six-year-old Charlotte Knobloch stands in front of the burnt-out synagogue in Munich's Herzog-Rudolf-Strasse. She is crying and feels scared and helpless. On 9 November 1938 the National Socialists call upon people to destroy Jewish businesses and synagogues. By that night, synagogues in Germany are already going up in flames. Shops are looted and Jews humiliated, abducted or murdered. "Kristallnacht", also known as the Night of Broken Glass, marks a new dimension in the persecution of Jews during the Nazi era>.
Charlotte Knobloch was three months old when Hitler came to power. Today she is a well-known representative of the Jewish community in Germany. For more than 35 years she has been fighting for understanding and peaceful coexistence, and fighting against anti-Semitism – currently as president of the Jewish community in Munich and Upper Bavaria, and from 2006 to 2010 as president of the Central Council of Jews in Germany. She was the first woman to hold this office.
As a child, Knobloch experienced the terror perpetrated by the Nazis during Kristallnacht – experiences which have left their mark on her to this day. She explains in an interview with deutschland.de why "never again" must never be just empty words.
Mrs Knobloch, how did you experience 9 November 1938?
We left our apartment in Munich and initially just wandered around in no particular direction. My father felt that it was too dangerous to stay at home, but he didn't want to go to his office either. He feared that the Nazis might be lying in wait for him there. His suspicions were confirmed when he used a telephone booth to ring his office and asked to speak to himself. We wandered around Munich for hours. Eventually we found refugee with friends in a small village outside the city, where we were able to spend the night.
How do you deal with these memories today?
An event such as that which occurred on 9 November 1938 leaves a lasting impression – especially if one has witnessed it as a child. To this day I can remember standing the following day in front of the burnt-out ruins of the synagogue in Herzog-Rudolf-Strasse. I cried bitterly. My school next door had also been destroyed. Having only started school that year, I couldn't believe it. The feelings of fear, helplessness and uncertainty were awful. To this day I have not been able to shake off these terrible memories.
However, I also remember the help we received from strangers, and how strong my father was. Anyone who experienced November 1938 knows that "never again" must never be just empty words.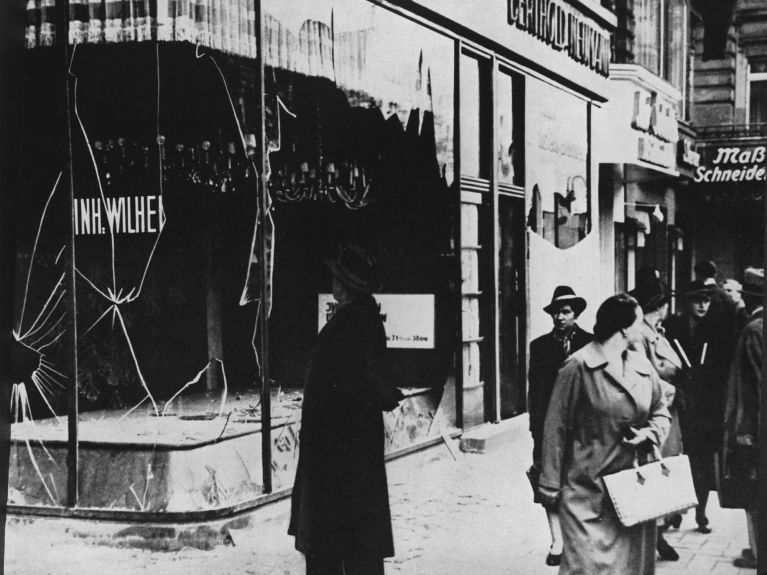 Currently, there are increasing calls once again for a "line to be drawn" under Germany's culture of remembrance. What value does collective memory have for society?
A society that is not aware of where it comes from will not be able to shape its own future. Remembrance should of course not be allowed to become an empty ritual. Remembering should make us realise what we have achieved and why we must preserve what we have accomplished. This becomes even more important as the last surviving witnesses pass away.
For many young people, the horrific crimes committed by the Nazis seem very distant, abstract and therefore unreal – precisely because there are not many witnesses left. How can we reach the younger generation?
In my view, three things are crucial. Firstly, young people must learn about what happened at the time – I am referring here to the facts. It is natural for a person to be indifferent if they do not know what happened.
Secondly, however, some personal connection is necessary because knowledge is often abstract. This can be achieved for example by visiting a concentration camp. This does not work with some people, however, as people are affected emotionally in different ways. If one explains to a year seven pupil that Jewish people were forced to give up their pets, that may not be the same as visiting Dachau, but it does help many to begin gradually understanding the extent to which Jews were stripped of their rights.
And what is the third point?
Thirdly, this must give rise to a sense of responsibility. Nobody from today's generation is actually to blame, yet children and young people should understand that they cannot take their life in freedom and democracy for granted. They will have to defend it constantly – especially against those who question the need to keep memories of the Nazi era alive.