Closer partnerships
Sending a clear signal: Germany's President Steinmeier and Chancellor Scholz travelled to Africa in the same week.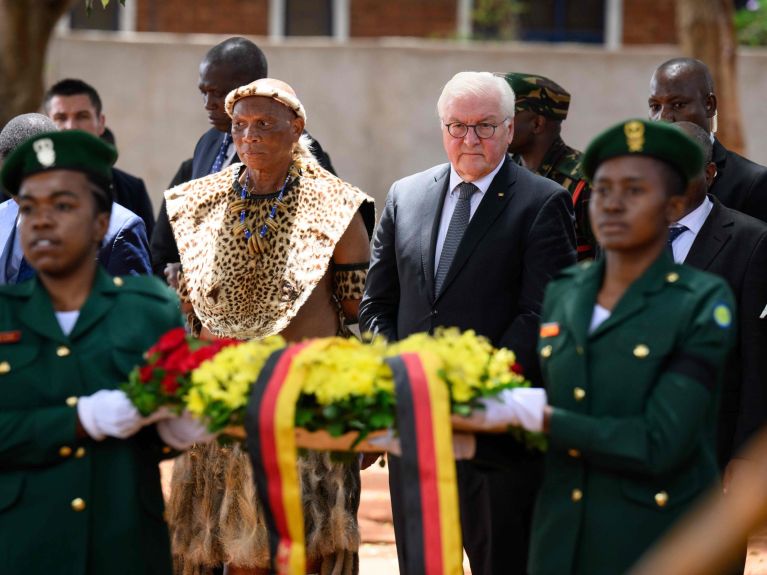 There are 66 names inscribed on the black gravestone in white lettering. These are the names of the 66 people who were hanged and then beheaded in Songea in the south of Tanzania in February 1906. A few metres in front of the mass grave, Germany's Federal President Frank-Walter Steinmeier kneels and adjusts the black, red and golden ribbon tied to a wreath. His head bowed, he spends a long time at the grave.
Songea was one of the main places where the Maji Maji War took place, during which the German colonial rulers quashed a rebellion from 1905 to 1907 in which the population had sought to free itself from oppression, exploitation, forced labour and torture. Tanzania estimates that as many as 300,000 people died in the former German East Africa colony. It was one of the most brutal wars of the colonial era.
Steinmeier asks victims' descendants for forgiveness
In early November 2023, nearly 120 years later, Federal President Steinmeier asks the descendants of some of the victims for forgiveness. "I bow before the victims of German colonial rule. And, as Germany's Federal President, I want to ask for forgiveness for what Germans did to your forefathers," Steinmeier said, his words being met with applause.
Even people in Germany who have some knowledge of German colonial history must still be appalled by the extent of the brutality dispensed by the German colonial forces, the German head of state went on. "It shames me." He also said that the fact he had been invited there was "certainly not something to be taken for granted," and that he was profoundly grateful for this.
Steinmeier promises willingness to address the past
Steinmeier emphasised that Germany stood ready to address this past together with Tanzania. He also said that Germany was ready to return cultural assets and human remains from museums. For some time now, the German government has been increasingly committed to addressing Germany's colonial past – in 2022, for example, a number of Benin bronzes were returned to Nigeria. A year earlier, Germany had acknowledged that the crimes perpetrated against the Herero and Nama tribes in Namibia constituted genocide. For the descendants of the victims of the Maji Maji War in Tanzania, the fact that the German president made such a clear apology on behalf of Germany in the autumn of 2023 has important symbolic effect.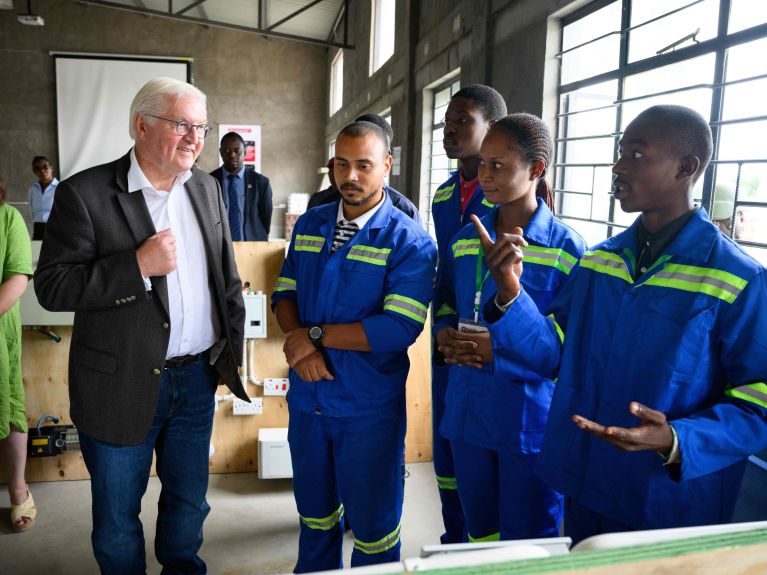 One day after his visit to Tanzania, Steinmeier opened another chapter in Germany's relations with African states. He travelled to Zambia - it was the first state visit of a German head of state to the African country. In the capital Lusaka, he visited among other things a vocational training school set up in 2019 with funding from Germany's Federal Ministry for Economic Cooperation and Development. He then went to the Zambesi River to learn about the impacts of climate change there.
Steinmeier: Germany focuses greater attention on Africa
German Chancellor Olaf Scholz was also in Africa at the same time as Steinmeier. Shortly before the German president flew to Tanzania, he set off on a trip to Nigeria and Ghana; in the same week, German Interior Minister Nancy Faeser visited Morocco. The German government wants to strengthen relations with the continent's countries.
The world, economic focal points, markets and alliances have changed, Federal President Steinmeier said during a joint appearance with Zambia's President Hakainde Hichilema in Lusaka. "And all of this means that we must also care more about regions with which we do not traditionally have relations, and we must be present in places where things are happening that perhaps in the past were too far outside our sphere of perception."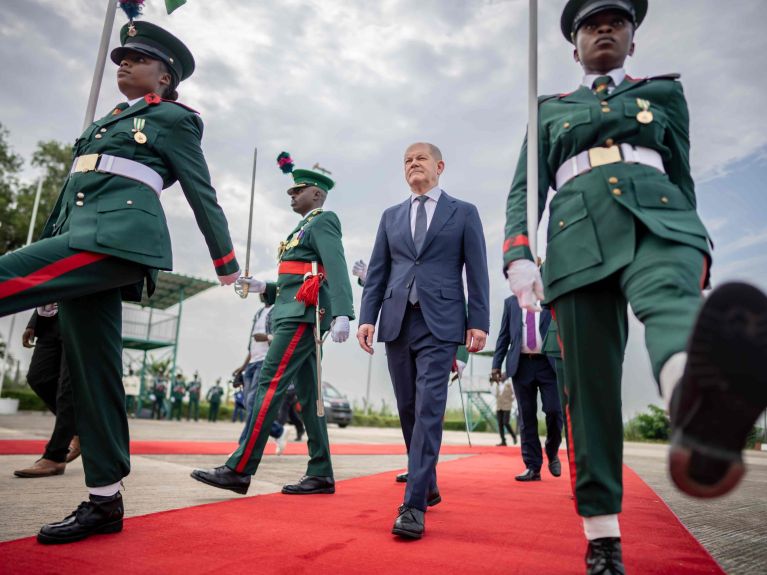 Scholz in Nigeria and Ghana: Economy, security and migration
For German Chancellor Scholz, his visit to Nigeria und Ghana was already his third major trip to Africa in his almost two years as chancellor. His trip focused on deepening economic relations, cooperation in the field of energy, strengthening security and limiting migration. In the Nigerian capital Abuja, Scholz met with the country's President Bola Ahmed Tinubu. After their talks, he stressed his desire to intensify the already good cooperation. Scholz said that there was already a lot of potential for economic cooperation, "but there could be much more". The German-Nigerian trade volume already increased by 50 percent in 2022 - from two to three billion euros. The chancellor also reiterated that he views Nigeria in West Africa as an important partner in the production of hydrogen and, for a transitional period, also in terms of supplying liquefied natural gas.
Skilled worker immigration and readmission agreements
On the subject of migration, Scholz and Tinubu discussed possibilities for skilled worker immigration, though they also talked about people who have to return from Germany to Nigeria. Scholz said that it was about facilitating the repatriation of those who were not entitled to stay in Germany. At the same time, the immigration of skilled workers is to be promoted. Both were possible "only in close cooperation". Germany and Nigeria also want to cooperate more closely in the area of regional security. The aim is to strengthen democracy and the resilience of states in the region. This was increasingly important in the face of the growing threat posed by terrorist groups, Scholz said.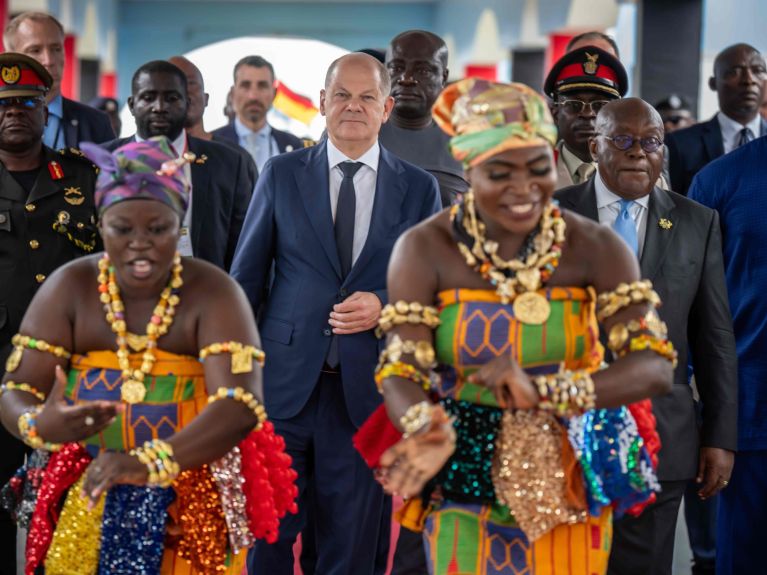 Close relations with Ghana
The topic of security was also on Federal Chancellor Scholz's agenda in Ghana. With regard to the situation in the Sahel region, he and the Ghanaian President Nana Akufo-Addo assured that they would jointly support all activities to promote stability. Relations between Germany and Ghana were close overall, said Scholz: "Our countries share a common view of the world." As democracies, both countries advocated a rule-based order, he added, explaining that he therefore believed that "African states should be better represented in international organisations and should be given a stronger voice."
Germany politicians came to Africa with lots of different topics to discuss. However, be it the colonial legacy, business, energy, security or migration: Germany is focusing its attention on Africa and attaches importance to shaping the various areas jointly and on an equal footing with its African partners.
(with the dpa)