Stepping up the pace and stripping away bureaucracy
The new Skilled Immigration Act is clearing away obstacles and placing greater value on work experience.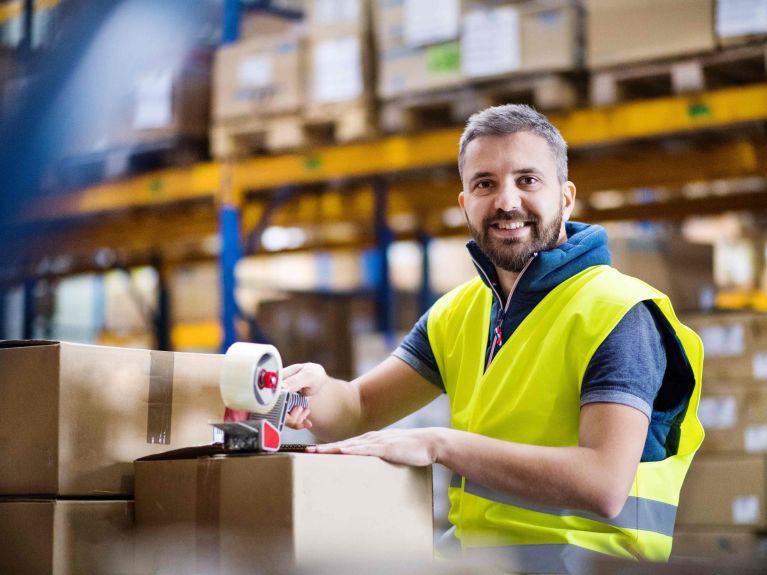 From exciting professional prospects to social security and beautiful environments to live in, Germany has a lot to offer. On top of this, it is one of the driving forces behind many global trends. Things are changing rapidly, particularly in the future-oriented fields of digitalisation and renewables, developments which are already evident in Germany's employment market. To deliver this transformation, the Federal Government is making it a priority to bring in the expertise and engagement of skilled workers from around the world. Whether you're an IT technician, engineer, nurse or electrician, there's a warm welcome for you here in Germany. 
The way into Germany's employment market is being made easier for skilled workers. The government amended several laws in 2020 to make it easier for qualified workers to emigrate to Germany. Now the newly expanded Skilled Immigration Act, is the logical next step as Germany continues its journey as a modern country of immigration from 2023 onwards. The new law includes numerous measures to make things easier for graduates and skilled workers with vocational qualifications from outside the EU. Here's an overview of the new rules on immigration for skilled workers. 
What will change in November 2023?  
Lower salary thresholds 
The new law lowers the salary thresholds for EU Blue Cards, which offer highly qualified people from outside the EU a route for migration. In 2023 someone earning €39,682.80 meets the threshold for an entry-level position in a shortage job. For other careers you need to show your annual income is €43,800 or more to get an EU Blue Card. These allow academics from outside the EU who have found a job in Ger­many to live here with their families.
Easier access for IT specialists without degrees
IT specialists who do not hold university degrees can get an EU Blue Card if they have at least three years' work experience, and the shortage jobs threshold applies to them.
More shortage careers
Alongside maths, IT, science, engineering and medicine, skilled workers from the following career groups can get an EU Blue Card with the lower salary threshold: 
Managers in manufacturing, construction and logistics
Managers in IT and telecommunications
Managers in childcare and healthcare
Vets
Dentists
Pharmacists
Nurses with a degree
Teachers and nursery staff in school and non-school contexts
Visa-free entry with EU Blue Card from other EU countries  
If you have an EU Blue Card from another EU members state, you can spend up to 90 days in Germany for work purposes without needing a visa. You do not need to apply for a work permit.
If you have held an EU Blue Card from another EU member state for 12 months or more, you can move to Germany without needing a visa. However, you do have to apply for a German EU Blue Card from the immigration office once you have moved here. 
Lowering barriers to families 
If family members of a skilled worker who holds an EU Blue Card are living in a different EU member state, it is now easier for them to move to Germany. The family does not need a visa and can now live here under their residence permit from the other EU country. They no longer need to prove that their home is large enough and that they can cover their living costs. It will also be easier for people who get a residence permit from 1 March 2024 to bring their parents and in-laws to Germany.
What will change in March 2024?
Skilled workers with practical work experience 
Workers with two years' practical experience in non-regulated careers will be able to work in Germany without needing to get official recognition for their qualifications. They only need to hold a degree or similar vocational qualification recognised by the country where the qualification was awarded. The vocational training must have lasted at least two years. Certain qualifications from German Chambers of Commerce Abroad may be valid.  
Nurses and carers from non-EU states
In future, people who have trained as nursing assistants for only one or two years will be able to take on permanent jobs in the healthcare system in Germany. This was previously only possible for nurses who had completed three years of training. The condition for this is that applicants have trained as a nurse/nursing assistant in Germany or hold a foreign nursing qualification which is recognised in Germany. 

Residence for recognition of foreign vocational qualifications 
In regulated professions such as nursing and education, skilled workers will still be able to travel to Germany before their vocational qualification has been officially recognised. This opportunity is now being widened to other groups. To take advantage of the new rules, the skilled worker and their employer enter into a "recognition partnership". The requirement for this is that the skilled worker holds a state-recognised vocational qualification (of at least two years' duration) from their country of origin, or a university degree. The skilled worker also needs German language skills. Skilled workers in regulated careers should get individual advice from the Working and Living in Germany hotline. Further information on how foreign vocational qualifications are recognised can be found here.
What will change in June 2024?
Finding work with an Opportunity Card  
The Opportunity Card allows skilled workers from non-EU states to look for work in Germany. If they hold a degree or vocational qualification equivalent to a German qualification, these workers can get an Opportunity Card with no strings attached. The only requirements are that they hold a degree from a foreign university or a vocational qualification of at least two years' duration (where the qualification is recognised in the country where the study took place), or a vocational qualification issued by a German Chamber of Commerce Abroad. In addition, they will need basic German skills to A1 level or English skills at B2 level. They will be awarded points for their qualifications, language skills, work experience, age and connections to Germany, along with the career potential a partner who is moving to Germany with them. At least six points are needed to get an Opportunity Card.  
___________________________
Further information about the new Skilled Immigration Act is available on the Federal Government's Make it in Germany website for skilled workers.