"Ploughing up the European course"
Everybody wants Europe, says political scientist Ulrike Guérot. The question is, though: Which? She personally advocates the "European Republic". 
Ms. Guérot, German Federal President Frank-Walter Steinmeier recently called for "new European self-confidence". How does that fit in with the current debate on Europe, defined as it is if anything by crises and dispute?
Very well, I think. It is a response to the numerous voices that are emerging all over. The call for a different, more confident, stronger Europe is getting louder. It can be heard particularly clearly in art, journalism, academia, and among youth. Steinmeier took up this choir of voices and gave it an even stronger sounding board.
And is the call realistic?
In response to that I would quote Václav Havel: "Hope is not the conviction that things will turn out well, but the certainty that something makes sense, regardless of how it turns out." Unfortunately, I don't think that the European situation is going to clearly change for the better in the next few months or even years, but I'm convinced that at the moment the only right thing to do is plough up the European course, as you have to plough up the soil before you can sow anything. We are preparing the ground, so that a new Europe can flourish when the spectre of nationalism and populism has disappeared again.
But prior to there being joint self-confidence, ought there not generally be common ground? At the moment the impression is rather that Europe is drifting apart.
That's right, but it's also a question of how you look at things. We have at least reached a point now where the question with regard to Europe is no longer "whether" but "how". Everybody wants Europe, even right-wing populists like Heinz-Christian Strache in Austria and Marine Le Pen in France. They have realised that you can't stir up public opinion with anti-Europe sentiment. It is far more to do with the question of whether we want an identitarian Europe of fatherlands or a democratic, social, open Europe. That is the frontline, the crucial question as far as Europe is concerned. This split is not separating individual countries from one another – they are themselves divided: Macron or Le Pen? Pegida or Pulse of Europe? Brexit or no Brexit? There is no common ground in these questions at present.
What needs to happen for that?
It would appear that we have realised that a return to nation states is not a solution. However, what no one yet has the courage to refer to is the term European statehood. We already have one market and one currency, but still no democracy. You can only be capable of acting if you have a legitimate monopoly on the use of force. The EU has none, which is why it is for the most part incapable of acting.
The fact that your book about a "European Republic" was extremely well received demonstrates that people are very open to a stronger Europe, perhaps there is even a kind of longing for it. Why have politicians not yet fully realised this?
After the book was published I did indeed get an incredible number of invitations, in particular from trade unions, theatres, and savings banks. Thousands of young people follow me on Twitter. I want to exploit this popularity. At the moment we are organising a major theatre project, the "European Balcony Project" – in November we will proclaim the European Republic on stage. I certainly feel that politicians are slowly becoming aware of the call. Several smaller parties such as "Demokratie in Bewegung" (Democracy in Motion) have included the European Republic in their electoral programme. And the bigger parties – at any rate the progressive ones – are at least putting feelers out.
Why the caution?
Lots of people think of centralisation when they hear the words European Republic. They are afraid that we will all have to assume a European identity and will lose something in the process. It is, however, not about centralisation, but about legal equality. We already have it for markets, services, and capital, but it needs to be rounded off and apply for individuals. There ought to be a European social security system, for example. Unfortunately, civil society does not yet have the strength to initiate a process of this nature.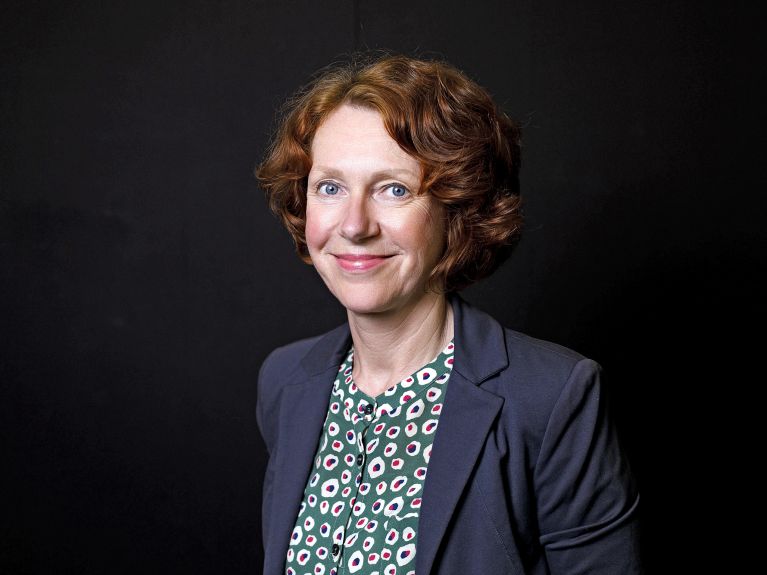 Ulrike Guérot is the founder of the European Democracy Lab at the European School of Governance in Berlin. She currently teaches at Danube University Krems in Austria. From 2007 until 2013 she headed the Berlin office of the European Council on Foreign Relations. Her book entitled "Why Europe should be a Republic! A political utopia" appeared in 2016.
Interview: Helen Sibum