Securing Lebanon's maritime border
The tasks of German blue-helmet soldiers in Lebanon and the current political situation.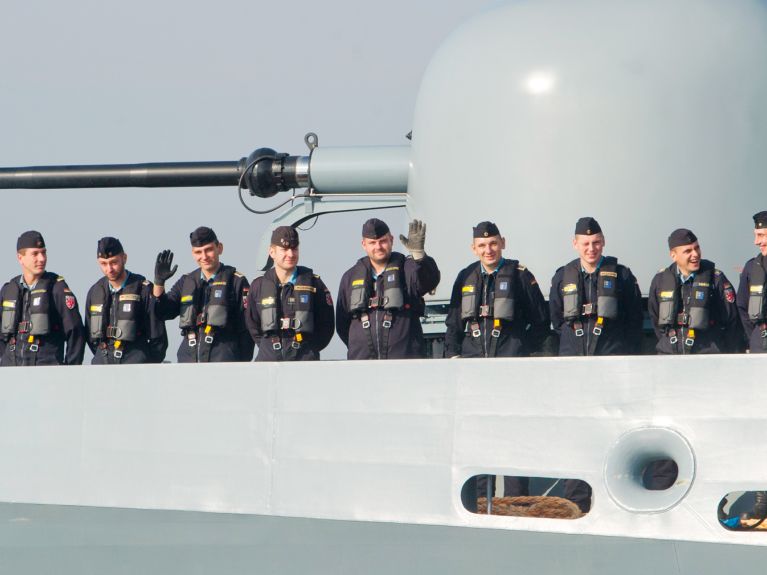 Lebanon is located in a tense region. The country has experienced an eventful history and numerous wars and crises especially in the recent past. The country also has almost two million refugees, the majority from Syria, so the situation is difficult. This is why the international community is supporting Lebanon with a blue helmet contingent. The United Nations Interim Force in Lebanon (UNIFIL) has around 10,000 soldiers from more than 40 countries.
What is the UNIFIL mandate?
UNIFIL was created in 1978. It is the oldest still active peacekeeping mission of the United Nations. At first the blue helmets were tasked with maintaining peace between Lebanon and Israel. Their mandate was extended following the 2006 war between Israel and Hezbollah. Since then UNIFIL has also been supporting the country by securing the 200-kilometre maritime border and preventing the smuggling of weapons via the sea.
Which role is Germany playing?
German ships and marines have been part of the maritime mission since it began in 2006. They are carrying out their tasks together with units from Bangladesh, Brazil, Greece, Indonesia and Turkey. Since November 2017, Commander Dirk Peters has been in charge of the German contingent which currently totals 115 soldiers and also includes the corvette Magdeburg.
What exactly is the German naval contingent contributing?
The force consists of seven ships that patrol the coast around the clock and try to identify suspicious vessels. This is done with the help of scheduled routes or reports on the consignments. Suspicious ships are reported to the Lebanese coastguards who can then board the vessels and investigate the cargo. "This has functioned very well over the past years," says Dirk Peters. "The maritime border is secure along the coast – it's unlikely that illegal weapons will enter the country from here."
What are the effects of current political developments?
A training element at the naval school in the coastal town of Jounieh is also part of the German contingent. Someday Lebanon will be able to patrol its coastal waters by itself. That's why German soldiers are working there as instructors. At the moment Dirk Peters is focussing particular attention on the training project. The political developments have had no noticeable effects at sea, but the soldiers on land are directly affected by political changes. There are contingency plans in case of an emergency.
What are the next steps?
In June 2017 the Bundestag extended the mandate by one year. According to Commander Peters, the level of acceptance within Lebanon itself is high: "We are highly respected and extremely welcome, because nobody suggests we have underlying political motives."