Together for peace
How German soldiers, police and civilians are assuming responsibility around the globe on behalf of the United Nations.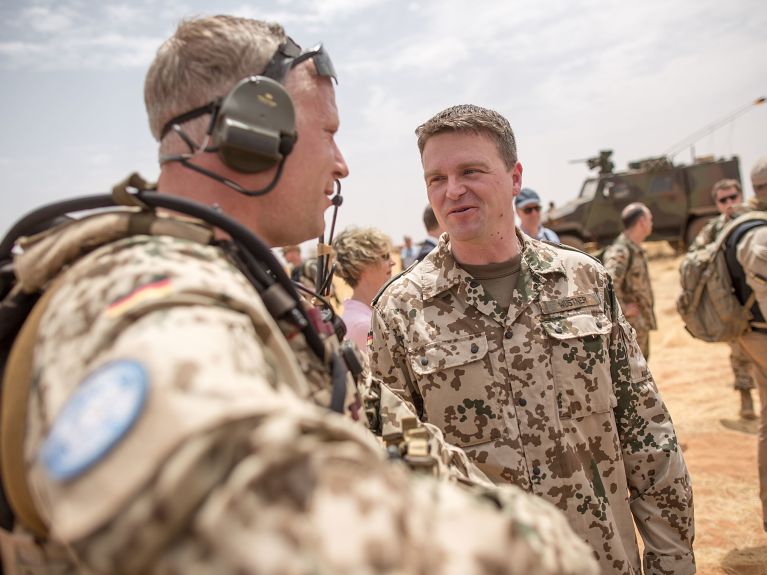 Germany. They secure borders, form buffers between hostile parties, patrol in coastal waters or monitor elections: more than 120,000 members of international peace missions are currently working for peace on every continent.
Although missions with a United Nations (UN) Security Council mandate were not provided for in the United Nations Charter, they have nevertheless developed into an important instrument in global peacekeeping.
Germany began taking part in international peacekeeping missions at the beginning of the 1990s. Since then, Germans have been running military hospitals, carrying out reconnaissance flights, monitoring reconstruction, helping to contain the Ebola epidemic, and they have been supporting the fight against the so-called Islamic State.
From Haiti to Afghanistan
Germany is currently contributing around 3,500 military personnel and 130 police officers to 15 overseas peace missions which are operating either directly under the blue flag of the United Nations, or have a UN Security Council mandate operating under a separate command, such as Nato. Areas of operation include Haiti, Kosovo, Somalia, Sudan and Afghanistan.
The Federal Republic's largest contribution at present is 600 German soldiers in Mali. Among other things, the aim of the multidimensional operation Minusma is to secure a ceasefire, to protect the civilian population, and to help re-establish state authority. With well over 100 fatalities to date, Minusma is one of the most dangerous United Nations missions with high numbers of losses. The fatalities in Mali also include two Bundeswehr soldiers.
Germany assumes responsibility
Germany is the fourth largest contributor to the United Nations peacekeeping budget and paid in roughly 400 million euros between July 2017 and July 2018. Following many years of caution because of its own particular part in history, Germany is now one of the countries that continuously sends soldiers and police officers for involvement in international peacekeeping tasks. This commitment is an expression of Germany's increased responsibility in the international community.