Equal rights in politics?
One of the most powerful women in the world governs Germany. Does that mean German politics has a high proportion of women? Here are the figures.
Friederike Bauer / 16.10.2018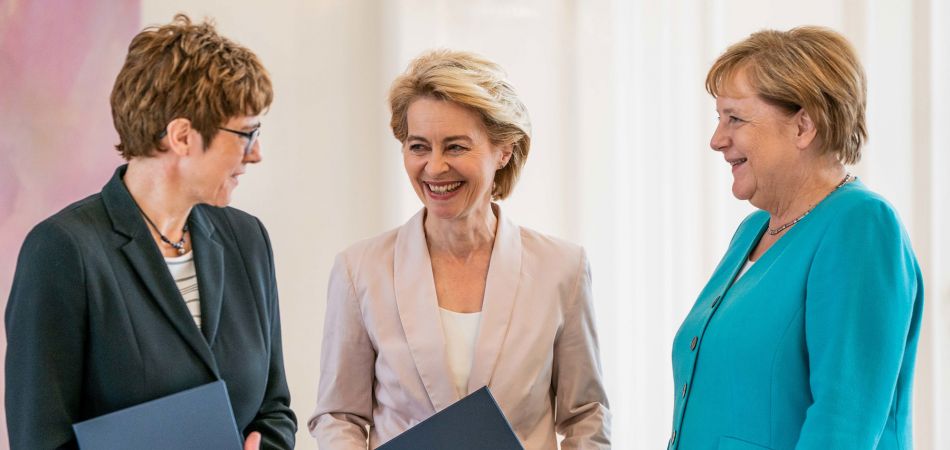 German Federal Chancellor Angela Merkel has topped the Forbes list of the most powerful female politicians for years. Almost half the members of the German cabinet are female. Nonetheless, women are still not equally represented in German politics.
How many women are there in the German Federal Government?
Seven – and as such almost half of the 16 positions in the Federal Cabinet are occupied by women, including those of Justice Minister and Defence Minister.
What is the proportion of women in the German parliament?
In the Bundestag the proportion of women has fallen again since the 2017 federal elections, from 36 to just over 30 percent. The Greens have the highest proportion of women (who are actually in the majority within the party), accounting for 39 of the party's total of 67 members of parliament. The same applies to The Left party, where women are slightly more strongly represented than men (37 to 32). In absolute figures, the most women in parliament belong to the Social Democrats (SPD), namely 64. The right-wing populist party AfD counts the fewest women – in both absolute figures and percent (10 of 83), followed by the liberals of the FDP (18 of 62).
How does Germany measure by international comparison?
It is roughly in the middle. On a comparison with the proportion of women in other countries in the Inter-Parliamentary Union, Germany is ranked 46th out of 190. Rwanda, Bolivia and Cuba top this ranking. Other EU countries such as France, Spain and Belgium are better positioned than Germany in places 15, 16 and 22 respectively.
Are women represented in other high-level public offices?
Here, too, Germany still has some catching up to do. At present, neither the office of Federal President nor of President of the Bundestag is occupied by a woman. The President of the Federal Constitutional Court is also currently a man.
Germany has never had a female Federal President and as such never had a woman in the nominally highest public office, although the office of Federal Chancellor is deemed more important in daily politics. Two women have presided over the German parliament, most recently CDU politician Rita Süssmuth from 1988 until 1989. The first woman to head the Federal Constitutional Court was Jutta Limbach from 1994 until 2002.
How many female ambassadors represent Germany abroad?
Of Germany's roughly 150 embassies, just under 20 are headed by women. They include those in Canberra, Tel Aviv and since 2018 also the German Embassy in Washington for the first time.