22.09.2017
Young people before the election
The general election will also decide their future – and young adults want their voice to be heard. They are not sparing with their criticism.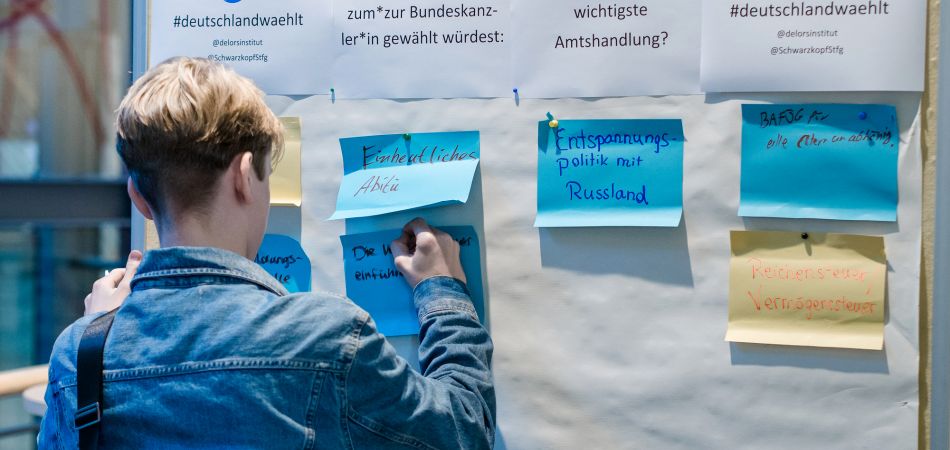 Germany. They debated for hours: Young first-time voters and school students met up at a "First-Time Voters Conference" in Berlin to discuss the election and Germany's role in Europe. It was hosted by Schwarzkopf Foundation Young Europe and the Jacques Delors Institute. The young people were able to debate with representatives of the EU Commission as well as the CDU, SPD, The Left and The Greens parties. The discussions touched, among other things, on migration, arms exports, and financial policy. The evening was moderated by YouTube star Wana Limar and there was certainly no sign of the oft-cited ennui among young people with politics. What did the particpants say?
Junus Becker, 16 years old, school student in Berlin
"I'm interested in politics and want to discuss things with the decision-makers. The general election concerns my own future, too, even if this time I cannot yet vote. It's a shame that the opportunities for a direct democracy have not yet been exhausted. Referendums could kindle more people's interest in politics.
I also feel a more intense debate is missing at school, too. We learn as good as nothing about EU policies. Precisely now, when the EU threatens to fall apart, government should do a better job of explaining Europe to us, without the usual clichés and focusing rather on what unites us as a community of shared values. I think a country can't just think of its own well-being. Germany as the largest economic power should blaze the trail for solidarity in the EU."
Wana Limar, moderator and YouTube star
"In discussions such as this we can find out what the EU is, what advantages and disadvantages it has, and what role Germany plays. Of course, that's complex, particularly for young people. Which is why it needs people like me to address the issues emotionally and with a playful touch and show: Each and every one of us can change things in our own worlds, by social commitment, for example. I'm active in the Visions for Children NGO and go to schools on behalf of the Verein Gesicht Zeigen association, to talk with young people about right-wing extremism and racism.
For many, politics seems impenetrable, they feel a certain impotence faced by it. More political explanation should be part of any modern society. There need to be more programmes flanking politics. Offerings such as Wahl-O-Mat are great to get people interested in politics. And dialogue is key, I'm all for exchanging opinions. Even if it can be difficult and frustrating, but only then will be people be enlightened and things change."
Patrick Lobis from the European Commission representative office in Germany
"It's impressive how interested and committed these students are. The big issues really move them, too. No doubt, Europe is sometimes seen by young people as, not to put too fine a point on it, something abstract, far removed from their own lives. The member states must also do a better job explaining to young people what EU institutions can and cannot do.
Concrete services are needed to get out of the "EU bubble" and familiarize people with Europe. The Erasmus programme for university students, for example, now expanded to include apprentices and people in jobs, helps a lot to create a sense of We.
To reach those groups of the population who perhaps tend to reject Europe we must do a better job explaining that Europe gives them. EU Commission President Jean-Claude Juncker has called for an EU agency to be created, for example, that champions just European labour standards. Social justice, travel, cross-border shopping, data protection, the emotional side is particularly the product of real lived experiences."