Coalition agreement signed
The coalition partners – the SPD, Greens and FDP – have officially mapped out their course for government. They have pointed to the difficult tasks that lie ahead. 
07.12.2021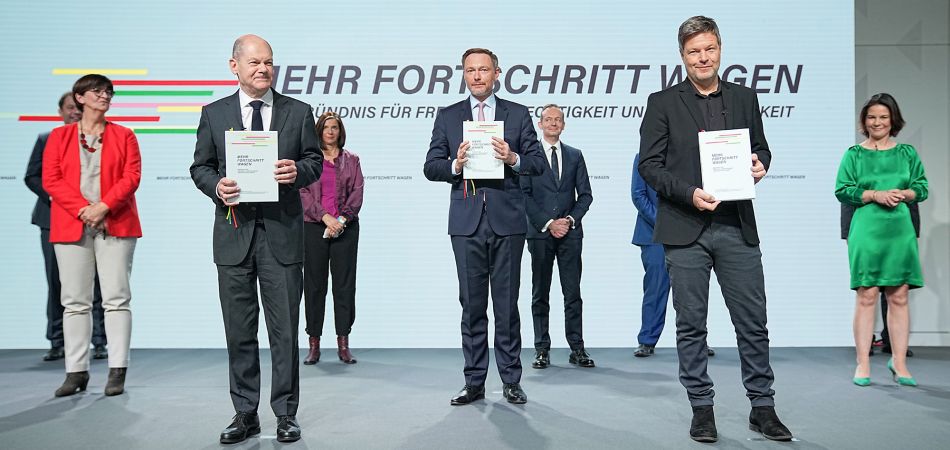 Berlin (dpa) - Two and a half months after the Bundestag elections, the SPD, the Greens and the FDP have agreed on their joint government programme. Their leading representatives signed the coalition agreement in Berlin on Tuesday. The SPD had been the victorious party in the election.
On Wednesday, Chancellor-designate Olaf Scholz (SPD) is to be elected chancellor in the Bundestag and his cabinet sworn in. This will bring the era of Angela Merkel (CDU), who did not run again in the election on 26 September, to an end after 16 years.
Scholz said, "This is a morning when we set out for a new government". He said that the results of the negotiations in recent weeks had made progress possible and that combating the coronavirus crisis would initially require the full strength of the new coalition.
Greens leader Robert Habeck said the goal was "a government for the people of Germany". He emphasised the challenge of reconciling climate neutrality and prosperity in Europe's largest industrial nation and the world's fourth largest economy.
FDP leader Christian Lindner said, "Now the time for action begins." He stated that the common goal was to achieve "more progress". Lindner: "We are under no illusion. The challenges we are facing are considerable."
The three partners had chosen a symbolic location for the signing of their coalition agreement, the Futurium in Berlin, a centre for exhibitions on shaping the future.
More about the political system in Germany