German Foreign Minister in Jordan
Heiko Maas meets his Jordanian counterpart and warns Iran amid uncertainty over German troops in Iraq.
13.01.2020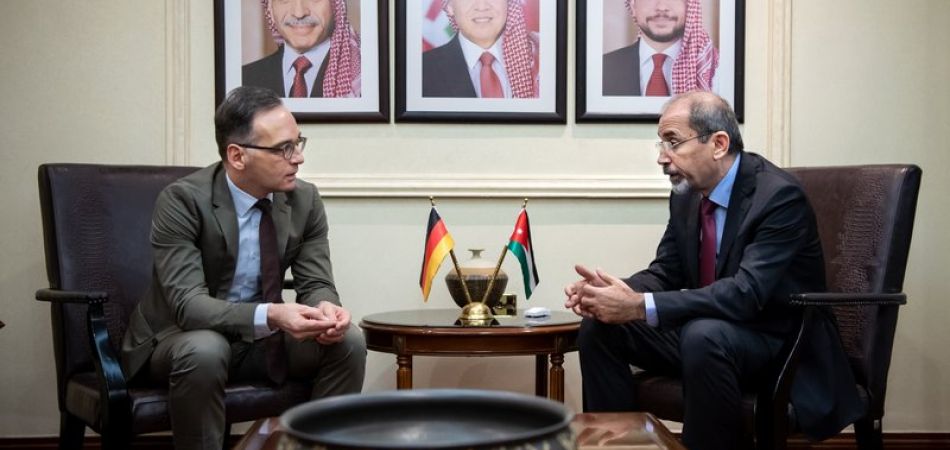 Amman (dpa) - German Foreign Minister Heiko Maas called on Iran to stop interfering in regional conflicts during his visit to Jordan on Monday.
"We are agreed. If Iran wants to de-escalate, then it must stop agitation in its region, which also applies to Iraq," Maas said after meeting with his Jordanian counterpart, Ayman Safadi.
Safadi said that Islamic State still poses a real threat to the region.
Jordan is an important ally of the West in the fight against the terrorist group and is currently hosting over a million Syrian people who have fled the conflict in their home country, including 650,000 people registered as refugees with the UN Refugee Agency (UNHCR).
Maas intends to visit German Bundeswehr troops stationed at the Al-Azraq Air Base, around 90 kilometres east of the Jordanian capital Amman, before returning to Germany.
German reconnaisance jets conducting missions over Syria and Iraq usually take off from Al-Azraq but are currently grounded after Iraqi lawmakers passed a resolution calling for an end to the presence of foreign troops linked to the US-led alliance against Islamic State.
Maas stressed that Islamic State was "not defeated" and warned that the Sunni terrorists could win back some territory in Iraq.
In the coming days, a senior official from the German Foreign Office is to hold discussions in Baghdad and the northern city of Erbil on whether the Iraqi government really wants foreign soldiers to withdraw.