Sanctions against Belarus agreed
The EU, the US, the UK and Canada have agreed to impose new sanctions on those involved in the smuggling of migrants to Belarus. 
03.12.2021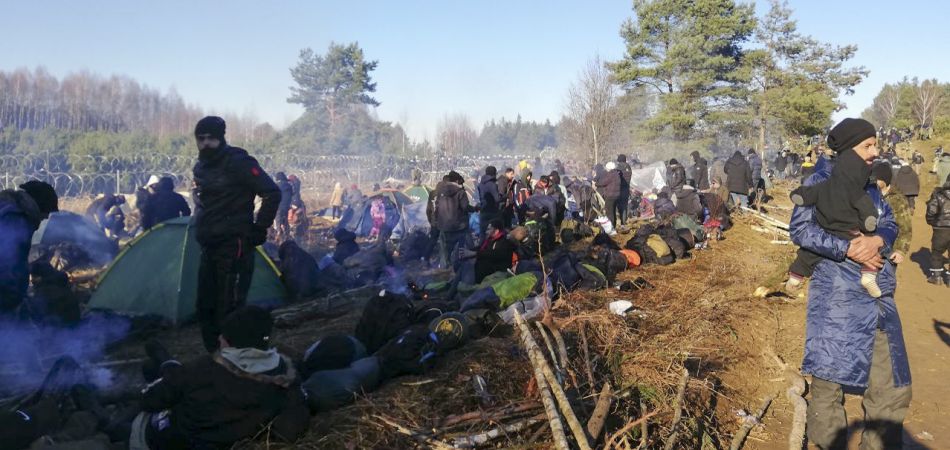 Washington/Brussels (dpa) - The EU, the US, the UK and Canada have decided to impose new sanctions on those involved in the smuggling of migrants to Belarus. The US Treasury Department said on Thursday that the US sanctions against 20 individuals and 12 companies and institutions were a "response to the blatant disregard for international norms" by the government of the country's ruler Alexander Lukashenko. Lukashenko's son Dmitry Lukashenko is now also on the US sanctions list.
The individuals concerned "have facilitated the regime's smuggling of migrants into the European Union (EU), participated in the ongoing suppression of human rights and democracy, and provided financial support to the regime", the US Department announced. The new punitive measures by the United States will be imposed in coordination with partners and allies. The new EU sanctions affect 17 individuals as well as ten companies and a special border protection unit.
The leadership of the ex-Soviet republic is accused of deliberately bringing migrants into the country to then bring them to the border with Poland, Lithuania and Latvia for onward travel to the EU. This is suspected to be Lukashenko's way of seeking revenge for sanctions imposed by the EU for the repression of civil society and democratic opposition. The new sanctions are mainly intended to ensure that fewer people from poor or conflict-ridden countries are brought to Belarus for onward smuggling to the EU.
Those affected by the new EU sanctions in the country itself include the Belarusian state airline Belavia, as well as tourism companies and tour operators. Outside Belarus, sanctions have also been imposed on the Syrian airline Cham Wings and a Turkey-based passport and visa service.
The EU has also sanctioned three other Belarusian state-owned industrial companies for their support of Lukashenko. These include the petrochemical company Belorusneft, vehicle tyre manufacturer Belshina, and Grodno Azot, a producer of nitrogen compounds.
In their turn, the US sanctions also affect potash companies in the fertiliser industry. With its strong export business, this sector is one of the pillars of Lukashenko's regime. The Belarusian opposition had repeatedly demanded that sanctions be imposed on such system-sustaining industries in order to bring the power apparatus in Minsk to its knees.
More about Germany's commitment to peace and security