Evening gowns from Meissen
Meissen traditional porcelain manufactory enters the fashion business.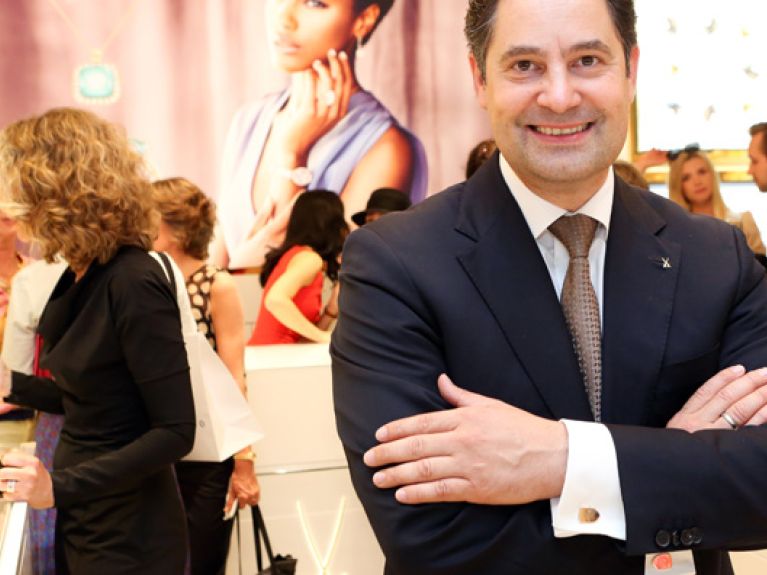 The snowball vase is a Meissen porcelain manufactory classic. This artistically designed eighteenth century vase is decorated with countless snowball flowers. Only very few people have one of these collector's items in their display case at home – a snowball vase produced by this traditional and over 300-year-old German company is worth several thousand euros. Some of the snowball flowers, on the other hand, could now be found in wardrobes all over the world – on cocktail dresses and evening gowns boasting the Meissen Couture label, which belongs to the company's Milan-based subsidiary, Meissen Italia. In September 2013, Meissen presented its own dresses for the very first time.
The garments were created by fashion designer Frida Weyer. 36 years old and from Berlin, Weyer graduated with a diploma from the international fashion school Esmod Berlin in 2003, since which time she has worked in the fashion industry. In 2008 she established her own fashion label, "Frida Weyer", and in 2013 was engaged as chief designer by Meissen Couture. She has very little experience of working with porcelain, and this is hardly likely to change, for the snowball flowers on her dresses are crafted from fabric.
Porcelain and fabric – what's the missing link? A few months ago, Meissen CEO Christian Kurtzke was browsing his porcelain manufactory's archives when he came across porcelain figures from the nineteenth century. The clothes they wear are not painted on but real: back then, fabric would be dipped in porcelain paste, fired and then used to adorn the figures. The porcelain and clothing, in other words, are literally fused together.
Since September, Meissen has been making clothes not only for porcelain figures, but also for women. Every year, the company intends to present two collections, comprising cocktail dresses, evening gowns and wedding dresses. "It is art, not fashion, that is at the heart of the Meissen brand. This is why we focus on couture which combines high-quality materials, intricate craftsmanship and creativity", explains Kurtzke. For Meissen, one key objective of the cooperation is to introduce the brand and the porcelain to a considerably younger target group, though "without renouncing our own intrinsic value".
The stylish dresses play on new interpretations of classic designs from the manufactory's 300-year history. In the longer term, Meissen boss Kurtzke is keen to see his fashion label established as an "elegant niche brand" in the luxury segment. "We are in the process of creating a contemporary fashion label with a 300-year cultural heritage." The exquisite gowns are available exclusively from Meissen boutiques and selected partners.