A help desk for human rights
The German government has set up a unique help desk to give companies support with establishing sustainable supply chains.
Tanja Zech / 19.08.2019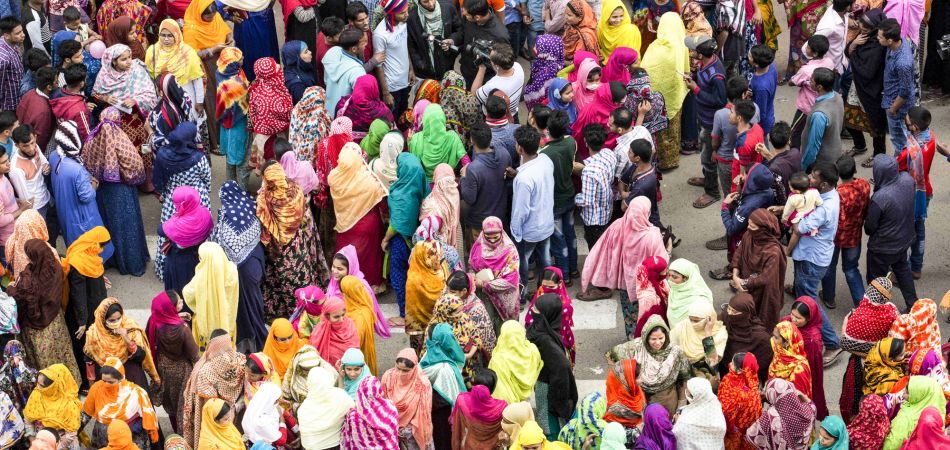 At the end of July 2019, 1,800 companies in Germany were sent an e-mail containing a questionnaire about human rights. One of the questions was as follows: "Has your company put in place a process by which to identify the potentially negative effects of your business activities on human rights?"
What is the National Action Plan for Business and Human Rights?
The representative survey forms part of Germany's National Action Plan for Business and Human Rights (NAP). The ideas is to ensure that companies in Germany comply with labour law, social standards and environmental protection throughout their supply and value-adding chains. This applies to around 7,100 companies.
Who is helping companies to establish sustainable supply chains?
But how can a textiles manufacturer in Germany ensure that the people who are sewing clothes for them at the other end of the world are not working in dangerous factories that are at risk of collapsing? And how can a company that runs a supermarket make sure that workers who are helping with the harvest on plantations are not exploited?
The German government has set up a free help desk to provide answers to such questions. It is the only one of its kind in the world.
The NAP help desk is based at the Agentur für Wirtschaft & Entwicklung (AWE). Experts in development cooperation and environmental and social management are on hand to provide individual advice and consultations to companies. They ascertain whether existing processes, for example for environmental compatibility testing, already meet the NAP requirements. They help companies to structure their activities and concentrate on the most important measures. And they provide advice about funding that will help firms make their supply chains socially acceptable and environmentally compatible.
The CSR-Risiko-Check online tool allows companies to identify in advance any risks they may be facing with respect to the environment, working conditions or health.
Are firms using the help desk?
Since the NAP help desk was set up in the autumn of 2017, there have been around 350 consultations. Initially, it was mainly large companies that took advantage of it, but now it is increasingly being used by small and medium-sized enterprises, reports NAP help desk head Katharina Hermann.
What are the challenges?
One particularly complex issue for example is the supply chain in the agricultural sector, at the start of which are smallholders in developing countries and emerging economies. As far as complaints management is concerned, companies have to work out where they are most closely linked to what is happening on the ground, and at which point in the supply chain those affected can assert their rights. To this end, regional or industry-specific solutions make sense. When it comes to palm oil, for example, there is a monitoring body that is used by both the food and the cosmetics industries, explains Hermann.
As she concedes; "In difficult markets, it will be impossible to find the perfect suppliers." In many cases, she explains, the necessary capacities to enforce social and environmental standards have yet to be established in such places. She adds that it also takes time for firms to put processes in place and enshrine sustainability in their corporate culture.
"The companies are very honest when it comes to detailing the problems they encounter when establishing and monitoring sustainable supply chains. However, some are already doing better than they had thought."
What positive developments have there been so far?
Examples of positive developments include the Partnership for Sustainable Textiles, the Roundtable on Sustainable Palm Oil (RSPO) , the German Initiative on Sustainable Cocoa, the Accord on Fire and Building Safety in Bangladesh, the Roundtable Human Rights in Tourism and the Independent Complaints Mechanism  in the financial sector.