German industry's big five
These companies are Germany's largest global players. One industry dominates the ranking.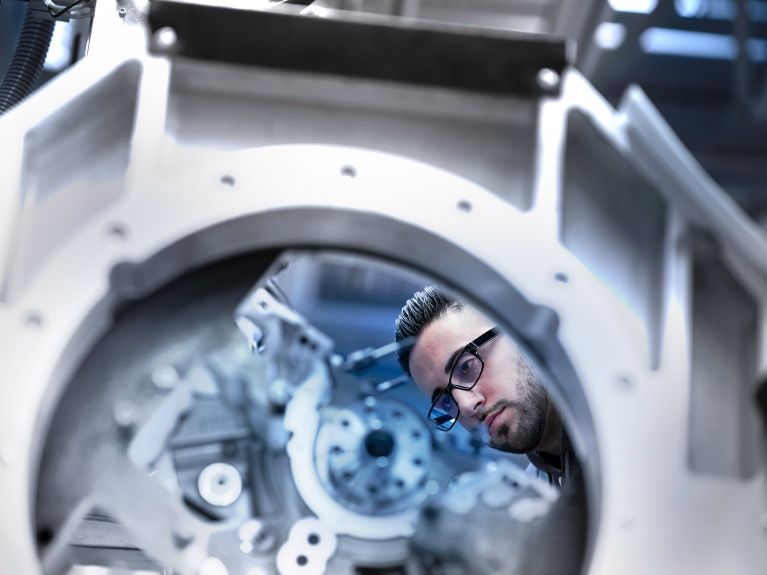 The five largest publicly traded German companies by turnover:
Volkswagen
With its twelve brands, this automobile manufacturer is the undisputed number one among the largest German companies. In 2018, the Wolfsburg-headquartered company employed 655,000 people, generated sales of 236 billion euros and produced 10.8 million vehicles. On a global level, only its Japanese rival Toyota is in the same league. 
Daimler
This premium car manufacturer from Stuttgart shipped out over 3.4 million vehicles in 2018 and achieved sales of 167 billion euros with a workforce of 298,000 employees. Like Volkswagen, Daimler is investing heavily in the Chinese market, where the next all-electric generation of its Smart city runabout is to be produced.
Allianz
The Allianz Group is one of the world's largest financial services providers, with operations in 70 countries. The company set no fewer than two records in 2018, achieving the highest turnover and best operating result in its history, at 130 billion and 11.5 billion euros respectively.
BMW
The third automotive manufacturer among the five largest German companies produced nearly 2.5 million of its BMW, Mini and Rolls-Royce vehicles in 2018. Including its motorcycle sales, the company boasts a total turnover of 97 billion euros.
Siemens
The technology giant Siemens attained sales of 83 billion euros in fiscal 2017/18. Acquisitions and spin-offs have kept the company in a state of flux for years. The latest example is the stock market launch of its medical technology division Siemens Healthineers, with Siemens Gas and Power set to follow.
Volkswagen also leads the field in terms of workforce size, though on this basis it is followed by Deutsche Post, Robert Bosch (technology), the Schwarz Group (trade) and Siemens.
You would like to receive regular information about Germany? Subscribe here: