Global player
Why is German industry so successful internationally? Of course, Germany makes good products – but these five factors also play their part.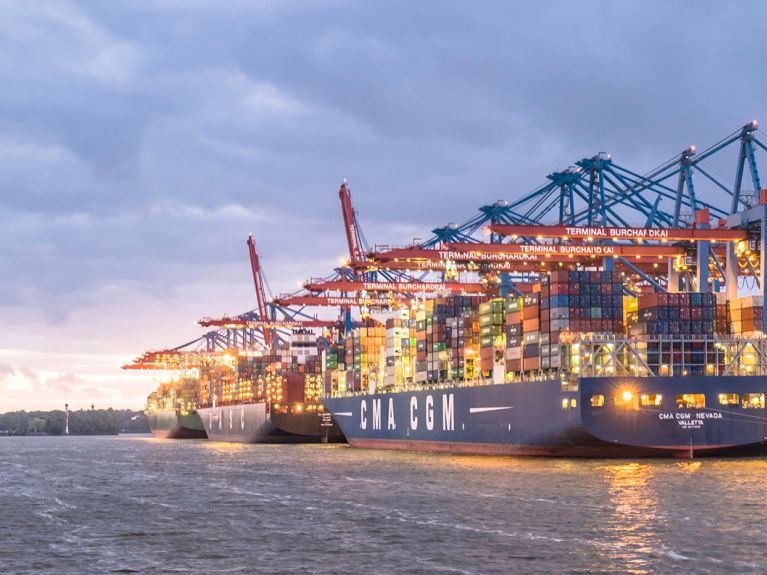 International managers for far-sighted decisions
The boardrooms at Germany's leading companies are becoming increasingly international, which brings a new perspective to management. At present, seven of the 30 companies listed on Germany's DAX stock market index have a foreign CEO at their helm: Adidas (Kasper Rorsted/Denmark), Fresenius Medical Care (Rice Powell/USA), Henkel (Hans Van Bylen/Belgium), Linde (Steve Angel/USA), SAP (Bill McDermott/USA) and Wirecard (Markus Braun/Austria). Furthermore, Ola Källenius from Sweden has been running Daimler AG since May 2019.
Large numbers of employees abroad for customer proximity
The number of people employed by German companies abroad is increasing constantly. Companies with German participation employed around 7.6 million people abroad at the end of 2018. By the end of 2019 this figure is expected to rise to 7.8 million. This puts Germany right at the heart of its markets and close to its customers. Volkswagen alone has 371,767 employees abroad – far more than half of the company's total workforce.
"Hidden champions" for top quality
Germany has the highest number of "hidden champions". These are small to medium-sized companies that are international leaders in niche markets but relatively unknown outside their specific sectors. It is estimated that Germany is home to 1,300 of the world's 2,700 "hidden champions". Many are family-owned businesses like Sennheiser (microphones, headphones) and Sto (building materials).
Foreign representation for a strong network
The German Chambers of Commerce Abroad (AHK) are forming an increasingly close-knit network and represent German business interests abroad. These voluntary alliances of companies from Germany and the respective host country have over 50,000 member companies at more than 140 locations in 92 countries. 2018 saw new AHKs established in Tanzania, Sri Lanka and Cuba.
Trade fairs abroad for market access
German trade fairs abroad play an important role by opening doors to new markets. Around 300 trade fairs are held each year, primarily in growth regions. Messe Frankfurt alone stages over 100 trade fairs and exhibitions abroad.