The future of wind power
Germany is relying on disruptive innovation. We present four practical ideas. Part 1: high-altitude wind turbines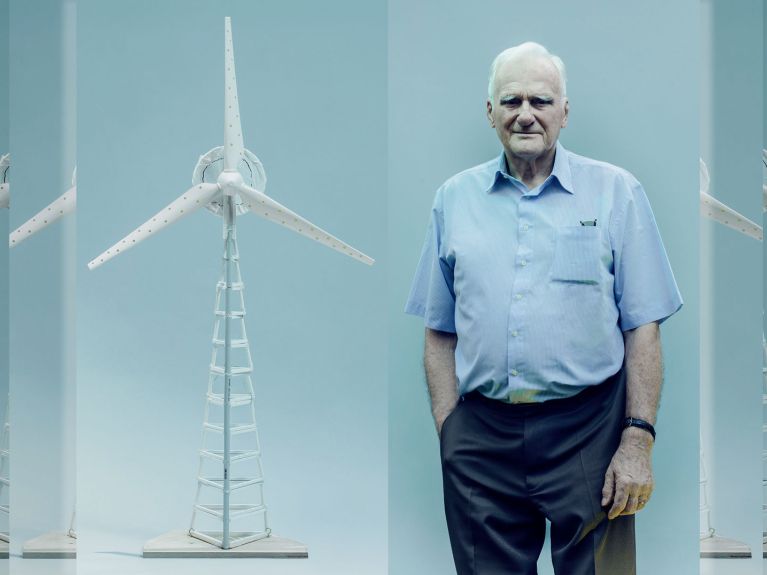 The use of wind power is playing a decisive role in the phasing out of fossil fuels. However, the idea of large-scale wind farms with dozens of wind turbines is not met with particularly great approval among the general public. One solution would be to reduce the number of structures, but build taller individual wind turbines. Then, in fact, they would be able to work much more effectively since the wind blows far more continuously and with much greater force at higher altitudes.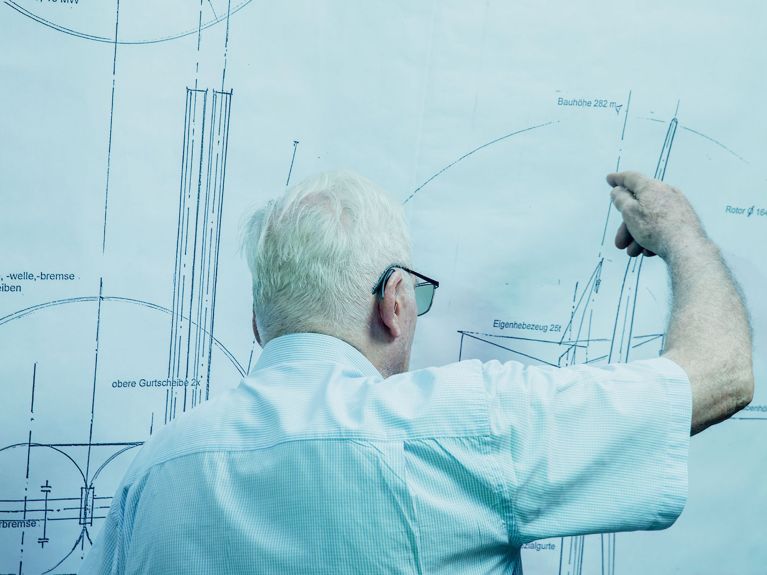 However, high-altitude wind turbines are not so easy to build – at least, if you build them as they have always been built until now with the generator located at the height of the rotor blade hub. Horst Bendix has shown that wind turbines can be constructed differently and made significantly taller as a result. The mechanical engineer and inventor has developed a wind turbine design that has the generator located at the base of the structure driven by a belt pulley. This would enable a hub height of 250 metres for a structure of the same weight. Including its rotor blades, one of these monsters would be more than twice as tall as Cologne Cathedral.
The solution for former open-cast lignite mines
Bendix wants to build the tower itself out of standard steel tubes, which substantially reduces the overall cost. The structure stands on a turntable so that it can always face into the wind in the optimum direction. This could involve a trolley, similar to those used on container cranes, or a ball bearing slewing ring. Bendix knows all about the latter because he designed the rotating sphere on the Berlin Television Tower. Bendix is working on a prototype with support from the Federal Agency for Disruptive Innovation(SPRIND).
How effectively could machines of this kind "harvest" high-altitude wind in the future? Horst Bendix says that his wind turbines would be able to deliver ten times the power of today's best facilities – and this would be possible with an 80% reduction in land use. Bendix and SPRIND have also considered possible locations for high-altitude wind turbines. The systems would be "the most intelligent solution for repurposing the former lignite mines", says the SPRIND website. "Not only the current coal fields in the German states of Saxony and North Rhine-Westphalia but also the former fields in Saxony-Anhalt and Brandenburg can very realistically become wind energy-based regions for innovation and production."
You would like to receive regular information about Germany? Subscribe here: