Exporting environmental protection worldwide
Innovative technology from Germany is to advance environmental and climate protection worldwide – an example from India.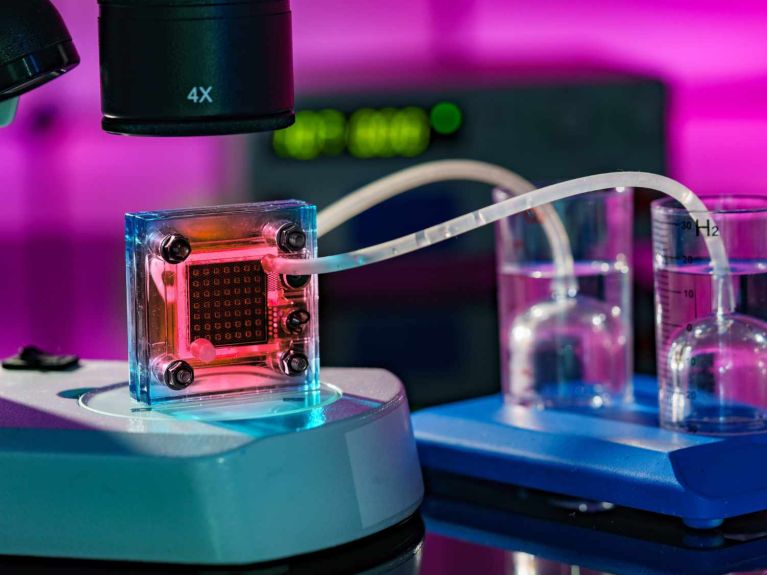 A German fuel cell project is to help bring about a marked improvement in air quality in India. In the world's most populous democracy, power cuts are the norm every day in many cities. In the event of a power failure, thousands of diesel-powered emergency generators are fired up. The consequence: massive amounts of CO2 and particulate matter are blown into the air.  
A project being run under the Federal Government's Export Initiative Environmental Protection is looking to offer help here. The initiative aims to disseminate innovative "made in Germany" environmental technologies worldwide. For the project in India, researchers at the Fraunhofer Institute are among those developing a decentralised power generator that is based on fuel cell technology. The prototype produces enough electrical power to supply industrial plants, smaller municipalities and hospitals with cleanly produced emergency power. At the same time, heat is generated that can be put to additional use. 
Stabilising the power grid 
The first prototype will undergo a test run in Germany in June 2023, with an identical prototype being tested in Pune, India, from March 2024. After this, further tests will be started in Delhi and Mumbai. If implementation is successful, the new system will initially replace the environmentally harmful diesel generators. Around 20 million diesel generators are in use worldwide, so the impact on the environment is considerable. The second step of the project will involve those responsible collaborating with their Indian partner to build decentralised microgrids – i.e. power providers – that stabilise the grid and also generate heat as a by-product, as it were.  
The project is part of the German Export Initiative for Environmental Protection, which has been up and running since 2016. Projects of this nature with a financial volume in the millions have been completed or are still in progress in 75 countries: a total of least 1.6 million euros has gone into the Indian project alone. The Export Initiative comprises a diverse assortment of projects, ranging from water and sewage management systems to the handling of waste and raw materials. Another key goal of the Export Initiative is to impart knowledge and help people all over the world gain the qualifications required for the new technologies. 
You would like to receive regular information about Germany? Subscribe here: