Partners for innovations
Germany and Israel with its vibrant start-up scene have strengths that complement each other perfectly.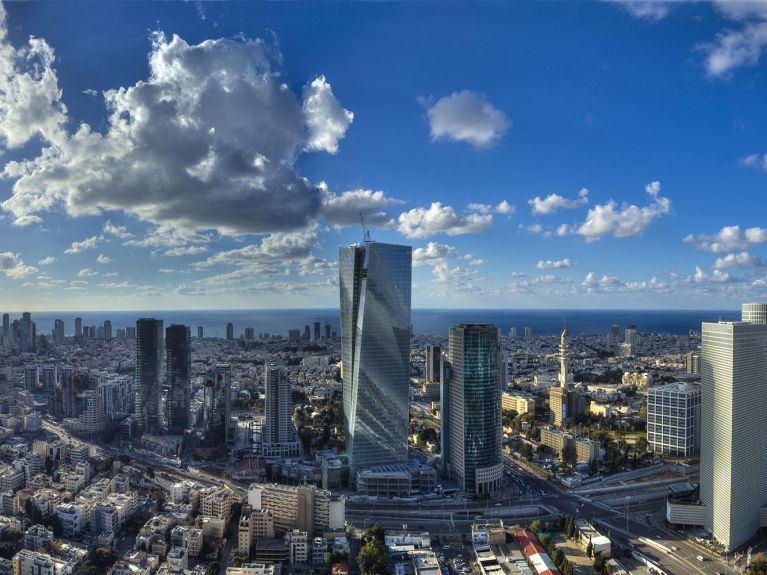 German-Israeli economic relations are good. The volume of bilateral trade is growing steadily. However, the exchange of goods and services is currently asymmetrical: while Israel's goods imports from Germany rose again in 2021, Israeli goods exports to Germany have not been making much progress. In its foreign trade with Germany (excluding diamonds), Israel registers its second-largest trade deficit. On the other hand, this is offset by a surplus in services. Israel's high-tech strength is the primary contributor in this field.
Cooperation on major issues of the future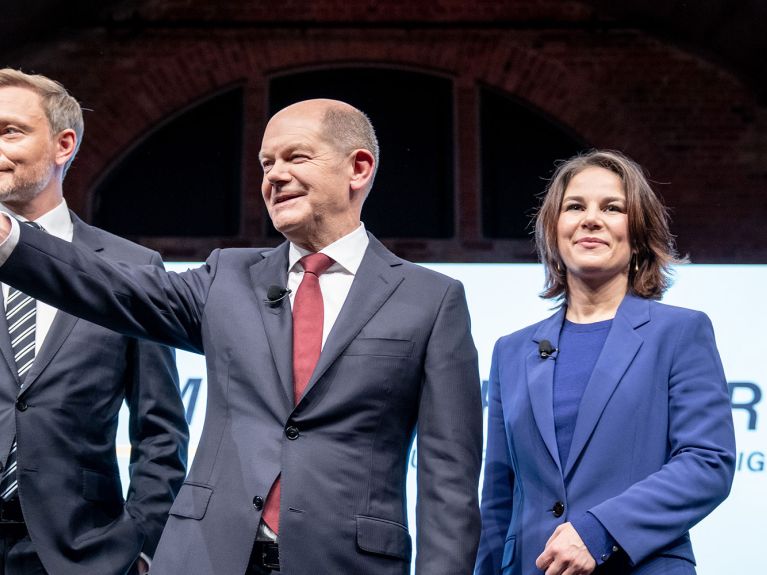 Business people in Tel Aviv expect that the goals of the new government in Berlin – which wants to harmonize the economy with the environment – will continue to have a positive influence on German-Israeli cooperation. "Megatopics such as green hydrogen and digitalization are also of great relevance, particularly for Israel's innovation ecosystem," says Grisha Alroi, managing director of the German-Israeli Chamber of Industry and Commerce (AHK Israel). He expects to see increased cooperation in the fields of digitalization, CO2 reduction, sustainable mobility, food tech, agro tech and e-health. Alroi expects Israel's inclusion in the EU's new Horizon programme for research and innovation to accelerate this development. Furthermore, he says, Israel is a "no-fuss, fast, enterprising and often disruptive venture partner – and is only a four-hour flight and one time zone away."
Many German institutions are also in Israel hoping to deepen bilateral economic relations. For example, in March 2020, the State of North Rhine-Westphalia's Office for Economic Affairs, Science, Education, Youth and Culture opened an office with four employees in Tel Aviv. Its aim is to "focus NRW's activities in Israel and generate fresh ideas," says Gil Yaron, who heads the office.
North Rhine-Westphalia is not the only German state with an office in Israel. Bavaria's State Government opened an office in Tel Aviv back in December 2017; it attends to the interests of business, science and technology, among other things. Baden-Württemberg and Rhineland-Palatinate have set up their business representations within Germany's Chamber of Commerce Abroad (AHK). Hesse, Mecklenburg-Western Pomerania and Thuringia also maintain permanent activities, but have no fixed structures. Hamburg is considering establishing a trade office, as are other cities and regions.
Sought-after partners: Israel's young high-tech companies
There is also a lot of movement in the private sector. Numerous German corporations have been cooperating with young technology firms in Israel for years. Companies like Merck and Siemens are looking for innovations in the Mediterranean country and are recruiting engineers there. Deutsche Telekom, Bosch, Daimler, the Volkswagen Group and BMW also maintain research and development centres in Israel, invest in start-ups or buy them up. Recently, for example, the Schwarz Group, which owns the Lidl supermarket chain, acquired the cybersecurity company XM-Cyber for 700 million euros.
In 2021, there were also several collaborations between Israeli start-ups and German firms. For example, Wacker Chemie is working with Aleph Farms to make lab-grown meat more suitable for the mass market. The Rewe supermarket group is testing computer-vision technology developed by the Israeli start-up Trigo, with the aim of making in-store bill payments automatic, thus eliminating customer queues.
The E.ON energy group is also involved in the Israeli start-up market. "There are two things that position Israel as a leader in the world of start-ups," explains Philipp Ulbrich, Vice President of Strategic Co-Investment. Explaining the attraction on his company's website, he says: "First, the density of high-tech start-ups is much higher than anywhere else in the world". Second, Israeli entrepreneurs are "very agile and quick to take on new challenges, even if that means rethinking the solutions they've already developed."
Opportunities also for German SMEs
Germany's small and medium-sized enterprises can also benefit from innovations in the Israeli high-tech sector. New technologies and trends should prompt companies to seek cooperation with start-ups, says the German Association of Small and Medium-sized Enterprises (DMB). "Given the ever-shorter half-lives of innovation, no company can rely solely on its own developments," agrees AHK chief Alroi.
In addition to the AHK, other bodies are endeavouring to build a bridgehead for German SMEs in the high-tech nation of Israel. For example, in September 2020, the German Federation of SMEs (the BVMW) opened an agency in Israel with the aim of networking German companies with the Israeli innovation ecosystem, and initiating and supporting bilateral business relations, as well as accompanying them in the long term. "One focus here is on promoting AI measures," says Andrea Frahm, who represents the BVMW in Tel Aviv.
In her role as innovation officer at the Helmholtz Association's office in Israel, Frahm also wants to forge a connection between researchers and scientific founders in Israel and Germany. In 2021, for example, a series of 'Entrepreneurship Education' workshops was initiated for Helmholtz scientists with an affinity for start-ups. It is to be held in Israel once or twice a year.
The Israeli investor Gilad Carni, who wants to give German delegations a better understanding of Israel's innovation potential, is confident that bilateral economic relations will be further deepened in the future. Carni is convinced that "the technology of Israeli start-ups, combined with the production capacity of German companies, can have an incredible impact."