Startups with chutzpah
How business startups from Israel are boosting innovation in German industry.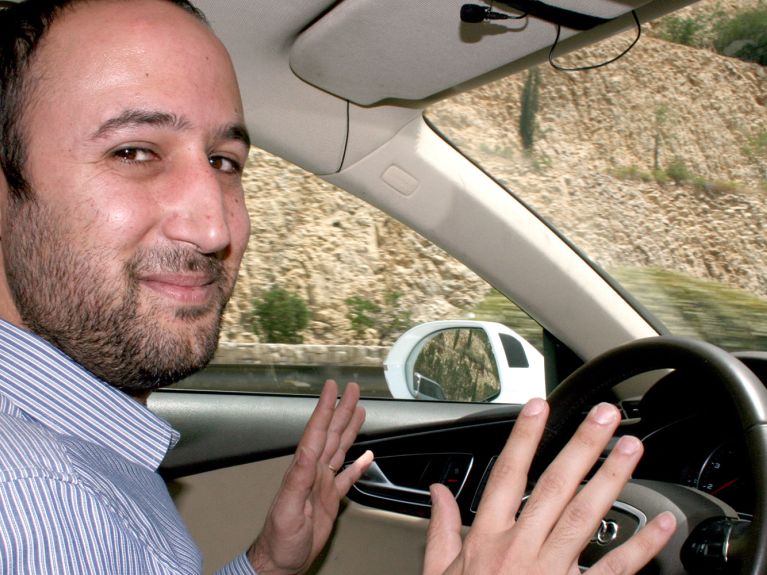 Why so timid? German businesses should more often allow themselves to be inspired by the bold entrepreneurial spirit of Israeli startups.
A certain reserve – that "German angst" – is considered typically German. Or to put it another way, Germans love security and shun risk. You don't have to find this attitude bad, because it also contains a propensity towards precision, although sometimes that can be rather obstructive.
In Israel there is a characteristic that could be described as the opposite to German angst: chutzpah. This Yiddish word designates an audacity that is presented with such charm and ingenuity that it is impossible to resist. It would be good to bring together the best of both worlds – also for the economy of both countries. The German Israeli Startup Exchange Program (GISEP) was founded to create synergies of this kind.
The German Startups Association and the Federal Ministry for Economic Affairs are behind the GISEP programme. The gaol is to strengthen German-Israeli business relations in the startup sector. GISEP acts as a platform and as an intermediary. Contacts, information in English and workshops are intended to make it easier for Israeli startups to access the German market.
Startup Nation Israel
Although Israel is barely larger than the German state of Hesse, it is one of the largest startup nations worldwide. There is probably nowhere else where the startup density is as high as in Israel, nor is the amount of venture capital per head higher anywhere else. Over 300 international business corporations have research centres in Israel. The German companies Volkswagen, Daimler and BMW operate innovation hubs in Tel Aviv, while Robert Bosch maintains a venture capital office there. There are over 6,500 startups and 92 NASDAQ companies nationwide, and almost half of the exports from the industrial sector are high-tech products. That is impressively demonstrated by this startup map of Israel:
The country's digital centre is the Tel Aviv metropolitan area, which is also known as Silicon Wadi, a name inspired by the Californian technology paradise Silicon Valley. Tel Aviv is the home of the successful real-time map app Waze, the Bancor cryptocurrency and LawGeex, software that helps lawyers find problematical passages in contracts and other documents.
The state supports its founders with various programmes. Up to 5% of gross domestic product flows into research and development. The Israel Innovation Authority funds startups nationwide – even those that begin trading with a high-risk business model. Universities and research centres are innovation leaders, but the military is also a pacesetter.
Many startups tinker away on civilian applications for inventions that originally came from the military. One famous example is the Mobileye driver assistance systems that are found in Audi and BMW vehicles, among others. Bridges between research and business are being built by institutions specially set up for that purpose – for example, Yissum, the technology transfer company of the Hebrew University. Since its foundation in 1964, Yissum has generated over 10,000 patents.
Perfect combination: Israeli entrepreneurial spirit and Berlin's startup scene
Although the launch conditions in Israel are almost perfect, the domestic market is very small with just under nine million inhabitants. The businesses grow large above all in the United States, increasingly often also in Germany and there primarily in Berlin. The fact that Germany's capital attracts young talents is not new; the city is cool, creative, open and still comparatively cheap. New is the fact that the startup scene in Berlin has been professionalised. The number of so-called incubators, accelerators and company builders has grown, as has the amount of venture capital circulating in Berlin. The infrastructure is outstanding, the German market offers exceptionally well-trained specialists, and the startup community is well networked.
It's the special Israeli entrepreneurial spirit that also fascinates GISEP Ambassador Andrea Frahm. The marketing expert lived for a time in Israel and is convinced that German business competitiveness can benefit from Israeli creativity. "We may have invented the automobile," says Frahm, "but today disruptive technologies for autonomous driving are being researched and developed in Israel."
In Israel, people work on creative solutions across hierarchical boundaries. This unconventional approach can not only give large players like Siemens, Daimler or Deutsche Telekom an innovation boost, but also Germany's diverse SME sector. The latter has produced countless hidden champions, largely unknown world market leaders, and employs over 70% of workers in Germany – although hardly anybody knows this. A little chutzpah could really not go amiss here.
The next opportunities for dialogue will present themselves at Young Tech Enterprises at the Hannover Messe from 1 April 2019 and during the German Israel Week 2019 in September, which is being organised by the German Startups Association.
German Israeli Startup Exchange Program (GISEP)