Brave new working world
Moving away from rigid structures and hierarchies: three examples of New Work in German companies.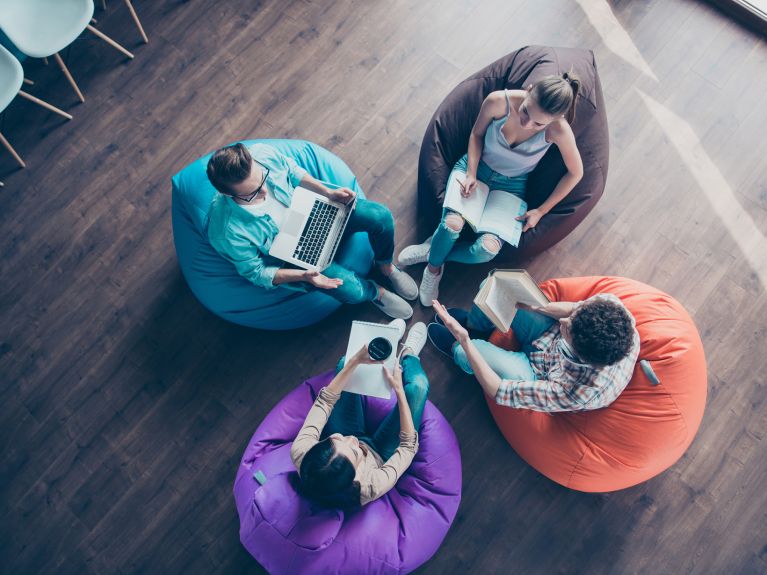 The working world is rapidly changing. What does Work 4.0 imply for knowledge and qualifications, leadership and cooperation, working hours and workplace? German companies are testing New Work in learning and experimental contexts. Three examples:
Reverse mentoring at the BMW Group
The car manufacturer is simply inverting the hierarchies, so that both sides learn from each other: Trainees are training managers. Young digital natives are giving tips to experienced engineers and managers on the use of mobile appliances and social media in the work environment. Or a young apprentice may explain how intelligent digital technology works in the company's cars. "This is highly motivating for the young trainees," says Konstanze Carreras-Solé, head of apprentice training at the BMW Group.
Flexwork at Deutsche Kreditbank AG
Can a job and family life be smoothly combined? Employers need to provide for this, if they want to keep their employees on a long-term basis and remain competitive. Deutsche Kreditbank, together with the support of the Fraunhofer Institute for Industrial engineering, is testing the idea of work that is flexible in both time and place. Project teams are developing solutions for communication, accessibility, technical prerequisites and a fair distribution of tasks. At the same time, managers are learning distance leadership. The aim is to satisfy the needs of employees, enterprises and customers.
Robots as colleagues in skilled crafts
The medium-sized carpentry company Eigenstetter Company has acquired a robot and digitalized the work processes. This reduces the physical workload for the craftsmen, but they need to learn new technical skills at the same time, and some may find that unsettling. Anja Cordes from the Research Institute for Skilled Crafts (itb) explains how this transition succeeded: "The employees were included as experts at eye-level during the introduction of the new technologies." In this way, robots are appreciated as assistants and not feared as competitors.
More about New Work in Germany
On the website www.arbeitenviernull.de the Federal Ministry of Labour has compiled information and practical examples of New Work and is carrying on a dialogue with companies, research and society.