Germany and the US: Five facts on economic relations
From imports and exports to investments and jobs - important facts on German-American economic relations.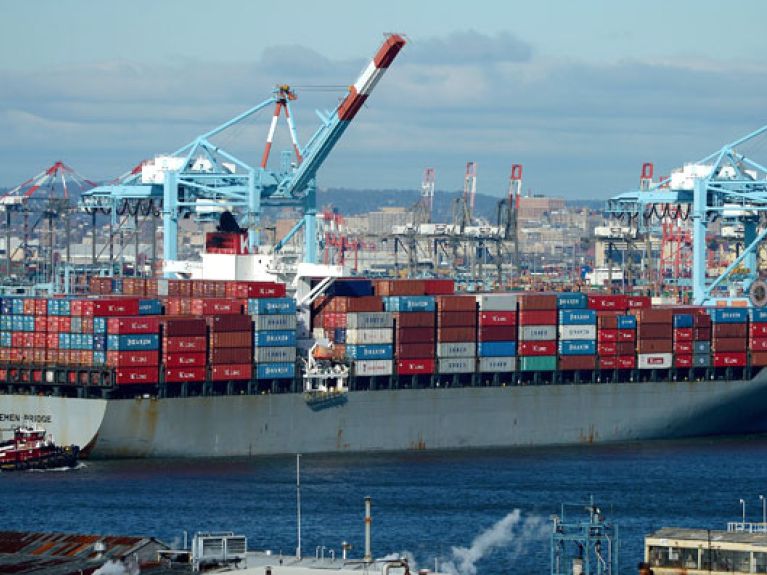 What is the relationship between the German economy and the US economy? A glance at the figures shows: Both countries benefit from close relations.
Strong trade flows
The US is the most important export market for Germany, with goods exports there totaling 111.53 billion Euros in 2017. Yet at the same time, it is also fact that the US is the fourth most important importer for Germany, with more imports coming into the country only from China and the neighbouring countries France and the Netherlands.
Considerable investments
In 2016 German direct investments in the US amounted to 223.8 billion Euros according to Bundesbank calculations. According to the US Dept. of Commerce, Germany ranks fourth top investor in America, behind Great Britain, Canada and Japan. In comparison, US direct investments in Germany amounted to 54.8 billion Euros in 2016.Companies that are headquartered in the United States have committed around 156 billion Euros in Germany.
Numerous jobs
According to the U.S. Department of Commerce, subsidiaries of German companies in the US employ about 674,000 workers. US firms in Germany provide about 650,000 jobs.
Strong sales
While the top 50 US companies in terms of sales volumes booked 2016 sales in Germany totaling 176 billion Euros, sales in the USA that same year by the 50 largest German companies came to 370 billion Euros. The plant of German company BMW in Spartanburg in South Carolina is the largest exporter of cars in the US.
Global cooperation
Germany is a valuable partner for the US not least as the largest European national economy. The European Union and the US together generated 47 percent of the global gross domestic product in 2016 and represented 59.2 percent of foreign direct investment world-wide.
Global player: the German economy
"Made in Germany" ranks first worldwide
© www.deutschland.de