German-African start-ups
They are young, creative and successful: German-African start-ups are active in many areas. Four cooperative ventures with a promising future.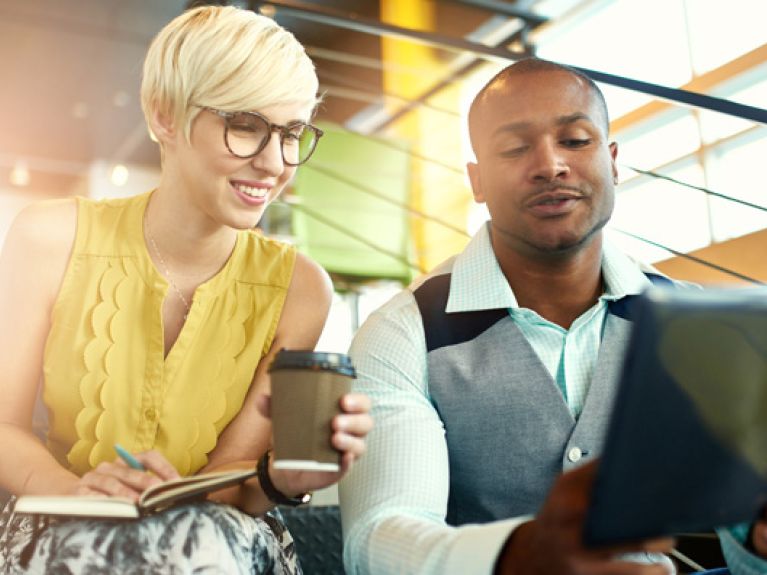 Africa Green Tech
Energy for Africa is the motto of Africa Green Tech, a company which supplies large areas with electricity via mobile solar containers. So far, this start-up from the German state of Hesse has set up five containers – all manufactured entirely in Germany – in Mali. They are equipped with solar modules, alternating-current converters and accumulators. Some of them also feature a water purification system. For villagers in this West African country, this method of electricity production is not only cleaner than the diesel generators they previously used, but also significantly cheaper. The socially-oriented company is financed through crowdfunding on the Internet. Its goal is to return the capital with interest to investors at a later date. Another 50 solar containers are to follow in Mali in 2017. Talks with the governments of other African countries are underway.
Mobisol
Berlin-based start-up Mobisol has also been attracted by the African sun. The company sells photovoltaic systems for household use in Tanzania, Rwanda and Kenya. To date, the company's founders have installed more than 60,000 solar systems on roofs in the three countries. What is special about their approach is that customers pay for the systems over a period of three years with their mobile phones. This allows Mobisol to supply people even in remote villages who have no bank account. The solar panels produce enough electricity to run lamps, mobile phones, fridges and televisions. Trained and certified engineers are responsible for installation, while local teachers learn how to operate the systems. Investors include the Deutsche Entwicklungsgesellschaft (DEG), the Dutch development bank FMO, the International Finance Corporation (IFC) of the World Bank Group and the private equity company of the South African firm Investec Asset Management.
Volkswagen, Daimler and BMW
The market in Africa is dominated by used cars imported from all over the world. Volkswagen plans to embark on a new approach in Rwanda: by offering modern mobility concepts, customers are to be encouraged to use Volkswagen vehicles. Via an app on their mobile phones, they can either choose a short-term rental (car sharing) or book a car with a driver (ride hailing). Volkswagen plans to have the vehicles assembled in Rwanda from kits supplied by its plant in South Africa. Volkswagen has also opened a production facility in Kenya. The company works with local partners in a bid to keep investment costs low and ensure that its prices are competitive. Other German car manufacturers also see opportunities for growth: BMW has announced partnerships with pan-African banks so as to make it easier for its customers to obtain finance when buying a car, while Daimler plans to enter no fewer than 50 new markets with its trucks and buses. Two new sales centres are planned in Nairobi and Pretoria. 
FruitBox Africa
Lush fruit and vegetable plantations are rarely what springs to mind when people in Europe think of Ethiopia, yet this is precisely what has been achieved by a group of private investors from Frankfurt am Main led by commercial lawyer Lutz Hartmann. The holding company FruitBox Africa GmbH holds 100 percent of the shares in a farm in the Wolayta region in the south of the country, leasing 300 hectares from the Ethiopian government. Tomatoes, chillies and onions are already being grown there, and now papaya trees and cabbages are to follow. Long-term, it may also be possible to grow cauliflowers, mangos, courgettes, aubergines, okra and peppers. Hartmann is convinced that there is great potential in African agriculture, though he explains that funding and expertise are urgently needed. He believes that the productivity of agricultural business could be significantly increased with the aid of modern cultivation methods and investment in good seeds and equipment. In December 2015 the company began construction of an irrigation system, including pump house, water reservoir and a one kilometre-long pipeline. Harvesting has been in full swing since October 2016, with produce being sold at the local market. The longer-term plan is to export part of the harvest, and the Frankfurt businessmen are also considering possible ways of further processing the crops so as to extend the value-adding chain. FruitBox Africa GmbH, which so far is funded entirely privately, currently employs more than 100 people. Apart from the two managing directors, all of them are from Ethiopia. Once the farm has reached its final stage of completion, as many as 1,000 jobs could be created directly and indirectly in one of the continent's poorest countries. 
© www.deutschland.de