04.05.2017
Top-notch technology with a fun factor
Robots play football, search for disaster victims or tidy up the apartment – the world's best robotics teams are competing in the RoboCup.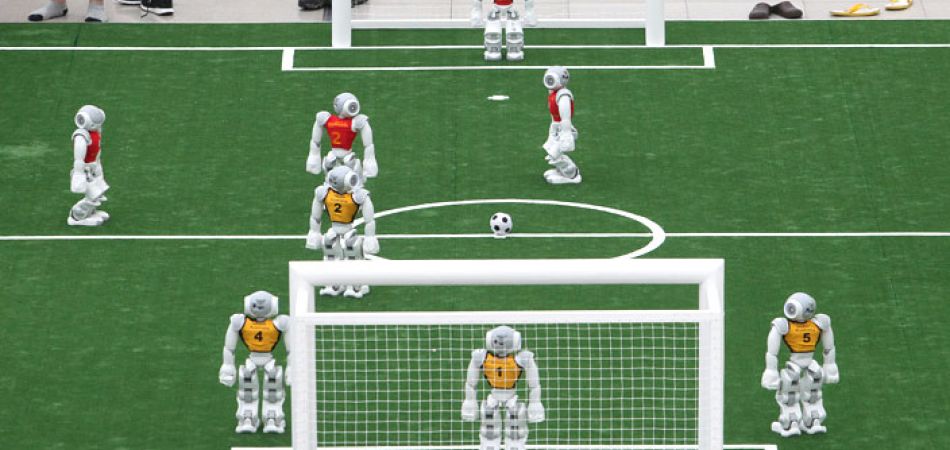 These soccer players are not made of flesh and blood, and the ball moves much slower on the pitch than in a cup final between FC Bayern and Borussia Dortmund. But the onlookers watch and cheer just as enthusiastically when the robots shoot a goal.
The soccer-playing robot are the highlight of the RoboCup which is staged in a different country each year. The RoboCup is the most important international competition for robotics and artificial intelligence. This year's world cup is being held in Japan in July. The RoboCup German Open 2017 is one of the qualification rounds being held in Magdeburg from 5 to 7 May. There will be 210 teams from 15 countries including Italy, Iran, Russia, Hungary and Turkey.
International and interdisciplinary
The RoboCup organizers like to stress that the soccer-playing robots are not being developed just for fun, because there is serious science behind it all. But the fun factor is useful: the most popular sport in the world is an excellent way of demonstrating the progress that is being made in robotics. Teamwork, reaction speeds and coordination, these are some of the soccer-team skills that are also required of the new technological assistants. 
Rapid progress is being made in the field of robotics. So the RoboCup is also an exhibition of the latest achievements from universities and research institutions around the globe. The competition provides valuable impulses to research for international and interdisciplinary collaboration, including co-operation between science and industry.
Vision: Robots beat soccer players
The robot inventors are dreaming of developing a team by the mid-21st century that is able to play against the current world cup champions – and win. Progress is clearly visible year-by-year at each RoboCup. During the first RoboCup in 1997, the robots' movements were awkward and they had difficulties recognizing the ball. But now, twenty years on, they move swiftly across the pitch, shoot on target and are becoming increasingly good team players.
Robots as assistants and life-savers
Robots do other things besides playing soccer at the RoboCup. The teams of developers also demonstrate their intelligent machines' abilities in everyday applications, such as production, logistics, household tasks and disaster protection. One of the goals is to develop a robot that can discover and rescue victims in difficult terrain. The biggest challenge is developing intelligent systems that work not only in the research lab, but also safely and reliably in a real-life environment.
RoboCup German Open 2017, 5 to 7 May 2017 in Magdeburg
RoboCup 2017, 27 to 30 July 2017 in Nagoya, Japan