Career opportunities in Germany
Germany needs skilled workers – and people from Asia are looking for fair employment opportunities.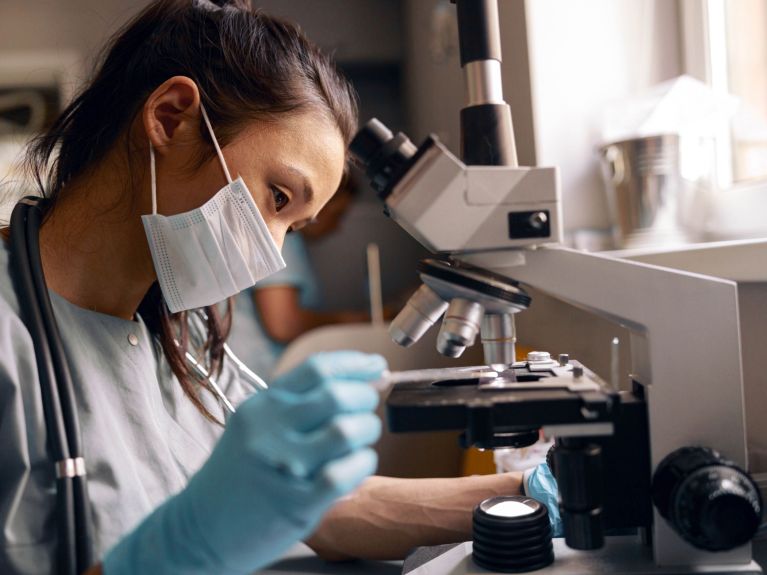 In a classroom on the fourth floor of Brihaspati Vidyasadan School in Kathmandu, there are posters hanging on the wall with sayings by Albert Einstein: "In every challenge lies an opportunity," says the scientist in a brightly coloured speech bubble. This is something of a motto for the young Nepalese who are preparing to start their vocational training in Germany at the Nepal Secretariat of Skills and Training (NSST) that is housed in the school. The twelve youngsters face enormous challenges and are hoping to make the best of their opportunities.
In order to do this, they are learning German at the Goethe-Institut and are also being given a "crash course on Germany": familiarising themselves with the conditions in their new temporary home, writing applications, practising how to deal with authorities, and finding out about the food, festivals, customs and traditions in this faraway country. There's also a spaetzle evening and presentation training.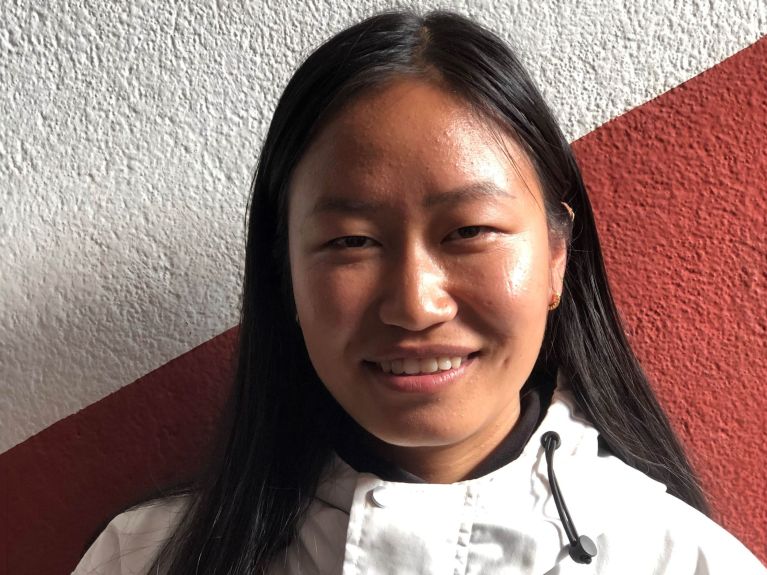 "I just had to get out, I want to learn," says Ramila Gole. The 22-year-old Nepalese woman just recently moved from the mountain village of Dandabas to Kathmandu. For the next twelve months she'll be preparing for her dual-track training programme in Germany, where she'll be combining practical training in a company with theoretical education at a vocational college. Would she like to stay in Germany after completing the three-year training program? "Yes, I think so," she says.
Skilled workers are urgently needed in Germany
Skilled workers and trainees are urgently needed in certain professions in Germany. According to the Federal Employment Agency, Germany would have to take in some 400,000 skilled workers from abroad every year to meet the demand in key sectors of industry, the craft trades and nursing care. On his visit to India in spring 2023, Federal Chancellor Olaf Scholz promised to facilitate visas and "large-scale immigration". In 2022, the German Embassy in New Delhi issued visas to around 3,000 skilled professionals, mainly IT specialists. "We're well aware that we can only secure our future, a functioning economy and an effective social security system if we have enough skilled workers in Germany," said Scholz.
The conditions are now better than ever, especially with the new Skilled Immigration Act. This creates additional opportunities for people to work or train in Germany. In future, anyone with a recognised vocational qualification will be able to pursue a qualified occupation in Germany. In addition, the law enables workers to immigrate to Germany if they have at least two years of experience and a professional qualification that is officially recognised in their country of origin. What is more, a new Opportunity Card is to be introduced based on a points system so as to help people find jobs. The selection criteria include qualifications, language skills and work experience. If German employers wish to employ a worker from abroad, they can now initiate a new fast-track procedure for skilled workers with the support of the foreigners' authorities.
The portal Make it in Germany guides you step-by-step through the various procedures and even includes advice on how to find housing. Together with the Federal Ministry for Economic Cooperation and Development (BMZ), so-called Centres for Migration and Development are to be expanded or established in Pakistan and Indonesia, too. These are to enable fair and ethical labour migration to Germany and Europe.
Sophisticated matchmaking – assistance for job seekers and employers
Kathrin Junken from Germany is the founder of the private German-Nepalese training institute NSST, where she uses a sophisticated system of matchmaking. Junken gets in touch directly with Chambers of Trade, companies and businesses in Germany and recommends young men and women who have completed her training course in Kathmandu. But even selecting a profession is not easy: while Germany is looking for future skilled workers and nursing staff in hospitals, for example, some young Asians would prefer to train as event managers or e-sports organisers.
In spite of such hurdles, things have gone very well for German car dealer Klaus Meyer: he hired the young Nepalese Sanjeev Tamang from the first NSST cohort to work at his dealership just outside Würzburg. Thanks to the support of the local chambers of trade, the 21-year-old is allowed to stay because Meyer was able to secure a permanent residence permit that is valid for as long as Tamang is employed by him. "I'm going to take on another Nepalese as a trainee this summer," says Meyer. And he adds: "It's all very simple if everyone makes the effort."
Germany offers great opportunities
Although Germany is several thousands of kilometres away and the language is a challenge, getting a job or a training position in Germany means a lot to many Asians. "Germany offers lots of opportunities," says Ramila Gole from Nepal, even though she only knows the country from videos and pictures on social media. "The climate is good. And there's a lot of freedom," says her classmate Pawan Shrestha.
They're well aware of the challenges involved in this new beginning, but they're not afraid. There is probably nowhere in the world that has as much experience of migration as the Indo-Pacific region. Labour migration has a long tradition in Asia and the idea of moving for work, even going abroad, is not uncommon for many people. Then there is internal migration, too: a lot of people are driven to seek out the big cities in the hope of finding work, income and a better education, increasingly due to the consequences of climate change in rural areas, too.
Job seekers' desire for training and income combined with the Federal Republic's good reputation on the world stage make Germany almost the perfect partner for migration from Asia. Most parents are happy for adolescents to have sound prospects for the future in a respectable country. And if today's trainees from Nepal return to their country of origin one day, they will be able to create a better future for themselves there based on the solid training they have received.