"This is art!"
German-Israeli teamwork: Young tradespeople are working together to preserve the Bauhaus world heritage of Tel Aviv.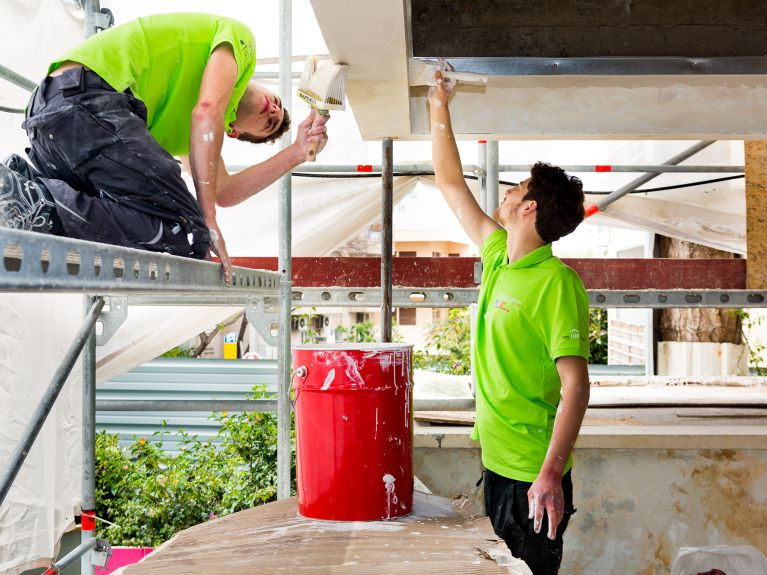 The façades of the Max Liebling House in Tel Aviv look as good as new. The renovation of the Bauhaus villa was carried out with the help of a group of young tradespeople from Israel and Germany. We asked them what they were able to learn from one another.
June Eiger, aged 22, from Tel Aviv
In 2019 you took part in a plastering workshop at the Max Liebling House. What motivated you to get involved?
For me, it was mainly about getting experience. In Israel we don't have any schools for tradespeople and nor are there any regulated training paths. Anyone who wants to learn a trade has to find somebody to teach them how to do it. It's more like learning by doing. In the workshop we worked with German plasterers who had learned their trade from the bottom up. They were very professional in the way they approached the tasks. I wanted to learn from them and find out whether a trade is the right profession for me, because I'm still not sure yet.
What was the cooperation like?
It was really amazing. In the beginning we weren't really a lot of help, but the German participants in the group had an unbelievable amount of patience with us. Our task was to work together on the façade of the villa. During the week there, I learned how to prepare walls and apply plaster – which is something I had never done before. I never realised it was quite so physically demanding. It's almost like a workout, but that's precisely what I like. In the end, someone would generally go over what I had done and give it the finishing touches. Everybody was really genuine and respectful with one another, it was a great atmosphere.
What do you like so much about working with a trade?
It was really nice to see how professionally our German colleagues worked on the building site. They had already had several years of training, and it showed. It's not just about plastering a wall here and there. What has been achieved here is art! Since then I've had all the more respect for tradespeople. The experience made quite an impression on me and made me feel I would like to work with a trade long term. I would have to find a company to employ me and train me though, which isn't all that easy, but it can work out: One of the Israeli guys on the building site started as a helper hauling stones, and now he's permanently employed as a plasterer.
Maximilian Friedel, aged 24, trainee plasterer from Leonberg
How did you end up taking part in the plastering workshop at the Max Liebling House?
I am always open to new experiences in foreign countries and I was interested to see how tradespeople work in Israel. What's more, there are probably very few plasterers who can say they have worked on UNESCO World Heritage Sites! Previously I was completely unaware that Bauhaus architects who had fled from Germany had had such a strong influence on the cityscape of Tel Aviv –an ensemble of 4,000 buildings is really a huge amount. For me, the White City is an impressive testimony to German-Israeli history – and having the Liebling House as the place where we all came together is a powerful symbol.
What were you able to learn from the cooperation with your Israeli colleagues?
My job was to show the Israeli colleagues how we work. That was an unusual position for me to be in, because I'm still in training myself, namely in the third year of my apprenticeship. And having to contend with these temperatures at the same time – rendering a façade in 30 or 40 degrees is quite a challenge! You have to keep spraying on water and making sure the material doesn't burn up – otherwise all the work is ruined. Working quickly but keeping calm at the same time – that's certainly one thing I learned during the week. Everybody in the group put in a huge amount of work and we achieved a great deal together. Even though it was hard work, our Israeli colleagues would walk through the city with us after work and show us the best places to eat. That was really fun – Israeli cuisine is just amazing!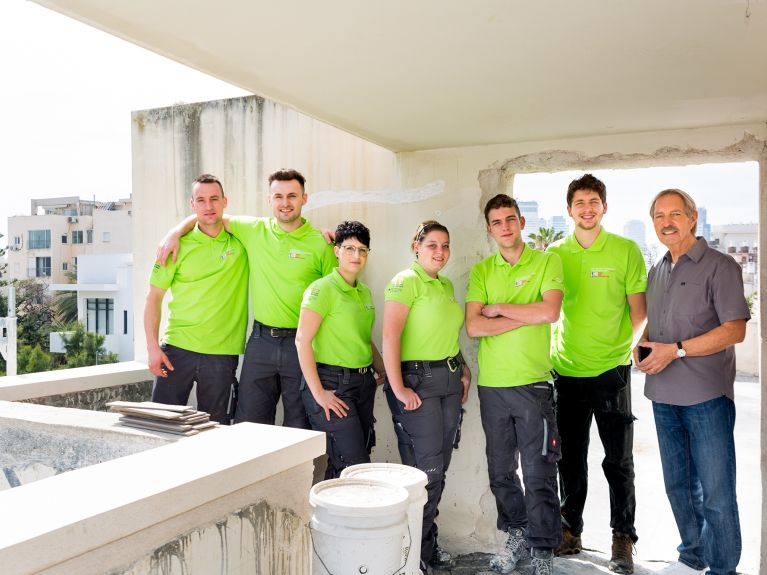 What fascinates you about this kind of work?
You can see what you've done. When we go home at the end of the day, the customer can see a result. That might be freshly plastered walls or newly applied decorative elements on the ceiling – either way, something has always changed for the better. That gives you a sense of satisfaction. After finishing school, I initially did an apprenticeship in a bank, but sitting at a computer all day just didn't suit me. That's why I'm training as a plasterer and combining the apprenticeship with training as a property development manager, which is more commercially oriented. This way, lots of doors are open to me, both on construction sites and in company management.
You would like to receive regular information about Germany? Subscribe here: