Inspired by the Bauhaus
The Bauhaus has left its mark worldwide. You need to know this in order to be able to understand the 2019 anniversary year.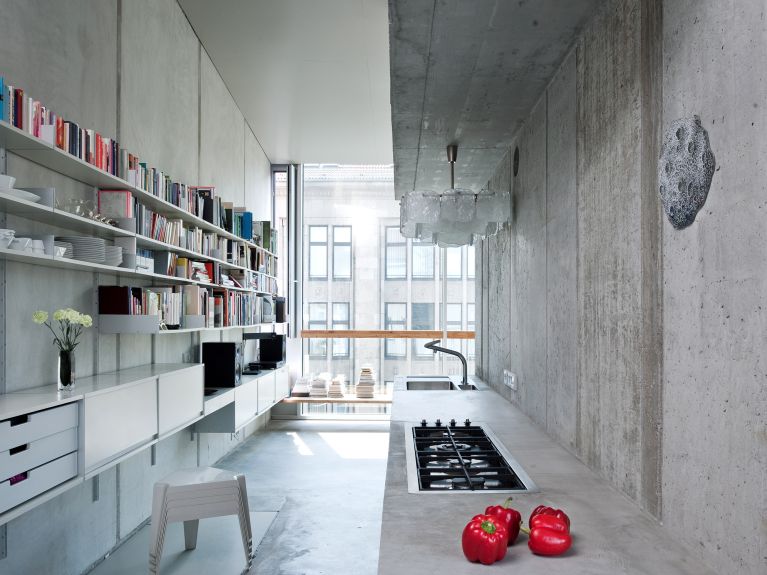 The Bauhaus has long been a myth. It is not an institution of yesteryear. It still influences art, design and architecture. In 1919, the architect Walter Gropius founded the new educational institution for artists, architects and designers in Weimar with a manifesto. Renowned artists such as Lyonel Feininger and Johannes Itten, Wassily Kandinsky and Paul Klee, attracted students there from all over Europe. But the Bauhaus was from the start more than just a school for "good form" in crafts and technology. It was a huge experiment, a bit of utopia, which opened itself to all the social and political issues of the time, and touched them with passion, verve and radicalism.
No patented Bauhaus style
The Bauhaus was always confronted with a climate of populism and fixed resentments. It therefore had to move twice, in 1925 from Weimar to Dessau and in 1932 from Dessau to Berlin. With each move, the artistic orientation and program changed. While the Weimar period was marked by the "return to the craft" and the clash of artistic trends such as Expressionism, Dadaism, Constructivism and geometric abstraction, the phase in Dessau was shaped by the idea of a "unity of art and technology". A Bauhaus style, however, a unified conception of art, architecture and design, never existed, even if today form stamped with precision and Cartesian clarity is readily and exclusively assigned to the Bauhaus. It is not as simple as that. The Bauhaus was always in motion and abounded in changes, an interdisciplinary workshop of ideas that are still alive even 100 years later and after various transformations. Even today, the innovative approaches and ideas of the Bauhaus are still being digested, refined and modified in architecture, design, art and organization.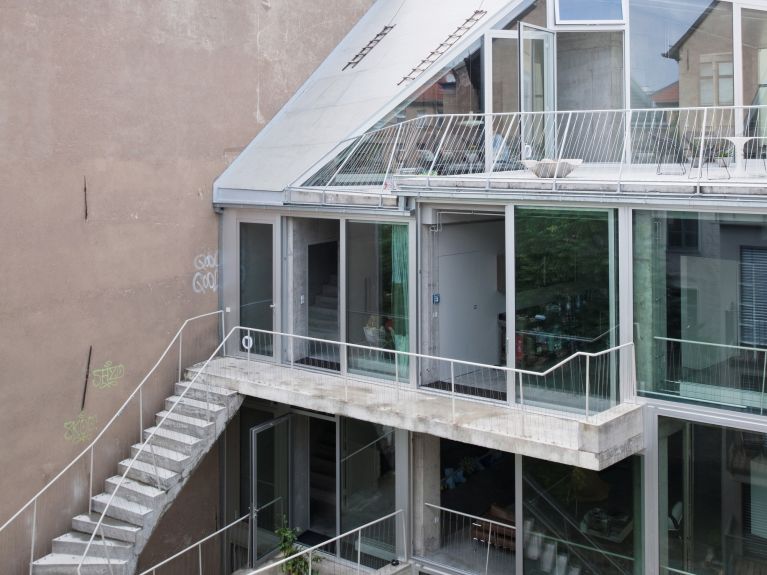 Away from conventions
The photographer and filmmaker Ré Soupault describes very vividly the co-educational, unconventional life at the Bauhaus: Everyone wanted to get away from the middle-class ideals of the surrounding world. The squatters movement of the 70s and 80s was after that too. Political opposition to the demolition of Wilhelminian districts led to the emergence of new communities and self-construction initiatives, which resulted not only in a redirection of urban policy, but also in an experimental field for sustainable thinking. This is exactly where Arno Brandlhuber comes in with his impetuous, authentic, even rough architecture, which repeatedly rubs up against the themes of the time, risking experiments and saving resources.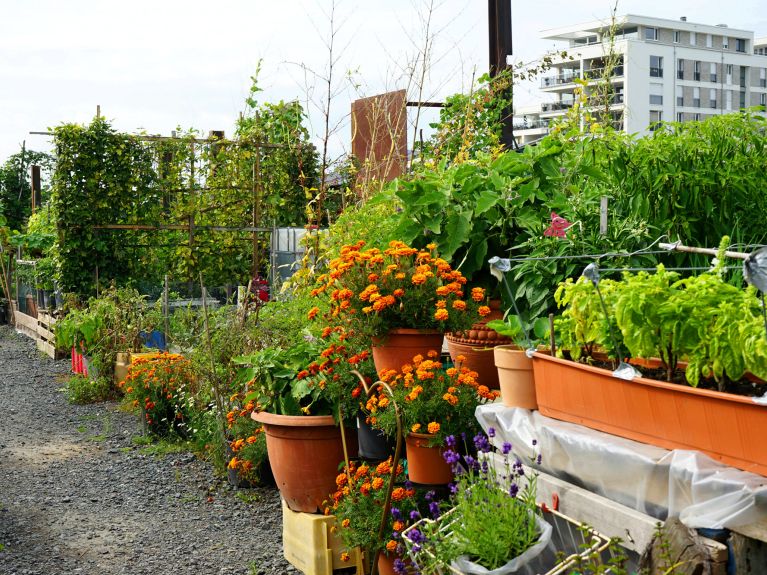 Towards new ideas
The Bauhaus settlement in Weimar, planned by Gropius and his students, was to become a communal residential complex with gardens for self-sufficiency. Today this concept finds its equivalent in the urban gardening movement and in the collaborative assembly models that redefine living, dwelling and working. The Ausbauhaus designed by the Praeger Richter architect office in Berlin is one such communal residential building.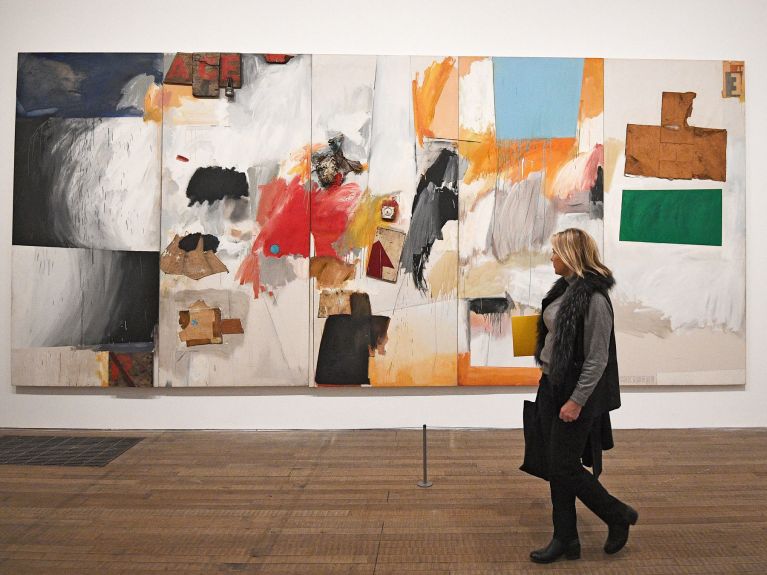 Influence in the USA
After 1933 Bauhaus members Walter Gropius, Xanti Schawinsky, Josef and Anni Albers brought the Bauhaus idea to Blackmountain College in the United States, and shaped American art education and the modernism of artists such as Robert Rauschenberg, John Cage, Cy Twombly and Franz Kline. Constructivist art, which was consolidated at the Bauhaus by László Moholy-Nagy, influenced American Minimalist artists in the 1960s, including Donald Judd, Sol LeWitt, Dan Flavin, John McCracken, Robert Morris, Richard Serra and Tony Smith.
Back to Europe
Via the USA, the transformations of Bauhaus ideas returned to Germany and Europe. In Germany it was the groups Zero and Fluxus that inspired art with non-representational positions after 1950. Especially the border-crossing abstract light experiments of the Bauhaus artists Kurt Schwerdtfeger and László Moholy-Nagy pointed to new paths. They opened up for the first time a third dimension between painting, sculpture, film and theatre, whose forms revolve around themes such as time and space, light, colour, movement and rhythm. For example, the video artist Volker Schreiner makes reference to these early experiments in abstract film in his works Wipe Board and White Screen and their rhythmically cut sequences of shapes and colours.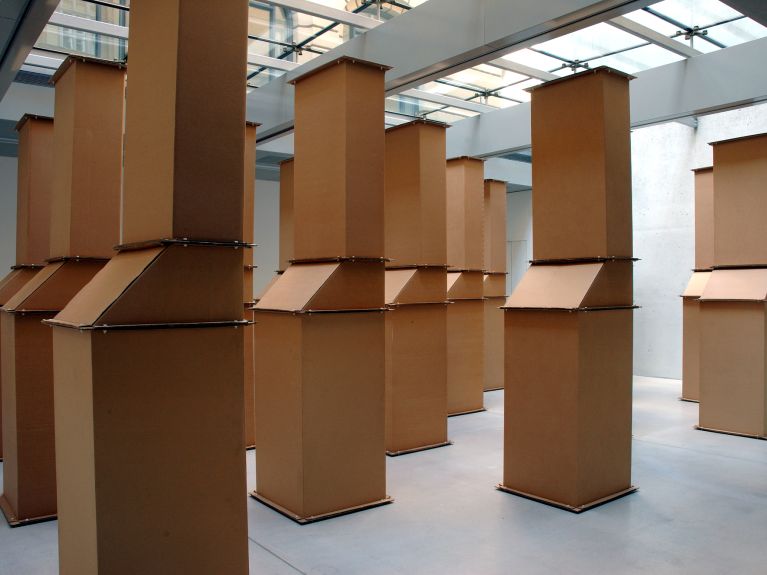 Open to materials
One of the outstanding features of the Bauhaus, notes Anni Albers, describing the early years, was an unprejudiced attitude towards materials and their capabilities. The basis for lessons was supplied by wood, cardboard, fabrics and finds from everyday life. In the works of the painter and stage designer Charlotte Posenenske we can see an affinity with this Bauhaus program. In the sixties, she created transformable figurations combining art, technology and architecture by using voluminous technoid hollow bodies made of cardboard and metal.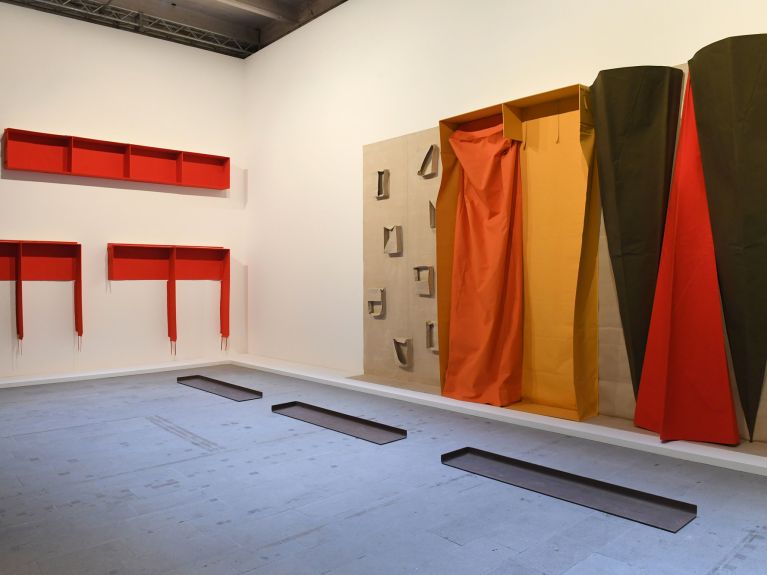 Combining various disciplines
In the 1960s Franz Erhard Walther used the material process as a work model for his artistic work with spatial images made of coloured cotton fabrics. These are border-crossing, combining artistic disciplines just as at the Bauhaus the boundaries between architecture, theatre, art and design were to give way and interconnect. Walther's spatial images are installations and performances as well as paintings because some of the objects can also be changed by the viewer.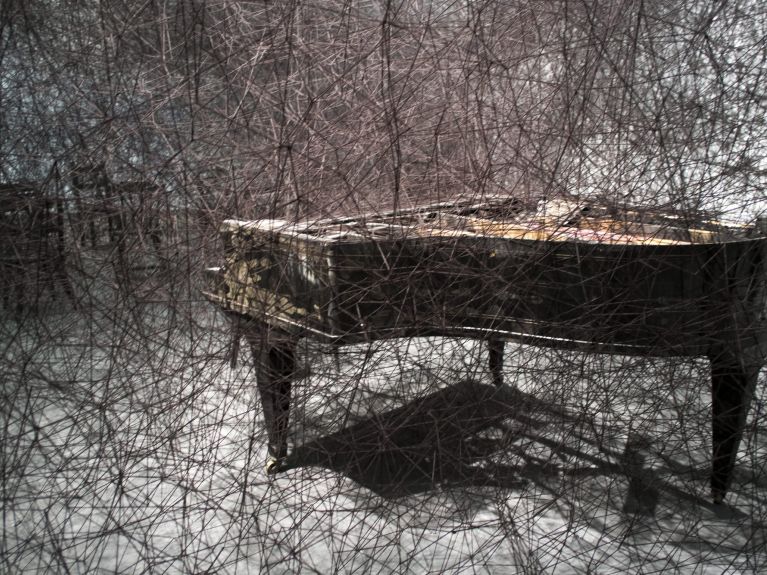 Discoveries in weaving
So far too little attention has been given to the role that weaving played for Bauhaus members as a basis for modernist abstraction. They were fascinated by how threads find their own form. The textile-coloured structures and abstract formal language of room dividers, carpets and upholstery materials was an object of observation. The fascination with the language of threads is also shared by the Berlin-based Japanese artist Chiharu Shiota. Metaphors borrowed from textile fabrication, such as "linking", "concatenating" or "networking", are part of her abstract-conceptual visual vocabulary. Using black woollen threads, she enmeshes clothes, beds, shoes, scissors, pianos or whole living rooms.