Healing the wounds of war
How a German network is funding the reconstruction of cultural treasures and offering people new prospects.
Kim Berg / 04.10.2018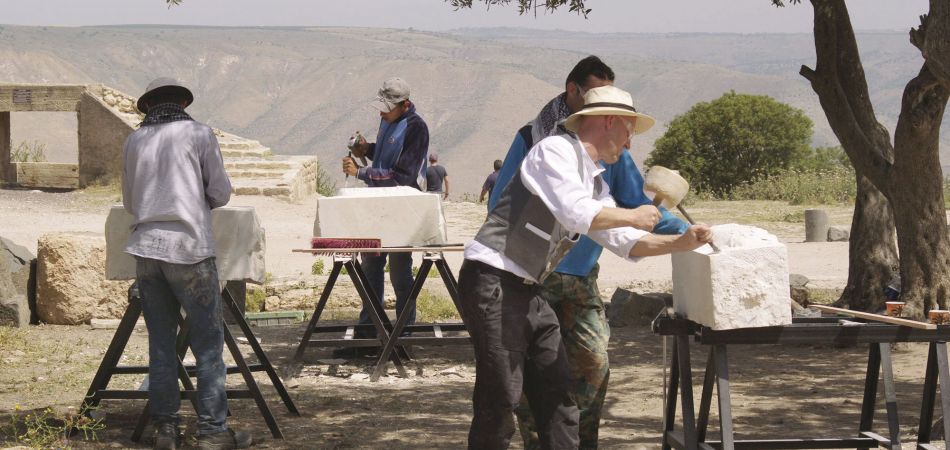 Wars and conflicts care nothing about cultural heritage that is thousands of years old. Many historical sites have been destroyed in recent years, above all in the Middle East. Quick action and efficient organisation are needed to prevent our cultural heritage from being lost for ever. German instititions are making an important contribution to cultural preservation and funding the reconstruction of destroyed sites.
ArcHerNet pools competencies
Getting in touch with potential supporters is not always easy, however. "The way cultural and higher education institutions present themselves is not regulated by any ministry in Germany", explains Margarete van Ess, who works for the German Archaeological Institut (DAI), "so it is sometimes complicated because nobody abroad knows exactly who to contact." To address the problem, Germany's Federal Foreign Office teamed up with 18 founding members in 2016 to create a network of experts, the Archaeological Heritage Network (ArcHerNet). The platform makes it easier to coordinate regional and international projects. "We can communicate with one another more quickly, establishing who will do what, where and when", says van Ess, who runs projects in Lebanon and Iraq.
Funding reconstruction and creating jobs
ArcHerNet members can develop and implement projects within the network themselves. Funding comes courtesy of the Federal Foreign Office and the Gerda Henkel Foundation. On the largest project, "Stunde Null – A Future after the Crisis", the DAI is working closely with the other members of ArcHerNet and the Directorate-General for Culture and Communication at the Federal Foreign Office. The project combines training and continuing education of conservationists, urban planners, architects and archaeologists, and the protection of cultural assets in the Arab world. "Stunde Null" is aimed particularly at Syrian refugees and state employees in those of Syria's neighbouring countries that are particularly affected by the refugee crisis.
"The idea of 'Stunde Null' is for us to support the local institutions in countries in crisis", says van Ess. "We provide further training for archaeologists, architects and, above all, skilled tradespeople so as to support reconstruction once conflicts end." Training of refugees is linked to job offers so as to boost the local economy in the host countries. "In this context we cooperate closely with the relevant authorities in the countries concerned", stresses the archaeologist.