Promotion of cultural affairs in Germany
Whether you're interested in competitions, awards, grants or sponsoring – these portals are the place to go to find out more about the public and private support of culture and the arts.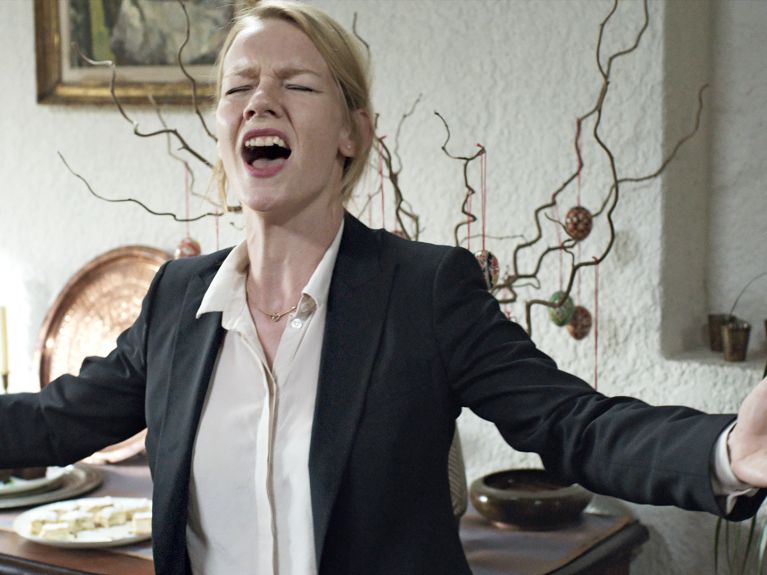 German Film Academy
The Deutsche Filmakademie e.V. was founded by prominent German filmmakers in Berlin in the fall of 2003. The independent institution aims to focus attention on promoting the art of filmmaking, sharing film-related experiences and introducing the subject of "filmmaking" in schools, alongside "art" and "music". One of the most important tasks of the institution is to present the annual German Film Award.
German Book Prize
Recommended reading for dismal autumn days: To kick off the Frankfurt Book Show, the German Publishers and Booksellers Association now presents an award for the "best novel written in German". The German Book Prize was first awarded in 2005 and includes a purse totaling EUR 37,500. A jury, which is appointed each year, honors one novel in particular and five other titles.
The German Television Award
What do the German actor Uwe Ochsenknecht and entertainer Harald Schmidt have in common? Both were recipients of the German Television Award in 2001 – in different categories, of course. The German TV broadcasting stations ARD, ZDF, RTL and SAT.1 began to present this trophy annually in 1999 to promote quality in German TV programming and to honor outstanding contributions.
German Film Awards
Great films, great emotions: The German Film Award, the LOLA, is the most highly acclaimed and coveted award in the German film industry. Since 2005, the members of the German Film Academy have voted by secret ballot to select the "crème de la crème" in this field. The awards are presented by the official representative of the German Government for Culture and the Media at the annual gala event in Berlin.
German Short Film Awards
Directors like Wim Wenders, Roman Herzog and Tom Tykwer have all got it in their collection of trophies: the German Short Film Award has been presented on behalf of the German government annually since 1956. In cooperation with a school of film in Germany – a different one is selected each year – the German Ministry of Culture honors outstanding German feature films, documentaries, animated films and experimental movie-making.
www.deutscher-kurzfilmpreis.de
German Music Council
The umbrella organization for the music associations in Germany promotes the status of music in society and the continued development of musical culture. The German Music Council (Deutsche Musikrat) supports improvements in the artistic and social situation of musicians and music teachers, and sponsors young talent competitions and events such as "Jugend musiziert" (Young People Play Music) and "Jugend jazzt" (Young People Play Jazz).
German Federal Film Board
Cinema as a cultural asset: In the 1960s, the German film industry was confronted with a crisis – the state reacted by forming the German Federal Film Board (FFA). The Federal Film Board under public law receives fees from cinema operators, video program vendors and TV stations. It supports filmmakers and the quality of German productions and is also involved in marketing these films abroad.
Association of German Endowments
For education, for traffic safety, for children from socially disadvantaged families: here you'll find endowments for every cause. The index, created by the Association of German Endowments (Bundesverband Deutscher Stiftungen) is not only the most comprehensive directory of institutions, its search engines also make it easy to research.
German Industry Cultural Association
"Culture is an indispensable resource in any society" – it is according to this motto that the German Industry Cultural Association in the Federation of German Industries (BDI) promotes young cultural talent and innovative cultural projects. As a point of intersection between industry and culture, the old-established institution has been supporting the fine arts, music and literature since 1951.
German States Cultural Foundation
"Culture is not an ingredient, culture is the oxygen of a nation." This is the claim that forms the basis for the German States Cultural Foundation (KSL – Kulturstiftung der Länder) in Berlin. Since the Foundation was formed in 1987, it protects and promotes art and culture on a national level. As one example, the Foundation buys paintings, sculptures and manuscripts for museums and libraries.
Federal Cultural Foundation
The Federal Cultural Foundation faces new challenges in art and culture in the 21st century. As an unbureaucratic service provider, the independent foundation promotes contemporary works, particularly those with an international focus.
www.kulturstiftung-des-bundes.de
Committee on Young German Film
The foundation Committee on Young German Film (Kuratorium junger deutscher Film, KjdF) is devoted to encouraging talent and children's films. Thus it is committed to a genre which is in desperate need of promotion, for there is a lack of suitable material for films.
literaturhaeuser.net
Eight "Houses of Literature" invite you to attend readings of unpublished works, best-seller presentations, movie screenings and literary festivals. This is where you will meet world-famous authors, discover young, unknown writers and can enter into discussions with other literary enthusiasts.