German-African visionary
Curator, publicist, cultural mediator and new director of Haus der Kulturen der Welt (HKW) – how Bonaventure Ndikung is changing Germany.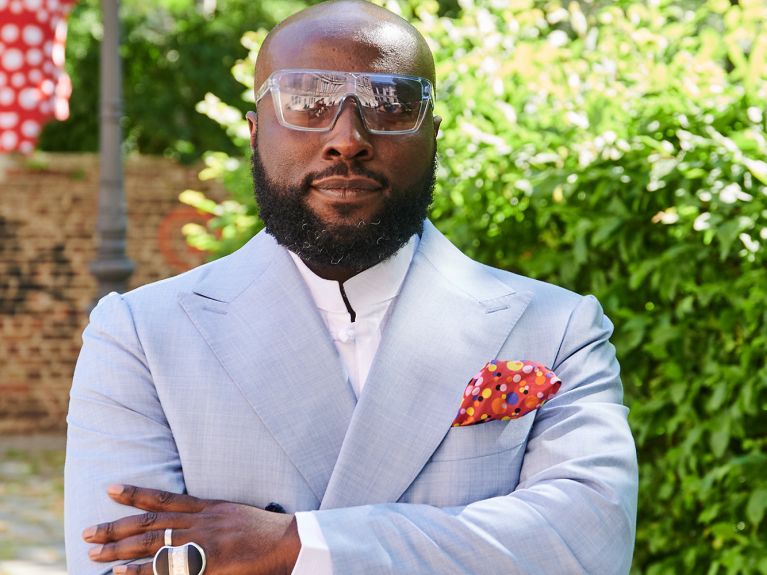 He is considered a ray of hope for the German-African relationship, an admonisher and conciliator, an intellectual with the very best international connections. In fact, Dr. Bonaventure Ndikung has shaped perceptions of African art in Germany more than anyone else. Without the pioneering work of the curator, art historian, cultural mediator, publicist and biotechnologist who was born in Cameroon and now lives in Berlin, many of the debates about German colonial history in Africa, how to approach cultural heritage and the return of African cultural assets would probably not have taken place. Germans' image of themselves would hardly have changed so decisively against this background.
New director of the HKW from 2023
Who is the man that will be taking charge of the Haus der Kulturen der Welt (HKW) as director in January 2023? Bonaventure Soh Bejeng Ndikung – that is his full name – was born in Yaoundé, the capital of Cameroon, in 1977. He discovered his enthusiasm for the arts in his teens, began performing as a musician and came to Berlin to study in 1997. At the Technische Universität he completed a doctorate in the field of biotechnology and acquired the academic title Dr. rer. nat.
Art was always his passion. Soon after receiving his doctorate he began working as a curator, consultant and author – among others, with the Goethe-Institut and ifa (Institute for Foreign Cultural Relations) as well as other important cultural institutions. He has contributed to the Venice Biennale several times, including as co-curator of the Finnish Pavilion in 2019.
Celebrated curator
Ndikung was appointed curator-at-large for documenta 14 in Kassel and Athens in 2017, where he was responsible for the African section and created several highlights in what was overall a controversial show. He has also been a guest curator at the Biennial of Contemporary African Art Dak'Art and curated the renowned Bamako Encounters – African Biennale of Photography. In 2020 he was appointed artistic director of the Sonsbeek Exhibition in the Netherlands for four years, where he is focusing especially on the effects and contemporary relevance of the history of slavery. Bonaventure Ndikung has also been a professor at Weissensee Academy of Art in Berlin since 2020. In the same year he was awarded the Order of Merit of the State of Berlin.
The 44-year-old is concerned with a fundamentally new understanding of Africa and the African-European relationship. "Obviously there are striking differences between human rights in the West and how people in other parts of the world are treated. The very latest form of global asymmetry is the distribution of vaccines. People now speak of vaccine apartheid." Bonaventure Ndikung says that the term human rights has no meaning while there is no change in inequalities of this kind.
He speaks up often when it comes to the return of African cultural assets. "We are repairing the future," is how Ndikung self-confidently described his mission in an interview with the Frankfurter Allgemeine Zeitung. "Restitution does not only mean giving something back. But we must think of repairing, of rehabilitation. We must look at the wounds and attempt to heal them – also and especially through art."
Internationally acclaimed initiative
Politics, culture, art and activism belong together for Ndikung. Because he did not initially find a partner to work with in German museums at the beginning of the career, in 2009 he founded the Savvy Contemporary art space in Berlin-Neukölln as a private initiative. Anyone who visited him there found model trains from the German colonial era and books and writings he had personally collected, artefacts that were by no means considered relevant or even topical by historians of German mainstream society at that time. Africa was then rarely on the German media agenda. It is also thanks to Bonaventure Ndikung that this has changed. Today the Savvy Contemporary Laboratory, now based in the Berlin district of Wedding, is highly regarded internationally. Bonaventure Ndikung's achievements include his collaboration with outstanding African intellectuals such as Achille Mbembe and Felwine Sarr. The fact that intellectual voices from Africa are heard today in Germany is also thanks to Ndikung's pioneering work. He publishes an Internet magazine on current African art under the title Savvy art.contemporary.african.
Many see this man, who likes to present himself in the style of a West African "sapeur", a kind of dandy with constantly changing selections of hats, waistcoats and robes, as a visionary who is above all concerned with shaping a more diverse future. Ndikung does not want to say exactly what he will be showing from January 2023 as director of the HKW in Berlin, but the general direction is clear: "I want this to be a HKW for all people. It is about repairing the asymmetries that exist in the world. Art plays an important role in that."