The star who came from nowhere
For his song "Not Angry", Chris James shot a video in his grandma's garden in Hilden. It has now gone viral in China. How did that happen?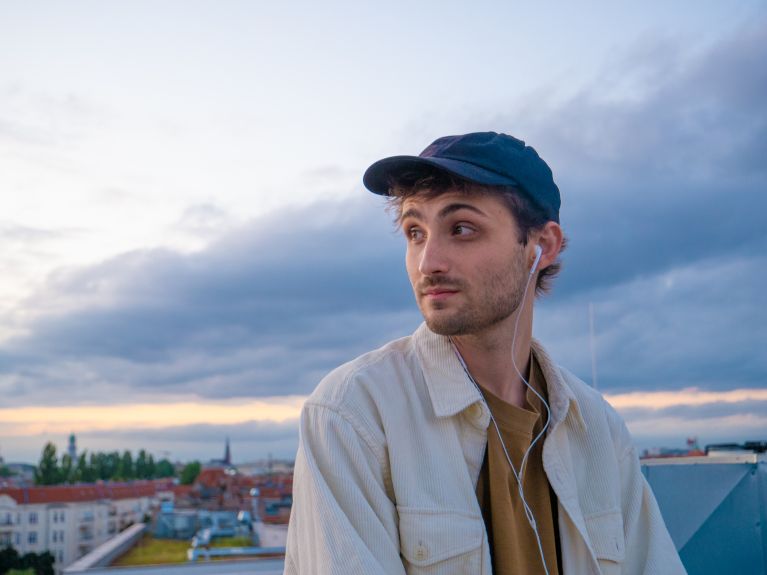 For the "Not Angry" video that can be watched on YouTube, Chris James and his younger siblings got together in their grandma's garden in Hilden near Dusseldorf in 2020. Chris sings and plays the electric guitar, while his brother is on keyboard and his two sisters play the ukulele and bass. None of his three siblings play an instrument, however. In total, the video cost: nothing. All the same, it is fun and exudes authenticity and a playful lightness. The first Chinese comments came in shortly after it was released, peppered with hearts and thumbs up. The 26-year-old is taken aback. He translates the Chinese characters and realises: he has become a star in China. 
How is this possible? The young singer-songwriter's YouTube channel has just 218,000 subscribers and his track "Not Angry" has been viewed 600,000 times. The picture is quite different on Douyin, however. As Chris James explains in a video interview, Douyin is the original Chinese version of TikTok. When he downloaded the app, he just couldn't stop scrolling. "New videos kept popping up", he says, with countless young Chinese singing along to his hit on Douyin. Or rather, they hum and murmur and grunt "Oh Boy", the only line from the intro. He features in nine million clips on Douyin, says Chris James.
Sighing "Oh Boy"
It is no longer possible to reconstruct how the hype began, as the videos are not arranged in chronological order. Chris James suspects that a Douyin star picked up on his track, but why it should have gone viral remains something of a puzzle. It may be thanks in part to the homemade video with his younger siblings, who come across as so authentic and unstyled. Or because he sighs "Oh Boy", something he originally wanted to edit from the video. His brother advised him to leave it in. It is a brief lapse at the start of the song, something seemingly random and genuine. In the end, it is down to the mystery of algorithms.
Chris James wanted to become a star even as a teenager but he never expected it to happen so quickly. Born in California, Christopher James Brenner has a German mother and an American father. The family moves to Hilden, a small town in North Rhine-Westphalia, when he is still at nursery school age. He grows up in a very down-to-earth environment there: his mother works as an inspector in the import/export business and his father is an English teacher. At the age of 15, Chris learns to play the guitar and composes his first songs in his bedroom. It is a time when his classmates are forming bands, so Chris decides to become a musician.
Going by the name Chris Brenner, he covers songs by artists such as Ed Sheeran and Coldplay. Over the course of two years, he uploads a video to YouTube each week and gradually acquires a fanbase. After leaving school, Chris moves from his home town to nearby Dusseldorf and spends one semester studying computer science. But he much prefers to go busking and performs at birthday parties, weddings and small concerts. In 2018, he launches his first album "Mellow!" under his stage name. Though he now writes his own songs, he only came up with his own original sound when he moved to Berlin in 2020, explains the artist: bedroom indie pop.
Laid-back "hangover music"
He says that his role models are the American singer-songwriter John Mayer and UK indie rock band The 1975. He listens to them a lot at the moment, "though that changes every couple of days". Chris James' songs are airy and light, perfect for relaxing. Chinese fans write to him that his music helps them unwind when they are stressed about school. Chris himself describes his songs as "laid-back Sunday morning hangover music to enjoy with a coffee". This is the vibe he wants to keep alive on his third album, though "the new songs will have a bit more oomph".
One reason why Chris James is better known in Asia than in Germany is that he co-wrote one very successful track for the Korean boy band BTS. Following its release in November 2020, "Life goes on" went straight to number one on the American Billboard charts and was viewed over 423 million times on YouTube.
The last concert the artist played was in Berlin in December 2019. Although he has been successful to date, particularly on social media, he says with some regret: "These days I only make music online. I miss the feedback that you get in real life." He brings out a new song every month, and his latest single "The Cool Kid" is also Chris James' first advertising collaboration. A German car manufacturer is using it to promote a new model. His third album is to be launched in the summer, and for the autumn the musician is planning a tour of Germany.