Newspapers in Germany
Germany is a country of newspaper-readers: over 350 papers with a total daily circulation of 25 million copies inform people in even the smallest villages about what is going on in the world
14.08.2012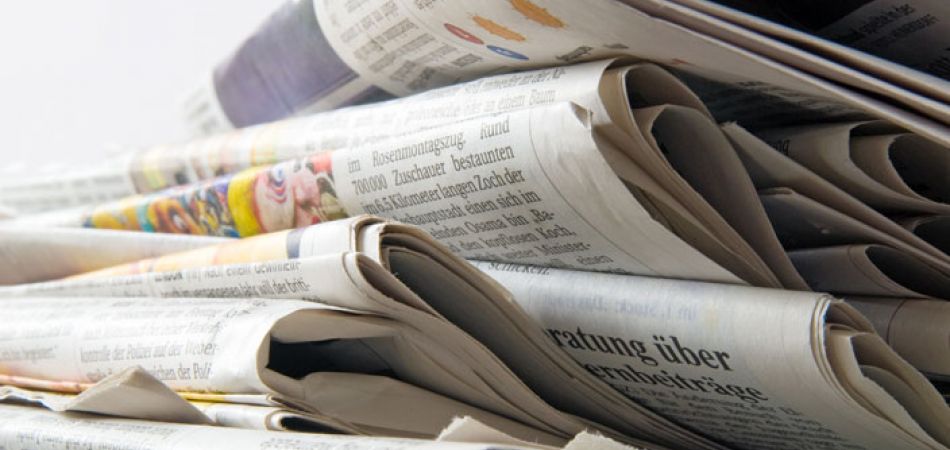 Diversity of opinions in the media is represented in Germany above all by the newspaper market. The entire country is covered by a network of sometimes incredibly small local publications, big regional papers and the major national dailies. More than 25 million copies are printed in Germany – every day. Despite the competition from radio and television and the Internet, daily news­papers continue to reach 71.4% of the population. These figures impressively prove that the newspaper medium remains up-to-date. This also applies to introducing new themes into the political and social debate. Even television relies on press journalists for knowledgeable discourse. Presseclub, the ARD broadcast in which several journalists discuss a topical subject every Sunday at 12 noon, has now been a classic for decades. One journalist is almost always present from one of the five large papers of national sig­nificance: Süddeutsche Zeitung (Munich) with a circulation of 430,000 copies, Frankfurter Allgemeine Zeitung (Frankfurt am Main) with 368,000 copies, Die Welt (Berlin) with 264,000 copies (together with Die Welt kompakt), Frankfurter Rundschau (Frankfurt am Main) with 150,000 and tageszeitung (Berlin) with 56,000 copies.
These five newspapers represent the range of political opinions: Die Welt is conservative and has a predominantly older readership; Frankfurter Allgemeine Zeitung is conservative-liberal; Süddeutsche Zeitung is politically left-liberal, but presents a business-friendly view in its economic section; Frankfurter Rundschau is left-liberal; tageszeitung is progressive and anti-establishment and organized as a cooperative which is owned by its readers. Below this top group, there are regional papers with supraregional influence, including Stuttgarter Zeitung (Stuttgart), Tagesspiegel (Berlin), Kölner Stadt-Anzeiger (Cologne) and Rheinische Post (Düsseldorf). The largest share of the German newspaper cake is taken by local papers that generally work with bought-in front sections from regional newspapers. The most read daily in Germany is the tabloid Bild which sells 3.3 million copies a day and is published by Springer-Verlag, the publisher of Die Welt. Bild
often selects the topical themes for agencies, television stations and other newspapers, but is frequently criticized for extreme sensationalism.
The most popular weekly is the liberal Die Zeit (Hamburg), which sells 491,000 copies. However, the media crisis has not passed the newspapers by. Falling circulations and advertising revenues are creating problems for most publishers and as a result there is an increasingly strong trend towards concentration in the German press market. Thus, for example, Kölner Verlagsgruppe acquired M. DuMont Schauberg, which publishes Kölner Stadt-Anzeiger, a majority stake in Frankfurter Rundschau in 2006 and Berliner Zeitung in 2009. Südwestdeutsche Medien Holding, which owns Stuttgarter Zeitung, bought a stake in Süddeutsche Zeitung at the end of 2007. So far international equity investors have not been able to gain a foothold on the German newspaper market. The free newspapers that are well-es­tablished in many countries have also not been successful in Germany. German readers are obviously prepared to spend money on quality journalism and well-researched background information.