Digital freedoms, digital rights
Impressions from Day 2 of the re:publica 2017 Internet conference – on support for a #DigitalCharta to a leisurely approach to hate posts.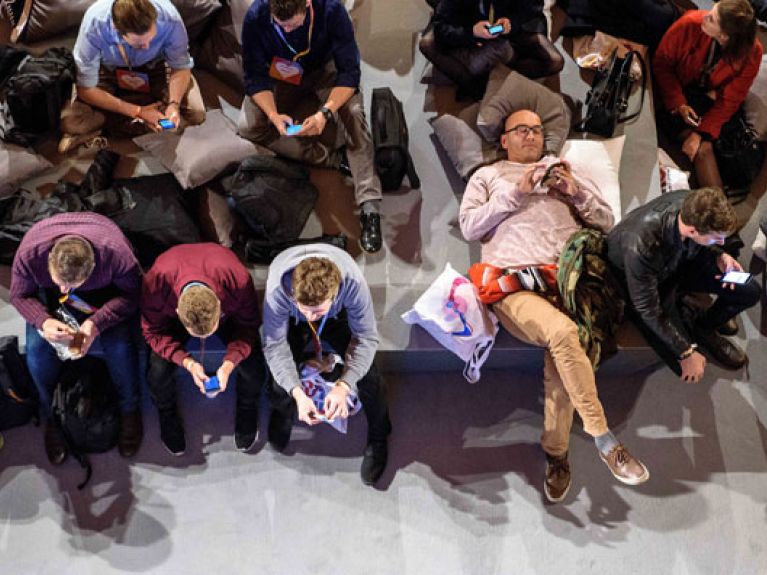 VR goggles, the future of cars, digital basic rights and a game of bingo with hate commentaries – Day 2 of the re:publica highlighted many facets of digitization.
Through the eyes of a piglet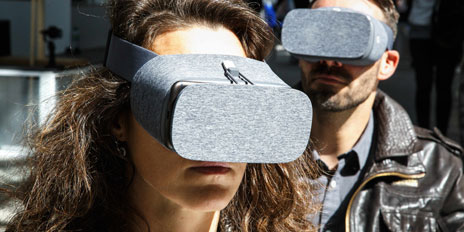 So how does it feel to first see the light of day in a pig factory and be separated from your mother shortly after birth? What is life like in that confined, dirty environment, and, finally, what is it like to die there? The essentially joyless life of a fattened pig was something visitors to re:publica were able to experience first-hand. With VR goggles from the organization Animal Equality they were able to view the confines and cruelty of an animal factory through the eyes of a pig. The animal rights organization uses events like re:publica and VR goggles to inform people about the tormented life of factory animals. And VR goggles are great for educational purposes, as other exhibitors at re:publica 2017 also show. The film "Inside Auschwitz" by Westdeutscher Rundfunk (WDR) stages a virtual 360° tour through the remains of the death camp. Likewise using VR goggles, visitors were able to move freely around Cologne Cathedral, listen to a private concert by the choir, and watch restorers at work through their eyes. 
A charter for digital basic rights
The Internet offers users great freedom. At the same time, it restricts that freedom in an unusual way: State surveillance and intervention by powerful corporations are increasingly a threat. "#DigitalCharta – Do we need basic rights for the digital age?" was accordingly the title of an event on Day 2 of re:publica. Such a "Charter of digital basic rights for the European Union" was compiled by a group of 27 citizens and first made public in December 2016. Three of the initiators, re:publica co-founder Johnny Haeusler, sociologist Jeanette Hofmann, and Jan Philipp Albrecht, Member of the European Parliament, discussed the current status of the charter with Christoph Kucklick, editor in chief of GEO magazine. Kucklick refused to sign the first version of the charter as he found numerous points unclear. Indeed, and the discussion soon made this apparent, even the initiators argue over countless items. For example the question whether new rights really are necessary, or whether the existing basic rights suffice to protect people in the digital space, even if they perhaps need to be re-interpreted to that end. Precisely that, and on this the initiators agreed, is the idea behind formulating the charter, namely to spark a public debate on basic rights in the digital age. 
Mobility tomorrow
From the viewpoint of German carmaker Daimler, four letters describe the future of mobility: CASE, standing for Connected, Autonomous, Shared (& Services) and Electric. CASE – that is also the name of a think-tank Daimler founded on the future of mobility. Director of CASE Axel Harries provided answers to key issues on emission-free engines and presented innovative concepts: Artificial Intelligence is expected to make car driving even easier in the future. A car assesses its driver's habits and then suggests routes he probably wants to take. And the car can also keep a check on the driver's heartbeat via sensors in the steering wheel or a smartwatch and thus monitor the state of the driver's health. 
Playful approach to hate posts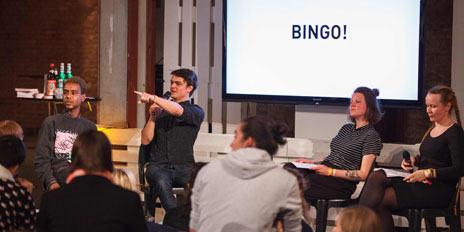 The very title of this forum seemed bizarre: "A Jew, a feminist, a journalist and a black gay meet." What happens next? The four discuss hate posts on the Internet – because that is what links them all. Juna Grossmann blogs on Jewish life, Lydia Meyer is a journalist working for a feminist YouTube format for young girls, Patrick Stegemann is an editor, and Tarik Tesfu produces videos on gender crises. On the Net their work is met not only with enthusiasm, but in part with despicable commentaries and animosity. How does one handle that? While Lydia welcomes debate, Juna responds sometimes with "love", other times by filing a complaint. Tarik by contrast ignores the hate posts, while Patrick deletes them. At any rate, the four view hate posts very casually, as could be seen from the fact that the panel was transformed into a game of bingo: One by one the four Net activists read selected hate posts until someone in the audience cried "Bingo". The prize was a shot of schnapps.
re:publica 2017: Impressions from Day 1
"Show civic courage in the Internet, too": Interview with re:publica speaker Kübra Gümüşay