"Journalism is more important than ever"
Fake news, social bots, threats to press freedom – what can the established media do to counter these developments? Peter Limbourg, Director-General of the Deutsche Welle, gives some answers.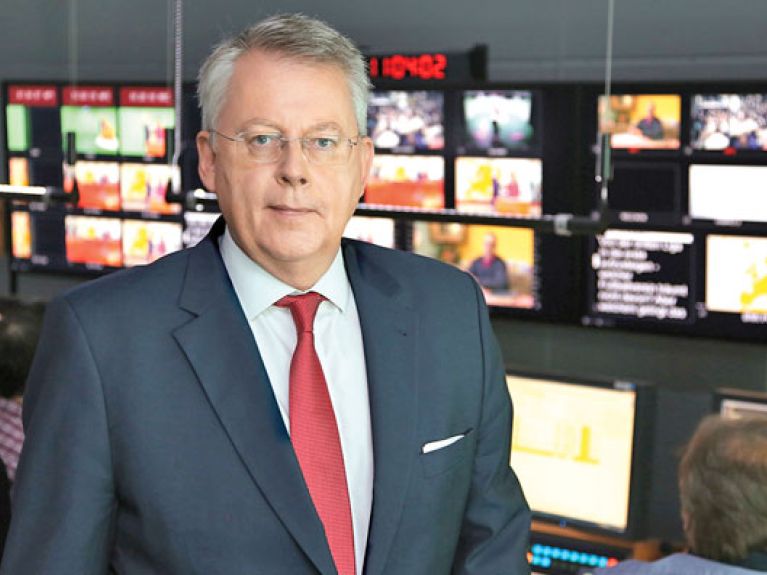 Germany. Two thousand journalists, media experts and representatives of politics, culture and society from all over the world are meeting in Bonn from 19 to 21 June for the Global Media Forum (GMF) of the Deutsche Welle (DW). In an interview, Peter Limbourg, DW Director-General, talks about the boon and bane of social media for journalism. And expresses a hard truth.
Mr Limbourg, the motto of the Global Media Forum in 2017 is "Identity and Diversity" – can you briefly explain the range of topics involved?
With the motto for 2017 we are inviting our guests from over 100 countries to discuss solutions for an increasingly multifaceted world that in many respects has become insecure. Identity and diversity are the central concepts that we want to discuss with many different influencers and change makers from all over the world under the motto "The Place Made for Minds".
How can media regain people's trust in a "post-truth age"? Have the established media been overwhelmed by the sheer momentum of the social media?
You cannot lump the media together. We define ourselves through the target groups for which we work as journalists. It takes longer for a local newspaper to have a credibility problem. That is because its makers and users are very close together. A website on which bold journalists reveal the intrigues of a government will also find loyal readers.
The so-called post-truth age has given prestigious newspapers like The New York Times and The Washington Post a steadily increasing number of subscribers. Many people turn to a trustworthy media brand when they feel an acute need for more information.
We journalists have to demonstrate every day that our users can trust us. That is not new, but we have to do more today to succeed. We are in a phase of using digital distribution channels that do not yet have clear rules. On the one hand, we welcome the new opportunities to inform people faster and better and to gain relevance for our users' everyday lives. However, because everyone can distribute whatever they want unfiltered on social media, large amounts of untrue information and lots of nonsense are also circulated. At the GMF we will discuss participants' experiences from different perspectives. Especially for the social media, interesting approaches will certainly be found, from which traditional media will be able to benefit in all world regions and media markets.
Many editorial boards are opposing populism with a fact offensive. Is that enough? How do you reach those people who reject facts as "propaganda" disseminated by the "lying press"? After all, on the Internet everyone finds the specific channel that confirms his or her personal mind set.
You will never reach everyone with only one message, and that is a good thing. A functioning system has room for many opinions and views. It is the responsibility of the media to provide offerings for users that are always recognisably independent and as objective as possible. There has to be a critical mass of publications, broadcasters and websites here that want to – and can – offer their users high-quality content. It is important that this debate resharpens many media-makers' eye for what is important. If they are to regain the trust of users who are critical of the media, media-makers must show a minimum level of self-criticism when mistakes are made.
The truth is, however, that you will probably not be able to pull anyone out of their personal filter bubble once they are comfortably settled in.
How great is the danger that social bots will manipulate opinions and influence elections?
There is a lot of discussion about this. However, the potential danger cannot be precisely estimated. When we consider the purely technical possibilities of a hacker attack, we have to be concerned. Whether the life-saving software in a hospital is shut down – or the electricity supply of a densely populated metropolitan area. Unfortunately, those have now become real dangers that we have to confront. The best antidote to social bots is a press that sensitises users of social media and the public as a whole.
Another focal point of the Global Media Forum is artificial intelligence in journalism. Text robots long ago began producing sports, financial and weather reports. Is that a boon or a bane?
No machine can research a story and narrate the human elements behind a headline with understanding and empathy. When it comes to the pure collection of weather data or stock-market numbers, automation is certainly helpful and saves time. And yes, that can give journalists more time to, for example, research topics, write analyses and explain the background.
The digitalisation of journalists' work environment can no longer be stopped and has clear advantages. We have the possibility to enter into real dialogue with more people than ever before. This offers a great opportunity to experience what the public thinks of articles and discover what subjects are relevant to which people around the world. Such direct feedback is especially important for an international broadcaster like Deutsche Welle. DW needs real stories – not ones generated by algorithms. We have reporters in far more than 100 countries who report on the reality there. Many of these contributions are distributed through our global channels, ranging from television to Twitter and Facebook to Instagram.
What is decisive, however, is not the transmission channel, but the content. Journalism is more important than ever because we live in a period of great change. And classification and evaluation are essential here.
Global Media Forum 2017, 19 – 21 June 2017 in Bonn