Mein Israel, my Germany
The Internet makes it possible for there to be many voices today that link Germany and Israel. Blogs tell stories that do not appear in any newspaper.
19.12.2014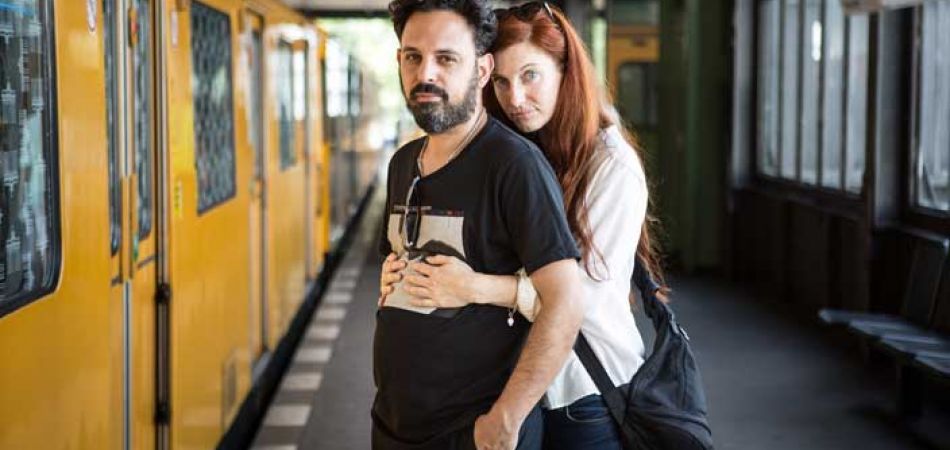 All she actually wanted was to enjoy her sabbatical in sunny Israel. But then there was so much to see and tell that German journalist Sophie Albers Ben Chamo had to do what comes naturally to her. "Having nothing to do drove me nuts. Especially as there was a story on every street corner," she says. And so in March 2014 she began writing down her experiences with her husband in his home country. The fast rides on public busses in Haifa, the unfamiliar embraces from 
the extended family, the busy street life, the boat trip following the path of her 
husband's grandparents, who fled from Morocco.
Sophie Albers Ben Chamo publishes her texts at blogs.stern.de/meinisrael on the website of Germany's "Stern" magazine, for which she writes. It has become a blog that is more than a private travel diary. More an unusual journalistic and emotional experiment. Because Sophie Albers Ben Chamo excludes neither her personal uncertainties nor political conflicts: "We're sitting on the balcony in the sun, my mother-in-law having cleaned the whole apartment for the Sabbath. And I ask European questions, ask about her opinion of the Palestinians."
After a few months the professional time-out is over and the couple returns to Germany. Now it is her husband Avi Albers Ben Chamo's turn to play the role of observant foreigner. He begins writing texts in English for the blog, about his earlier stays in Germany, about how distant Germans are and the anonymity of life in the big city. Precisely that is what he now likes: "Every day I feel inspired, I'm in 
Berlin. I'm living in the here-and-now and not in the past. Perhaps that's the reason why this cold, dark place is so good for 
us Israelis. In Berlin no one expects me to explain myself. And that is exactly what I need right now."
The website now attracts between 10,000 and 27,000 readers a month, says Sophie Albers Ben Chamo. Israeli and German users are among the readers, and their comments are "really heartfelt and nice". That is surely because of the blog's un­usual style. Neither author spares criticism, and doubt, self-mockery and the absurdities of everyday life all come to the fore; yet both take a respectful, indeed almost loving look at the other's culture.
The Internet makes many forms of dialog possible. This includes differentiated, relaxed journalism. Detailed background reports and interviews, coverage of countries and their people, which are often 
neglected in daily media – these are 
the trademark of the German TV corres­pondent Richard C. Schneider. Since June 2013 the journalist for German public broadcasting corporation ARD has been reporting from the Middle East 
in his video blog "Zwischen Mittelmeer und Jordan" (From the Mediterranean to Jordan) http://www.tagesschau.de/video­blog/zwischen_mittelmeer_und_jordan/. "It is the stark contrasts that make working in the Tel Aviv studio so exciting. The discrepancy between the First and the Third World, the cradle of three world religions, which to a greater or lesser extent are all three at loggerheads, the heart of one of the most important conflicts in world politics, people from over 120 countries in the smallest of areas, all of whom have brought their own culture with them," Schneider writes. Over 40 video blog articles by Schneider can now be downloaded on the Internet.
A few years ago trainees at the Axel Springer Academy school of journalism in Berlin, launched the website www.spree-aviv.de, which adopted a reverse approach, taking a look at "Israeli life in Germany". Structured like a classic online magazine, the site looks at Jewish humor, cuisine, contemporary history, medicine, culture – and the often mixed feelings which for Israelis go hand in hand with living in Germany. Interviews and reports alternate with very personal texts. Un­fortunately for professional reasons the 
authors have since been scattered to the winds, and while the site is still online 
and worth reading, it has not been up­dated for some time. It is a pity, because like the blog by Sophie and Avi Albers 
Ben Chamo it had the potential to forge a 
genuine link between the two countries.
Sometimes the website operators are neither journalists nor institutions but just dedicated citizens. Ilan Weiss, who came to Berlin from Israel 20 years ago wanted to make it easier for fellow countrymen to relocate to Germany – and launched the Hebrew-German website www.israelisinberlin.de. Today the site has around 10,000 visitors a month. The texts most frequently consulted include those with practical explanations: How and where do you find apartments and jobs in Germany? What needs to be taken into consideration when making applications and dealing with 
authorities? "The website aims to provide information about how to cope in Ger­many," Weiss says. There is also a classified ads column as well as an events guide for Berlin that lists films, readings, and 
exhibitions. The forum, in which new arrivals exchange information and help one another with tips is particularly lively. ▪
Museums that blog
Jewish museums in Germany have long since discovered the opportunities the Internet offers. A blog is more informal than the official museum website, and is captivating precisely on account of its workshop-like character: It can be used to introduce individual artists and provide information about exhibitions.
The Jewish Museum in Berlin has a blog, as does that 
in the Franconia region in Bavaria (Jüdi­sches Museum Franken) and the Jewish Museum 
in Munich.