Fashion in and from Berlin
Latest creations on show at Berlin Fashion Week.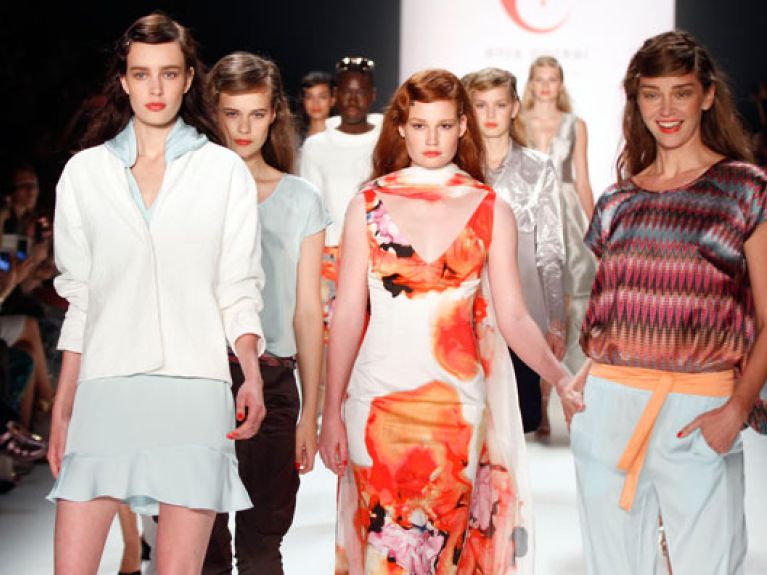 Paris is haute couture, London is wacky, and anything goes in New York. But what does Berlin stand for in terms of fashion? Jörg Buntenbach, author of the book "Mode Metropole Berlin" (i.e. Fashion Metropolis Berlin), regards the German capital as a world leader in "street style" – young urban fashion with a sport and music influence. He also sees a trend towards green fashion that is all about sustainable production but a world away from the baggy look that was popular in the 1960s and 1970s.
Berlin Fashion Week – showcasing the scene
Staged twice a year, Berlin Fashion Week provides a showcase for the scene. 38 young labels and nine talented designers will be presenting their latest fashions on the catwalk in January 2016. Many of them come from the lively and creative Berlin scene, which boasts some 2,500 fashion companies – something that these days is also reflected in the figures: sales from 2012 to 2013 alone soared by more than 40 percent to 2.2 billion euros. The coveted creations can be picked up in the flagship stores on Kurfürstendamm and in Friedrichstrasse or purchased directly from the labels situated around Alte and Neue Schönhauser Strasse.
Boosting Berlin's rise to a fashion metropolis is the city's outstanding fashion infrastructure. Berlin boasts the most training centres for budding fashion designers in Europe: every year, around 300 young designers graduate from the ten schools of fashion in Berlin.
Berlin Fashion Week from 18 to 22 January 2016