27.07.2017
Doubly popular
Playback is fun – and makes you famous: the web videos of the twin sisters Lena and Lisa delight millions of fans. This is their formula for success.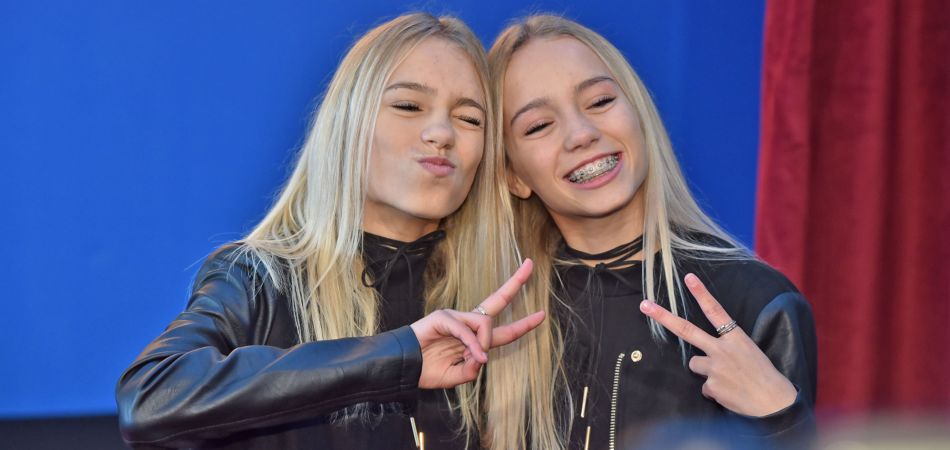 Germany. They dance, move their lips, now to cool songs, now to film excerpts. Lena and Lisa, 15-year-old twin sisters hailing from the neighbourhood of Stuttgart, need only 15 seconds to enchant millions of teenagers with their home-made lip sync videos. Two million people around the world try their hand at such playback performances using the free app Musical.ly. But hardly another "muser", as Musical.ly users are called, has gained as much attention as the two girls: boasting 20 million followers on Musical.ly, 11.2 million subscribers on Instagram and nearly 200,000 Facebook fans, Lena and Lisa ("Leli") are social media stars. New adherents join the fan club every day.
Selfies with "Leli"
One reason for the twins' worldwide success is that they are the spitting image of each other and are always dressed identically in the videos. They have long since professionalized their image: the casual outfit matches the cool poses that Lena and Lisa strike to rap; mimicry and pantomime comes in a double pack: with braces or without, on the balcony, in the living room, hopping wildly on a trampoline. The pair's first videos in November 2015 already conquered the expanses of the internet: stars such as Ariana Grande and Meghan Trainor supported the sisters' rapid rise, outed themselves as fans and shared the clips.
Today teenagers queue up at events, meet and greets and film premieres at which Lisa and Lena have announced they will appear. The fans are rewarded with "fancy Leli selfies". These then can be seen on Facebook. If you want to succeed on the social networks, you must post, post and post again. And in the likelihood that the "Leli" hype will not pursue the twins into their retirement, Lena and Lisa are working with ambition and good grades on their high-school diploma and on a film career.
Fashion à la Lena and Lisa
The twin sisters made their film debut in a supporting role in Matthias Schweighöfer's Hot Dog. The film starts in German cinemas in the winter of 2017. And also in the fashion industry the girls are making their dreams come true: together with Warner Merchandise and the streetwear shop BSTN, Lena and Lisa have designed their own fashion collection under the label "Jimo71".