A great author with a big heart for the not-so-great
Heinrich Böll was born 100 years ago. Few German authors became as strongly involved in social debates as he did.
20.12.2017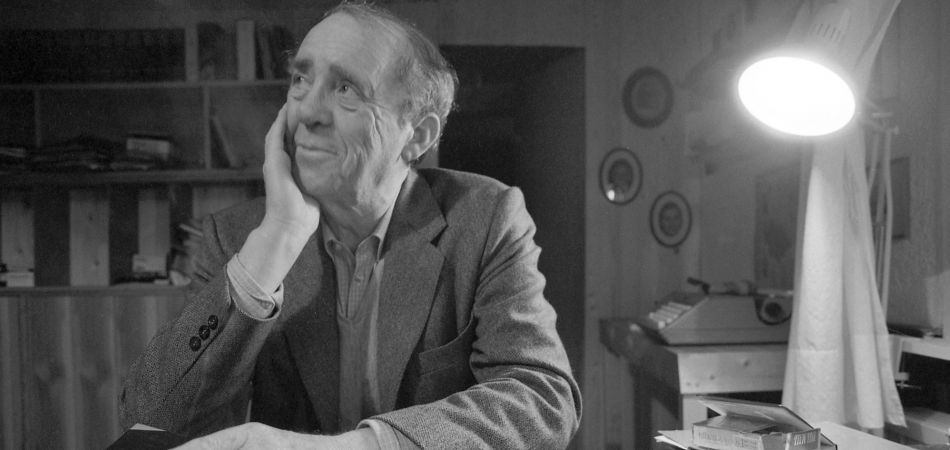 Cologne (dpa) – What kind of a person was Heinrich Böll? There is a scene that describes him fairly well: A press conference in Cologne about aid for Vietnamese refugees. All the TV broadcasters have set up cameras, even the director of ARD's studio in the then capital of Bonn, Friedrich Nowottny, has turned up, after all Nobel Prize for Literature laurate Heinrich Böll is appearing. A young reporter who writes for some small, obscure leftist newspaper announces he is going to interview Böll after the press conference. The other journalists make fun of him. As if he would be granted a one-on-one interview!
However, hardly is the press conference over than Böll turns to the young man and patiently and charmingly answers every question, even begins a discussion with him. The correspondents have to wait, some of them are seething with anger. Very much later Cap Anamur founder Rupert Neudeck recalls: "Böll had this ability I have seldom encountered again in so-called important people: He took time for something unimportant."
He picked arguments with everyone
Throughout his life Böll was wary in his dealings with public figures. Born on Thursday, 21 December 100 years ago in Cologne, the man could hardly be called easy-going or fun-loving despite being from the Rhineland, where the people are otherwise associated with such traits. In fact, he picked arguments with everyone: with the CDU, with business associations, the Bundeswehr, Springer publishing company, the Catholic Church, but equally with the SPD, whom he called the "lousiest party of all".
The only reason he got away with it was because he was an authority himself – the personification of a "different Germany". In a survey conducted in the mid-1970s, leading opinion-makers declared him to be the most influential West Germany personality after Chancellor Helmut Schmidt, SPD Chairperson Willy Brandt and CSU leader Franz Josef Strauß. Everyone was familiar with his weary-looking face, his sagging cheeks, the usually slightly open mouth and melancholy eyes.
Two years after his death on 16 July 1985, author Hans Magnus Enzensberger declared: "We may have lost Böll. But now we have Amnesty and Greenpeace." In the first decades of the Federal Republic of Germany Böll was able singlehandedly to fulfil the role of such organizations that were not founded until later.
In his novels, the onetime bookseller addressed all the explosive topics of West German society: the suppressed Nazi past, the continued power of the old political elites, the obsession with consumerism and possessions, rearmament, the double standards of the Catholic Church. Every new book he wrote became a bestseller that took the media limelight for weeks and triggered a broad social debate.
This voice, the opposite of a harsh, clanging organ, softly yet audibly insisting on humanity, and cutting the petty bourgeoisie off in mid-sentence.
Willy Brandt about Heinrich Böll
In addition, there were speeches, interviews, articles. "I will always remember this agreeable lack of a demonic nature. This voice, the opposite of a harsh, clanging organ, softly yet audibly insisting on humanity, and cutting petty bourgeoisie off in mid-sentence," is how Willy Brandt described him.
For example, in the 1950s Böll was one of the first authors to write about the suppression of the Holocaust. In the post-war era, the Holocaust got absolutely no mention in school curriculum. When Böll visited schoolchildren in Cologne in 1954 none of the 40 pupils had heard of it.
Unloved by literature critics
Afterwards he wrote in a newspaper article: "We pray for those killed in the war, for those who have gone missing and for the victims of war, but our numb conscience is unable to produce a public, clear and unambiguously formulated prayer for the murdered Jews."
While nobody disputes Böll's socio-political importance, doubt has repeatedly been cast on his literary standing. Literary critic Marcel Reich-Ranicki, whom Böll helped considerably when he first arrived in West Germany, while acknowledging Böll's importance during his lifetime remarked caustically in 2008: "Let us speak frankly: Very little has remained even now. And naturally, it will become less and less. His novels have meanwhile all fallen into oblivion."
Such a sweeping statement is hardly tenable. Naturally, Böll's works are no longer obligatory school reading material the way they were in the 1970s and 1980s. Many topics are simply no longer contemporary. And there are admittedly weak points in this writing; Böll was not very eloquent in writing about anything connected with women, love and sex. But the passage of time has also brought a greater appreciation for the books in which he addresses other topics.
More relevant than ever
W.G. Sebald (1944-2001), scholar, critic and also an important author, was the only German writer to exempt Böll from the criticism that all the authors had failed when it came to the horrors of aerial warfare and the war-ravaged German cities. Böll's novel "Der Engel schwieg" (1949-50) was not published until 1992, years after his death – in the post-war era publishers simply considered it unpublishable.
In addition, in an era of fake news and shitstorms, the novel "Die verlorene Ehre der Katharina Blum" (1974), in which Böll describes the public slandering and prejudgement of a respectable woman by a tabloid has gained renewed relevance.