Settling into life in Germany, finding work
The International Rescue Committee Germany supports people from Ukraine with integration - and with psychological help.  
"Losing your home is a traumatic experience," says Antonina: "Our home town of Kharkiv was bombed. We boarded a train without knowing where it was headed." The psychologist now lives in Berlin, where she took part in "Anknüpfen" – a one-week workshop for professional orientation run by the International Rescue Committee Germany (IRC DE). As did her colleague, Hanna. When it became clear that most of the participants also required psychological support, the two trauma therapists offered to help. This support has now become an integral part of the workshops and individual coaching sessions.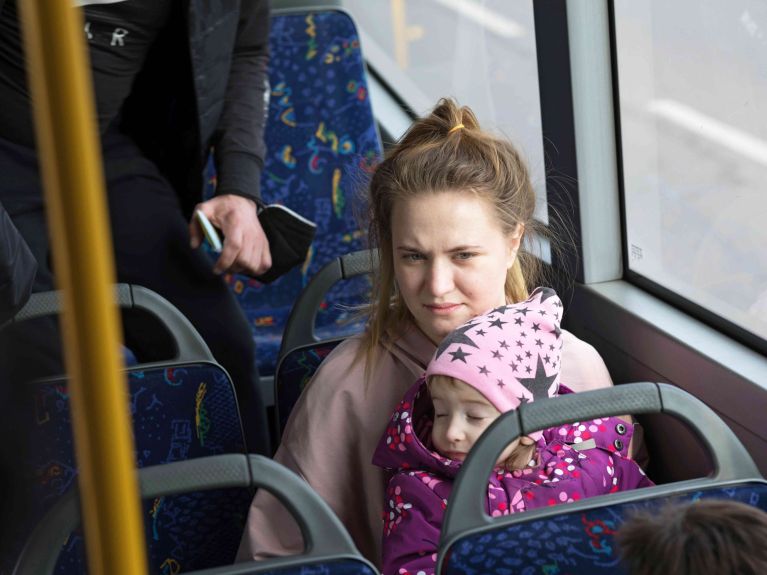 Refugees need to feel safe 
After all, before the refugees start looking for work, more existential matters - such as moving out of the accommodation provided and into their own flat - are the focus. No longer feeling permanently stressed. No longer feeling threatened. "Many mothers with two or more children get in touch with us," reports Tetiana Vygovska, a Ukrainian who coordinates the workshops: "From one day to the next, they suddenly find themselves without their usual network, in a foreign country where they don't speak the language." Many don't know how to cope in this situation, she adds. "Hanna and Antonina help them understand that they are now in a safe place and can tackle everything one step at a time," explains Tetiana Vygovska.
Help with learning German and finding a job 
This also enables refugees to gain a foothold in the employment market. The IRC Germany course has already taught nearly 400 people about the formal procedures for finding work in Germany. Many have excellent training and many years of professional experience under their belts. However, the programme's real success lies in the fact that it has given many people emotional stability and prospects for the future. "Many of our workshop participants now have B2 level German and know exactly what they want and what the next step is to find a job that matches their qualifications," Tetiana Vygovska is pleased to explain. They can now also take advantage of a recent addition - the advanced workshop WIN (Workforce Integration for Newcomers).