Many different forms of assistance for refugees
The German government – and above all tens of thousands of citizens – are committed to helping refugees.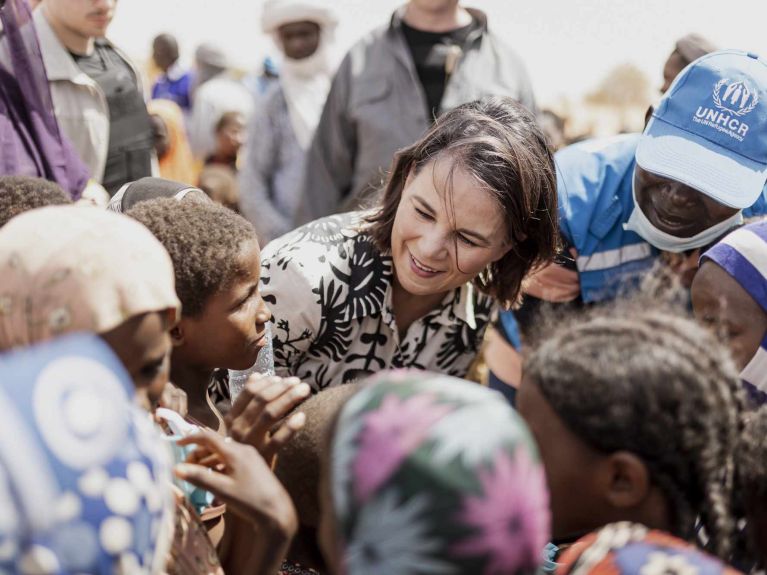 There are more than 100 million refugees worldwide. Never before has the UN refugee agency UNHCR recorded such a large number of refugees as in 2022. Russia's war of aggression against Ukraine alone has forced millions of people to leave their homes since February of last year. Germany is committed both to protecting refugees worldwide and to addressing the causes of displacement and irregular migration. But above all, many citizens are volunteering to help people in need.
Protection for refugees from Ukraine in Germany 
According to the Federal Ministry of the Interior, more than a million refugees from Ukraine, mostly women and children, were living in Germany at the end of 2022. This means that about 80 percent of the protection seekers who came to Germany in that year had fled from Ukraine. As a result of regulations agreed in the EU, they didn't have to go through an asylum procedure. Russian President Vladimir Putin's "criminal war of aggression" against Ukraine had "triggered the biggest movement of refugees in Germany since World War II," said Germany's Interior Minister Nancy Faeser. 
Second-largest donor country for humanitarian aid 
German foreign policy aims first and foremost to avoid or defuse crises wherever possible so that the causes of displacement and irregular migration don't arise in the first place. A second aspect is the provision of humanitarian aid on the ground. To this end, Germany supports the UN Refugee Agency (UNHCR), the UN World Food Programme (WFP) and other non-governmental organizations. With more than 2.5 billion euros, the Federal Republic is the world's second largest donor of humanitarian aid. 
Huge efforts on the part of Germany's population 
Furthermore, many people in Germany also volunteer to help refugees from all over the world – for example by taking part in the reception programme called 'NesT – New Start in a Team', in which particularly vulnerable people are supported by mentors. Another example is the 'Start with a friend' initiative, which has been bringing refugees and German people together to form tandems since 2015. Another offer of help is aimed at students: since 2015, Kiron University, with its offices in Germany, Jordan and Lebanon, has been enabling refugees to study online.
You would like to receive regular information about Germany? Subscribe here: