How does one become a psychotherapist?
Anyone wishing to become a psychotherapist in Germany has to complete a number of training steps. Read our guide to this process.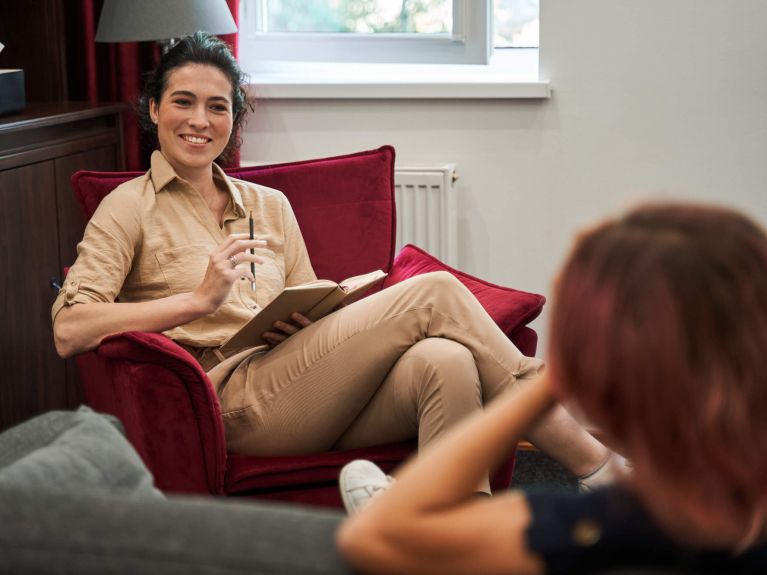 Working with people who are suffering from mental health problems is interesting and varied, but also very demanding and challenging. "Psychotherapist" is a legally protected professional title in Germany. And the path to becoming one is not all that easy. Read our guide to becoming a psychotherapist in Germany. Don't muddle psychotherapists up with psychiatrists - the latter undergo different training and are specialist doctors who have a degree in medicine.  
Step 1: A degree in psychology 
Anyone wishing to work as a psychotherapist in Germany must first complete a bachelor's and master's degree in psychology. There are numerous universities offering internationally recognised degree programmes in psychology. 
According to the SCImago Institutional Ranking compiled by the Spanish consultant firm and research network SCImago, Ludwig-Maximilians-Universität München leads the field in Germany with its excellent degree course in psychology. The University of Tübingen follows in second place with a strong department of psychology and wide-ranging research opportunities. In third place we have Universität Hamburg, which offers high-quality training in psychology. Many other universities in Germany also run excellent degree courses for aspiring psychotherapists, however. 
Step 2: A licence to practise 
Budding therapists can conclude their three-year bachelor's and two-year master's degrees by taking an exam in psychotherapy. Once they have passed this exam, the state will grant them a licence to practise as a psychotherapist. 
Step 3: Further training 
Further training begins after graduation: Before they can properly embark on their careers, aspiring psychotherapists first have to complete a course of further training in inpatient or outpatient facilities. This further training takes five years and can be done in three specialist areas: Psychotherapy for adults, psychotherapy for children and young adults, neuropsychological therapy. At the end of their further training, therapists have to take an oral exam. It takes roughly 30 minutes and the examiner comes from the local chamber of psychotherapists.