A German centre
Kassel is perhaps the most famous of Germany's lesser known cities. Discover the unrecognized beauty of the documenta city.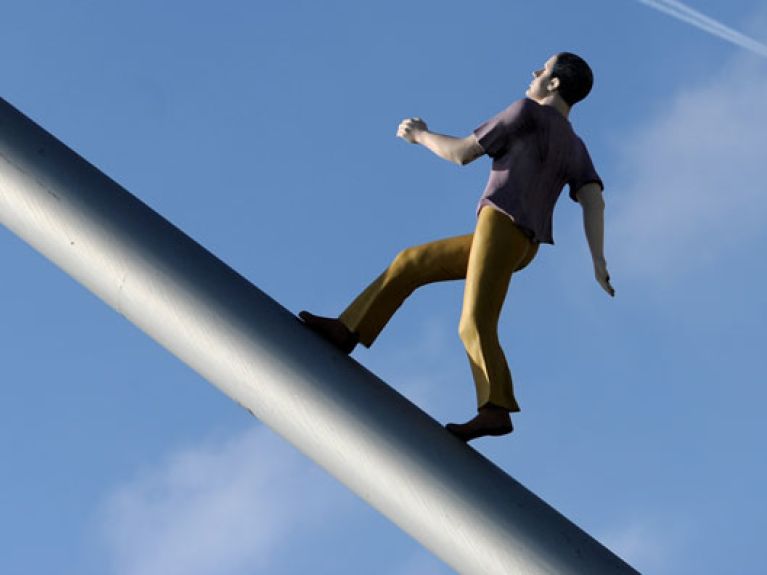 Kassel has made such a difference to so many and in so many fields worldwide that it really ought to be famous. But then again who takes any notice of where locomotives, rail carriages, passenger boarding bridges, baggage carts, axles or high-speed trains are made? Kassel has delivered plenty of these all round the world since that time in the 19th century when a journeyman bell-caster by the name of Christian Carl Henschel founded a business here that later put the "dragon" on the tracks of progress. A century and a half later, the 33,333rd Henschel locomotive left the city, and it has long since had a competitor also "Made in Kassel". The Chinese, for example, have never travelled faster on land than in the Transrapid, a train also constructed in Kassel.
This small city with 195,000 inhabitants really ought to inspire engineers, explorers, inventors and surveyors not only of heaven and earth, but also of time. For it was here in this community, which was first officially mentioned in a document in the year 913, that the first permanent observatory in Europe was erected on the roof of a palace – in 1560, roughly one century before Greenwich. It was here in Kassel that the accurate measurement of a second was made possible for the first time. Jost Bürgi, who had emigrated from Switzerland, began to build planet and globe clockworks and conceive logarithms here in 1588. In front of Kassel's Ottoneum, which by the way is the first permanent theatre building in Germany (and is still standing), Denis Papin, from France, presented the first steam pressure pump with pistons – hence taking the first step towards the steam engine which was to revolutionize European industry. Here, street lamps radiated so early and in such large numbers that even Germany's top judge of culture, Goethe, was impressed. Later, a certain Robert Wilhelm Bunsen taught in this city, at the Polytechnikum. And Rudolf Diesel first introduced a larger circle of experts to a new motor: the Diesel engine. That was in 1897.
And the friends of absolutism? They too ought to have enthused about Kassel – if they were tolerant enough to acknowledge anything besides Versailles. It was 1713 when, after four years of work, the goldsmith Johann Jakob Anthoni produced that colossal sheet-copper statue, 8.25 metres tall with a chest measuring five metres round, Hercules, set on the pyramid of a Palace of the Winds, a mighty octagon which to this very day sits majestically above the huge ancient trees in the Wilhelmshöhe Mountain Park. That ostentatious marble bath in the Orangery, with which French sculptor Pierre Etienne Monnot sought to appeal to Landgrave Karl's desire for hygiene, dates from 1728. And the Museum Fridericianum, the first museum on the European continent that was accessible to the general public, was completed in 1779 – not even the Louvre had taken shape at that time.
Did bourgeois Kassel pall by comparison? Not really. Dorothea Pierson, for example, was born here in 1755. It was she who provided the world-famous Grimm brothers with 30 folk-tales. This was not the only reason why the Grimms spent their most productive period in Kassel. Philipp Scheidemann, who proclaimed the Republic in Berlin in 1918, received his socialization in Kassel. And the city was also considered as a possible political capital of the Federal Republic, only to lose out to Bonn. A secret committee of financial experts and lawyers prepared the introduction of the Deutschmark here in 1948. In 1970 Federal Chancellor Willy Brandt and GDR Minister President Willi Stoph met here for inner-German talks that were as legendary as they were delicate.
But we have gone too far. For the first paragraph of this brief history was also the reason for a caesura after which, for decades, it was difficult for Kassel to regain its profile. The monstrous crimes of fascism weighed particularly hard on those cities that had supplied the machinery for National Socialist megalomania. And Kassel, the city of machines, the city where locomotives became tanks and the aircraft pioneer Fieseler became a missile producer, was hit more than most other cities in Germany. Forty allied bombing raids, the worst of them in October 1943, wiped out 80% of the city, including all its medieval parts. And when it was over, Kassel was an expanse of ruins, and later found that it had shifted from the centre to the periphery of Germany, close to that border zone, or "Zonengrenze", behind which the semi-global empire of Communism began. It had become a Diaspora, marginal, the far northern tip of the State of Hesse, in the south of which Kassel was regarded as "Hessian Siberia".
The period after the Second World War weakened Kassel's self-confidence for decades. And for a long time people both outside and inside the country were unaware of what an interesting Gesamt­kunstwerk Kassel still was, an amalgamation of destroyed history, defiance, longing and hope in spite of it all, and albeit with a number of blemishes which on closer observation were not necessarily defects, more evidence of contemporary witness, an intriguing urban-planning narrative, a exciting ambivalence. Today? Anyone who likes supple forms, moderate vibrations, can experience Kassel as a kind of allegro by merely approaching it, from whatever side. There are the sloping hills, large forests, not gloomy, just green. Then the entrance by way of the rough-and-ready side of an industrial and trading history which is always slightly melancholic because faded. What then follows, in the centre of the city, is a great freedom: openness, air, unimpeded vistas, no pomp, obtrusiveness or swank. And much more of the 1,100 years of history has survived than would appear at first sight. Nevertheless, Kassel is no Heidelberg, no silver platter from which to help yourself, no syrupy Rothenburg ob der Tauber.
Why Kassel? Transportation policy-makers will point out that for the past two decades this city has again been located in the centre of Germany, at an important "T" junction in the autobahn network, soon to become an "X" junction. And thanks to the high-speed ICE trains, it is connected with Frankfurt am Main to the south and Hanover to the north almost as closely as any other large city elsewhere in the country. In Kassel's City Hall people are happy about global companies like Wintershall and K+S, the large Volkswagen plant nearby, the lowest unemployment rate for decades, the sensationally positive development of business tax revenues – and particularly about the trend, spurred not least by more than 20,000 students, towards making the city a centre for the technologies of the future. SMA Solar Technology alone provides 6,000 jobs, and a Fraunhofer Institute, a centre for nanotechnology research, is also based here.
So things finally seem to be looking up for the city's economic substructure – and having an impact on its cultural superstructure, which always arched impressively over Kassel, sometimes perhaps even reaching such heights that there ceased to be any link between the two. In November 2011, the New Gallery with its new aesthetic, opened at the Schöne Aussicht (which does justice to its name), re-invigorating Classical Modernism, German Impressionism and Joseph Beuys. The reopening of the Grimm Brothers Museum in the Palais Bellevue is scheduled for January 2012. A Museum of Industrial History has been thriving since 2000. At the gate to Wilhelmshöher Allee, the six-kilometre-long central avenue that looks towards Hercules, modernization work is currently in progress on the Murhardsche Library, which has a valuable collection of manuscripts. And further on, where the Wilhelmshöhe district has been allowed to call itself Wilhelms­höhe Health Resort thanks to its saltwater springs, the jewel of this city is being particularly highly polished. The State of Hesse is investing no less than 200 million euros in the Museum Landscape Kassel, a unique European cultural landscape in the so-called Mountain Park, which covers an area of 550 hectares.
In the palace, once the domicile of Jérôme Bonaparte and summer residence of German emperors, visitors will find an Antiquities Collection and Dutch Masters from Rembrandt to Hals. The Löwenburg offers neo-gothic chivalric romanticism. In between, there are the Mercury Temple and the Hermitage of Socrates, the Apollo Temple and the Sibylle Grotto, the Rose Island laid out as early as 1790, the Ballroom House built in 1810 and the filigree metal-glass structure of the conservatory building that has stood here since 1822. And every summer the dream of Landgrave Karl comes true. Mesmerized by a trip to Italy, he envisaged a festive mise-en-scène of "water images". It is set in motion 550 metres above sea-level, runs through grottos and basins, pours over cascades, flows through pools, is guided across aqueducts, and culminates in a 52-metres-high fountain. A late 18th century water display powered by natural pressure.
The people of Kassel are hoping that in 2013 all of this will receive a seal which will garner more attention for the city in the northern Hessian mountain region, perhaps even in global metro­polises. For in 2013, this magnificent mezzanine at the feet of Hercules is to be recognized by UNESCO as part of the world cultural heritage.
Were a marketing specialist to read this city portrait, he or she would long since have become quite impatient. For where is the reference to what people associate with Kassel who otherwise know very little about the place? It is after all part of the municipality's official name – Kassel, the documenta city! The world's most important exhibition of contemporary art takes place in Kassel, where it has been held every five years since 1955 - for the 13th time in 2012. It lasts 100 days and welcomed 750,000 visitors last time. 100 days of reasoning, minor revolutions and pointed summaries, retrospective and avant-garde, debate and delight and wonder, the lightness of being and the tribulation of complex global ideas, right here, on this one geographical point. 100 days during which, since 1955, this city has been able to deeply inhale the air of internationality, until it again ran out of breath and had to sigh a little in its feeling of abandonment. However, it is becoming increasingly evident that documenta is no longer all that there is to say about Kassel. And there could hardly be better news than that for this bright city in the centre of the vast German forests.
Peter-Matthias Gaede is editor-in-chief of GEO, the German educational magazine, and holder of the Egon-Erwin-Kisch Prize. He has close ties with Kassel, where he spent his school years and gained his first experience as a journalist at the Kassel Studio of Hessischer Rundfunk.