Discover Germany: Football stadiums
The "Discover Germany" series takes readers on a trip around Germany – this time to football museums in Bundesliga stadiums.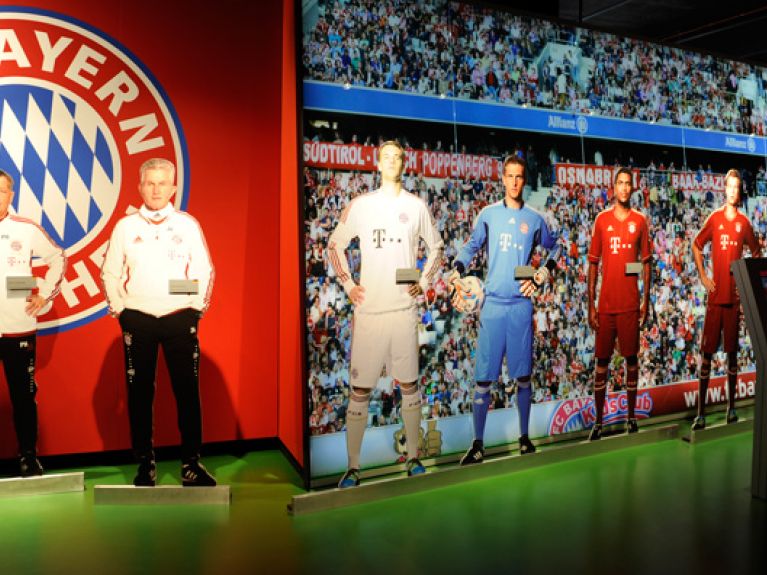 In the land of the World Cup champions, fans are eagerly awaiting the start of the new Bundesliga season. Some of the stadiums have their own museums that fans can visit after the match. Here is a selection.
Dual attraction in Munich
A visit to the club with the most titles to its name is a must on any football tour of Germany: World cup winners Manuel Neuer, Thomas Müller, Philipp Lahm, Mario Götze, Jérôme Boateng and Bastian Schweinsteiger all play for Bayern Munich. The Allianz Arena offers a combination of football treats: The tour of the stadium offers a look behind the scenes. And in Germany's biggest club museum, the FC Bayern Erlebniswelt, visitors travel through time, form the club's beginnings to the historic triple in 2013.
An evening in the Frankfurt stadium
It has been a while since Eintracht Frankfurt last won a title, but in the city on the banks of the River Main people are passionate about football. And that is palpable in the Eintracht Museum in the Commerzbank Arena. Here, close to Frankfurt Airport and the headquarters of the German Football Association (DFB), committed fans and museum experts come up with very special football experiences. On Fridays they organise an "Evening in the Museum and Stadium", and on the guided tour the view of the Frankfurt skyline at night is for free.
www.eintracht-frankfurt-museum.de
Football history in Dortmund
The German Football Museum in central Dortmund is still under construction, and is due to open in 2015. But the stadium alone is well worth a visit; home to Borussia Dortmund, it is the largest in the Bundesliga. Located in the north-eastern corner of "Westfalenstadion", which nowadays is known as Signal Iduna Park, the Borusseum offers an insight into the history of "BVB". It is not like other museums, though: In the Karaoke box visitors can join in singing the fans' songs.
German football route in North Rhine-Westphalia
Extending for more than 500 kilometres, the German Football Route NRW features attractions in North Rhine-Westphalia combined with frequently surprising references to football. The holiday route links 15 towns and cities from Aachen to Bielefeld, whose long-standing clubs have come to be well-known nationally and internationally. The tour to the roots of German football can be taken by bicycle or car.
The new Bundesliga season kicks off on 22 August, 2014