Entdecke DE: The Maars
The "Entdecke DE" series takes you on a tour through Germany, this time to the unique natural landscape of the Volcanic Eifel.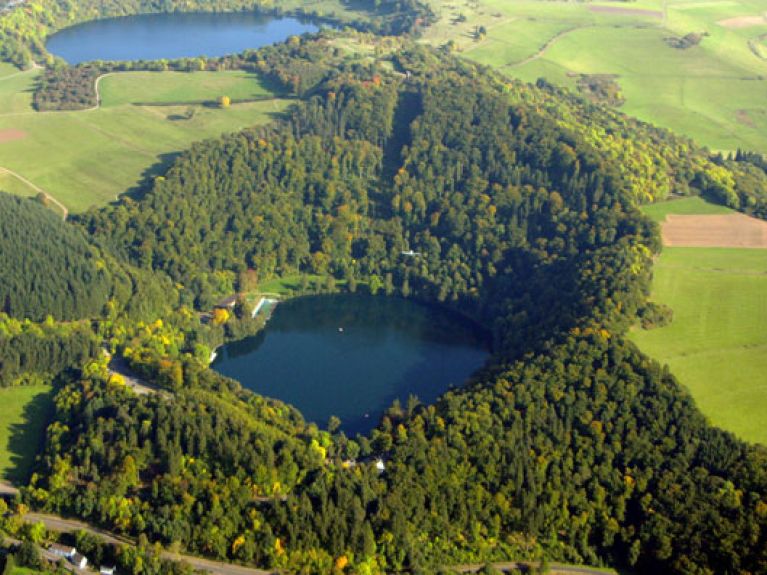 At first glance, the lake looks tranquil. Deep blue water, surrounded by lush green forests. But on a closer look, it is bubbling. Carbon dioxide, hydrogen sulphide and helium are creating movements on the surface. These natural whirlpools that are typical of maars are called mofettes. The maars, or crater lakes, are usually funnel-shaped hollows of volcanic origin. They developed as result of steam explosions when hot magma encountered groundwater. Over very many millennia a unique natural landscape evolved in the Eifel, with craters, springs and forests.
Swimming, walking, biking
The writer Clara Viebig once called the unfathomable waters "the blue eyes of the Eifel". Nowadays, the maars are popular destinations for outings. The towns of Daun and Manderscheid lie close to one of the oldest known maars, the 44-million-year-old Eckfelder Maar, and form the centre of this landscape. There is a total of 75 maars in this area, but only ten are still filled with water. Four of these are ideal for swimming, for instance the Pulvermaar near Gillenfeld.
If you decide to visit the maars in the Eifel either on foot or by bike, you might like to do a five-crater tour. The trail takes you past the Gemündener Maar, the Weinfelder Maar, the Schalkenmehrener Maar, the Windsborn Crater and the Meerfelder Maar, the largest volcanic crater lake in the region with a diameter of about 1.7 kilometres and a depth of 400 metres.
In addition to the extensive natural landscape in the Eifel, there are a number of other maars in Germany. The Messel Pit in Hessen is famous for its fossils and is a recognized UNESCO World Heritage site. It was originally a maar as well. Volcanic activity has also left its marks on the Swabian Alb, for instance the Randecker Maar measuring 1.2 kilometres in diameter, where fossils from a sub-tropical lake region have been found.