The renaturation of the Emscher
The renaturation of the Emscher river landscape is one of the biggest infrastructure projects in Europe.
15.04.2014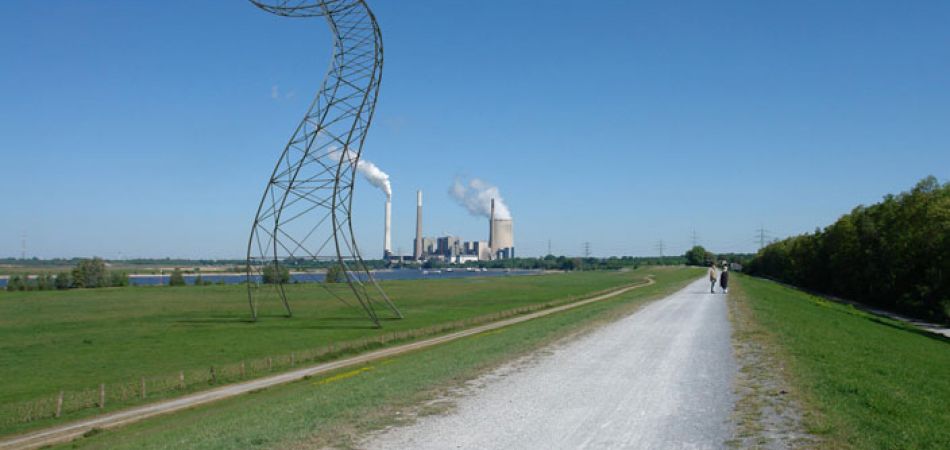 A project for a whole generation: for more than 100 years the River Emscher served as the Ruhr area's sewer. Coal mining and the subsidences it caused made it impossible to install an underground sewage system in this industrial region. While the name-giving River Ruhr was the coal-mining region's "artery", supplying it with fresh water, the largely unknown Emscher served as its "vein". Not until the demise of coal mining did a change in thinking begin. In the early 1990s, the region decided on the construction of a huge underground sewer along the Emscher and on the renaturation of the river itself. The 4.5 billion euro project is scheduled for completion in 2020.
Significant progress has been made in the meantime. The construction of local sewage-treatment plants has been completed. The main drain of the Emscher sewage canal is under construction. This will be the most modern sewage system in the world and run for 73 kilometres from Dortmund to where the Emscher joins the Rhine. The catchment area with its canals covers a total of 430 square kilometres with 1.8 million people.
The river and the landscape have also recovered. Fish have been spotted again; nature is reconquering her territory. The International Building Exhibition Emscher Park, held from 1989 to 1999, generated important ideas and initiatives and helped the region gain a new sense of identity. This spawned the Landscape Park North in Duisburg, the cultural use of the Gasometer in Oberhausen, regular events like ExtraSchicht and the Ruhr Triennial, and Ruhr.2010 – European Capital of Culture. The success has been made visible by the Emscherkunst exhibition in which totally overgrown, derelict land, former industrial sites and the no-man's-land between the Emscher and Rhine-Herne Canal became a stage for international artists. Today, many works of art still stand along the river like landmarks of the exhibition, e.g. Tobias Rehberger's pedestrian bridge "Slinky Springs to Fame" across the Rhine-Herne Canal in Oberhausen.
P.S.: By the way, the best way to experience the transformation is to cycle along the well-paved Emscher Park Cycle Path, part of the Route of Industrial Heritage.
International Earth Day on the theme of "Rivers as Lifelines", 22 April 2014