"Exhibitions, concerts, books – right now!"
Kateryna Rietz-Rakul, director of the new Ukrainian Institute in Berlin, on cultural exchange in times of war and her work in Germany.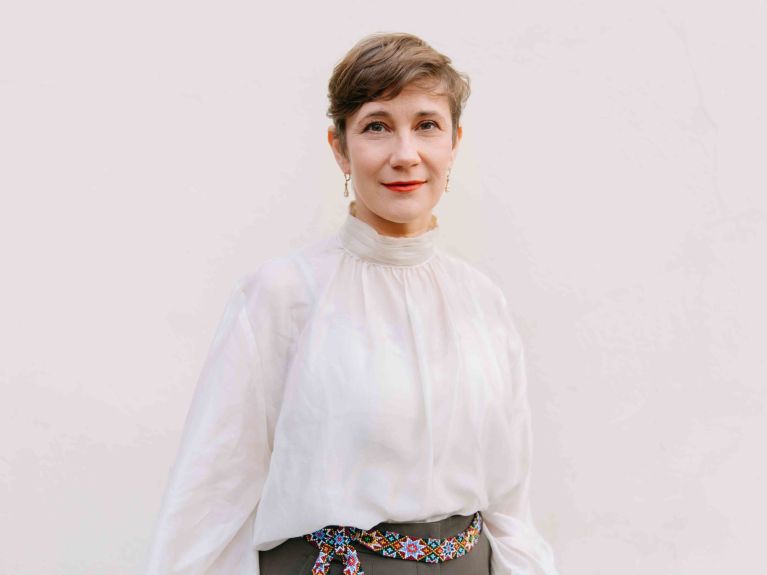 A centre for Ukrainian culture in Germany: the Ukrainian Institute aims to promote the country's culture internationally. In 2017, the Ukrainian Cabinet of Ministers passed a resolution to open the institute's headquarters in Kyiv – and its first foreign branch was opened in Berlin at the end of March 2023. The Berlin branch is run by cultural manager, translator and author Kateryna Rietz-Rakul.
Ms Rietz-Rakul, how are your colleagues in Ukraine doing at the moment, with the war raging back home?
Family members of some of our colleagues in Kyiv are at the front. That's the way it is for a lot of people in the arts and sciences, but people keep going nonetheless. They work online, which worked well in the pandemic, too. At first everyone used to rush down to the basement during air raids. But now they're experienced and they have apps that provide more detail: when missiles come from the Caspian Sea, they fly for an hour to Kyiv. Then they know that they've got at least another 40 minutes. If the app says that the Russian missiles are going to strike nearby, they head straight for the basement. In this tense situation, everyone longs for culture – both artists and audiences. They want exhibitions, discussions, concerts – right now!
Your foreign branch office is supported by the Goethe-Institut and the Open Society Foundations established by George Soros. You and your three staff members currently have your premises at Kunsthaus ACUD in Berlin. What do you see as your tasks?
We want to show that Ukraine, its culture and its language are independent and not part of Russia, as Russian propaganda would have everyone believe. There's a lot of demand in Germany: we create programmes to accompany exhibitions at the Albertinum in Dresden and Museum Ludwig in Cologne. There's music, films, video art, talks with artists, panel discussions. All of this is very well researched and offers the audience wide-ranging explanations. We also took part in the Berlin Theatertreffen, and this year we've got the Darmstadt Jazz Forum coming up, as well as the Frankfurt Book Fair and lots of other events.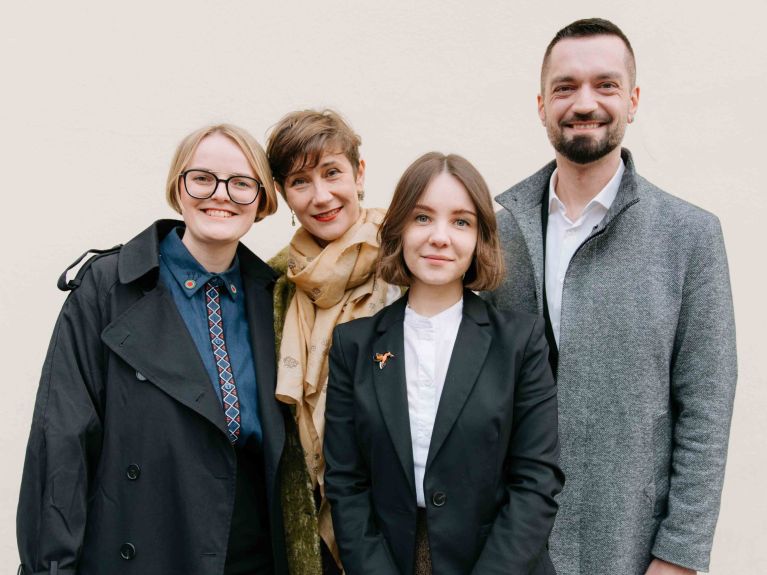 Which novels by Ukrainian authors published in German would you particularly recommend to German readers?
Der Papierjunge [The Paper Boy] by Sofia Andrukhovych, where the plot is set in Galicia around 1900. There's also Blauwal der Erinnerung [Blue Whale of Memory] by Tanya Malyarchuk about the Ukrainian folk hero Vyacheslav Lypynsky and Internat [Boarding School] by Serhij Zhadan, which is also about the war in the Donetsk and Luhansk regions. Art reflects our past, our present, our future – it's our lifeblood.
The German Wehrmacht murdered countless people in Ukraine during the Second World War. What do your compatriots have to say about the fact that you're setting up your first foreign branch in Berlin of all places?
Germany critically re-appraises its past – unlike Russia, where hardly anything is done to commemorate the victims of Stalinism. Today, Germany is not an enemy, it is our key partner – not just in terms of our desire for integration in the European Union, but also given our need for military support and reconstruction in the future. Nothing happens in the EU without Germany. Unlike in Poland and the Baltic states, however, there is a need for some explanation here: Ukraine is perceived by a lot of Germans as being part of Russia. You have to provide them with a new perspective on Russia as well so that they're able to see the country for what it is: an imperial state that is waging a lot of wars, not only against Ukraine. Incidentally, the Ukrainian Institute once published a study on how Ukrainian history of the 20th century was presented in German history books. The conclusion was that it is virtually non-existent.
Instead, Germany has lots of monuments, commemorating the victory of the Soviet Union over Nazi Germany in the Second World War. How do you view this?
There's a lot about these monuments that seems to me to be one-sided or even historically wrong. It is said that the war began on 22 June 1941, when Hitler invaded the Soviet Union. But the Second World War began earlier than that – in 1939, when the Germans invaded Poland, with the Soviet Union occupying the east of the country shortly afterwards. Stalin was Hitler's ally up until 1941. I'm aware that Germany is obliged by treaty to preserve these monuments. But museum education today has ways of commenting on such details and able to provide background on the role of Ukrainians and other Eastern European peoples who suffered under Stalin's regime.
Are there already plans to establish the next foreign branch of the Ukrainian Institute?
Yes, there are. A branch is to be established in Paris before the end of this year. It'll be a major challenge, however. The Ukrainian Institute in Kyiv is co-financed by our Foreign Ministry. But at a time when Ukrainian money is spent mainly on survival and protecting cultural assets in the country, we need allies and support for our projects abroad.