"My children began to smile again"
How are Ukrainian refugees in Germany faring? We spoke to three women who came here with their children.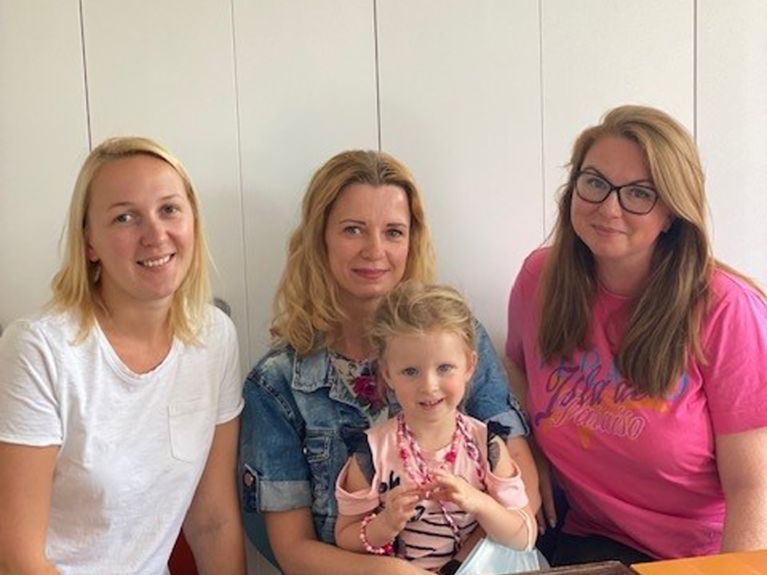 Viktoriya, Elena and Ellina fled Ukraine with their children due to Russia's war of aggression. They found support at Mädchenbüro Milena in Frankfurt, an institution which helps refugee girls and women integrate into German society.
Viktoriya: I fled to Frankfurt with a friend and my children, we arrived in March. We are from Lutsk and it took us two days to reach Warsaw where they gave us shelter and food and helped us get tickets to Frankfurt. My children go to school here. I'm taking German classes. There are many papers to fill in. Even though my children miss their grandparents and their toys, they at least get to see new places and meet new people and have the opportunity to learn a foreign language. What makes me happy is the feeling that my children and I are safe here. I'm very grateful to the German government and to the Mädchenbüro Milena for all the support and I hope the war ends as soon as possible.
Elena: I'm from Mariupol. I'm here with my three children and my husband. We left by car when Mariupol was under fire. It took us seven days to come to Germany. We arrived at the end of March. My children only recently began to smile again which makes me very happy. In Mariupol, we did not have anything to eat when we left. Here, we don't have to worry about food, water and shelter. We're living in a hotel at the moment. Our home in Ukraine has been destroyed, we don't have any place to come home to. So my short-term hope is to learn German and adjust to life here. One of my children is disabled. I'm very grateful because I receive a lot of help to integrate him here. But I would like to contribute something, too. I would like to find a job and a flat and support my family.
Ellina: I'm from Odessa and I'm here with my daughter and two cats. It took us about two days to get out of Odessa and cross the border to Moldovia. Then we decided to go to Germany because it seemed safe. We came here in mid-March. I'm happy my daughter started going to school here. She says people are very friendly. I'm glad she feels safe now despite the homesickness. Lots of Ukrainian women need psychological help but sometimes it's difficult to admit that. Since I'm a psychologist, I offer counselling to fellow refugees from Ukraine. Most of us are very well educated and would like to work. I hope that we get opportunities to do so. Everyone hopes for peace but it is a time of much uncertainty, not only for Ukrainians. This war impacts the whole world.
You would like to receive regular information about Germany? Subscribe here: