Understanding people and where they come from
A keen eye: Andreas Teichmann is a photographer who has hiked across Germany from west to east. He observed surprising things on his walk.
Germany. One thousand kilometres in fifty days, walking through green forests, fields, small towns and large conurbations. For his project Through Germany: Understanding and Being Understood – That Is Home, photographer Andreas Teichmann hiked his way through familiar and new worlds of experience, had many discussions – and gained surprising insights. He recorded encounters and landscapes in photographs and documented them in a blog.
Mr Teichmann, you hiked across Germany from Aachen in the west to Zittau in the east during the critical phase of the election campaign and arrived at your destination on the day of the Bundestag election. Did that influence your view?
Andreas Teichmann: The Bundestag election was not an immediate reason for my journey, but the election campaign made itself felt above all during the final weeks and days before the election. My motive for the tour was different: I went in search of traces of my homeland and at the same time wanted to get to know and understand other homelands, regions and biographies. During the tour I received a lot of encouragement for doing that. I live in the city where I was born, Essen, the Ruhr metropolis that over the decades has evolved from a coal and steel town into European Green Capital in 2017. This change has also left a mark on the people here. For me it is a source of creativity and a reason to constantly accept new things. Many different people and cultures live together peacefully here in a relatively small area. That is another reason why the Ruhr district is the place where I enjoy living with my family.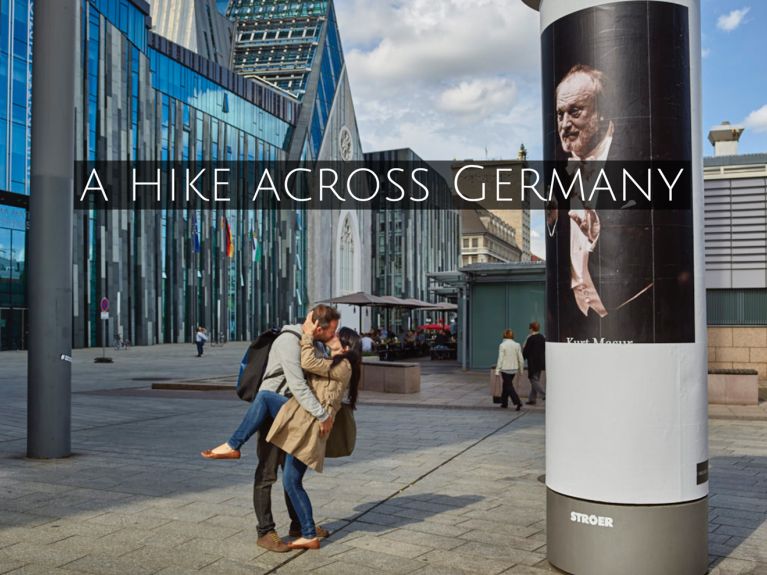 She crossed North Rhine-Westphalia, Hesse, Thuringia, Saxony-Anhalt and Saxony. How does Germany change as you move from west to east?
The breadth of the west-east axis is incredibly fascinating. I was also impressed by the landscape: very few areas are industrialised in this region, which I hardly knew before. Sometimes I hiked for hours through the forest without meeting anyone. In the east, however, there were an amazingly large number of mushroom pickers out and about. I gained the impression that self-sufficiency, for example through the cultivation of fruit and vegetables, plays a greater role in the east than it does in North Rhine-Westphalia, for example.
Why did you cover this distance on foot?
As a result of my work as a photographer I have always travelled a lot, both nationally and internationally. I have mainly travelled in larger cities, and always by car. But while I was a teenager I already dreamed of exploring Germany on foot. The perspective of the hiker, someone who puts one foot in front of the other and feels every metre, is special. As a walker I found it much easier to strike up conversations with people.
You write about these encounters in your blog.
Yes, I simply approached people spontaneously and discovered that if you listen to them you sometimes hear incredible stories. People want to be noticed and respected in their personal surroundings. That's important to them – and is often missing in day-to-day political life. The diversity that Germany presents not only in its landscape but also in the habitus of its people was an enriching experience for me.
Interview: Christina Pfänder