Fragile Beauty
The world-famous ancient city of Bagan, Myanmar was set to gain World Heritage status when it was badly damaged by an earthquake. German experts are now helping mitigate...
Bagan's application for inclusion in the UNESCO World Heritage list had already been processed when in summer 2016 an earthquake measuring 6.8 on the Richter scale rocked the former royal city in Myanmar. Almost 400 of the 2,000-plus temples were damaged, while some were in danger of collapsing and needed urgent structural work to shore them up. Hopes of gaining the status of a World Heritage site and the prestige involved were initially dashed.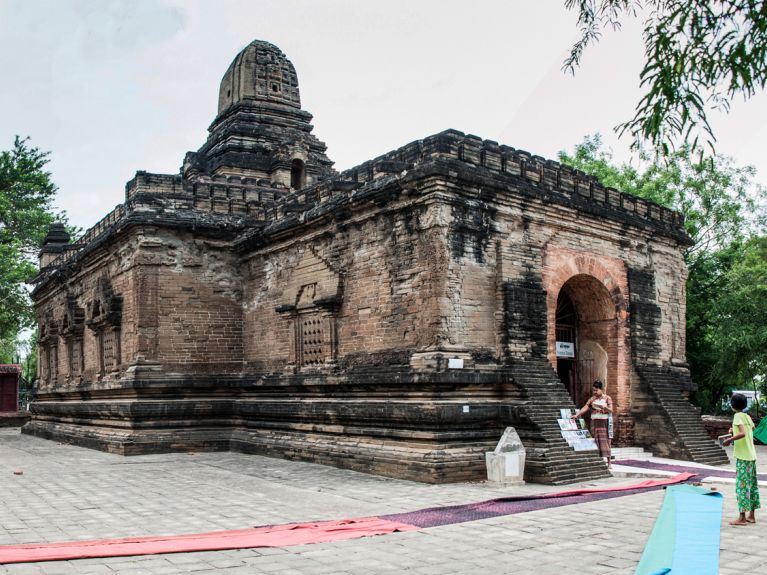 Six months later, at the first international conference after the earthquake, local authorities and international experts discussed conservation and restoration measures. Then in 2017 the Cultural Preservation Programme of the Federal Foreign Office teamed up with the Ministry of Religious Affairs and Culture of the Republic of the Union of Myanmar to develop two specific projects: one to preserve murals and another to conserve stone temples. Trained restorer Andrea Teufel of the Society for the Preservation of Cultural Heritage is in charge of the German effort to conserve the murals. Conservation expert Professor Hans Leisen and his wife Dr. Esther von Plehwe-Leisen are responsible for restoring the temples.
"There are only a few stone temples in Bagan," says Leisen. "At the express wish of Myanmar's Office for Monument Protection we have taken on the conservation of the Nan-hpaya Temple. Our aim is to train skilled local people to become stone restorers." The Leisens make the ideal partners. They have both already made a name for themselves as "temple doctors" in Angkor (Cambodia) and Ayutthaya (Thailand). And restorers they themselves trained in Cambodia are now working alongside the couple in the Myanmar team.
However, the work is proving more difficult than expected. "The damage is dramatic, the quality of the stone poor," says Leisen. Three times a year he and his wife spend roughly a month in Myanmar. Once he narrowly avoiding being hit by a falling gargoyle. Then it turned out that large blocks of stone in the entablature were in danger of collapsing. And what makes the work all the more difficult is that Buddhist belief that dictates shoes must be removed when working in the temple.
"There are always new surprises," says Leisen, but he does not let himself be side-tracked. First the damage is inspected and documented and then conservation methods and materials are developed. The team is currently engaged with the composition of the stone. "The sandstone is different than in Cambodia," says Leisen. Which is why he can't say exactly how long the work will take. He is back in Myanmar in July. At around this time the World Heritage Committee will also meet in Baku (Azerbaijan to decide on new additions to the World Heritage list.
You would like to receive regular information about Germany? Subscribe here: