Africa GreenTec: the bringers of light
Solar energy for remote regions in Africa: Aida and Torsten Schreiber supply green power to villages on the sunny continent with Africa GreenTec.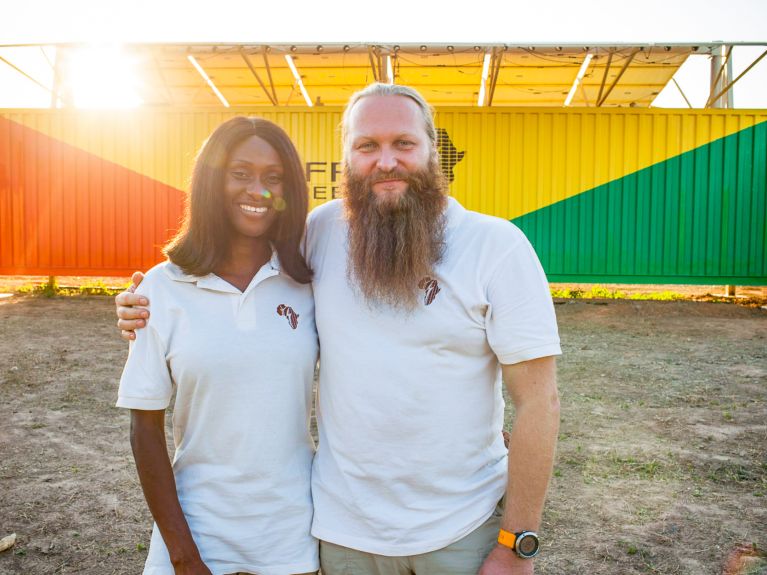 People who want to contribute to the energy transformation in response to the climate crisis: we introduce individuals whose ideals and commitment are driving the expansion of renewable energies in Germany and around the world.
Torsten Schreiber vividly remembers the day that changed his life. In 2014, he visited Mali's biggest diesel power plant together with his wife Aida. The two were there for a green crowd-investing platform co-founded by Schreiber. The diesel power plant was shaking and roaring, with oil splashing all over the place. And it wasn't particularly efficient either, as Schreiber recalls: "It guzzled 170,000 litres of diesel – per day." The visit to the power plant was a formative experience for him. It was on that day almost ten years ago that Torsten Schreiber decided to take action.
Whether big power plants or small-scale generators: electricity produced by means of diesel is responsible for the emission of large quantities of greenhouse gases worldwide, harming both the environment and people's health. Diesel generators are responsible for the supply of electric power in many rural regions of Africa. And in some areas there is no electricity at all. According to the United Nations, some 600 million people in Africa live without electricity – almost half of the continent's population.
Africa GreenTec sets up digital power grids for African villages
Schreiber wanted to change this situation – and drive forward the energy transition in Africa. "We need to take the high tech we have in Germany and Europe based on solar energy, biomass and biogas and make it available in Africa so as to help people by investing in their economy. By doing this, we will have a chance not only of maintaining global emissions but perhaps even of reducing them in the long term. This can only be done collaboratively between the global north and the global south," explains Schreiber.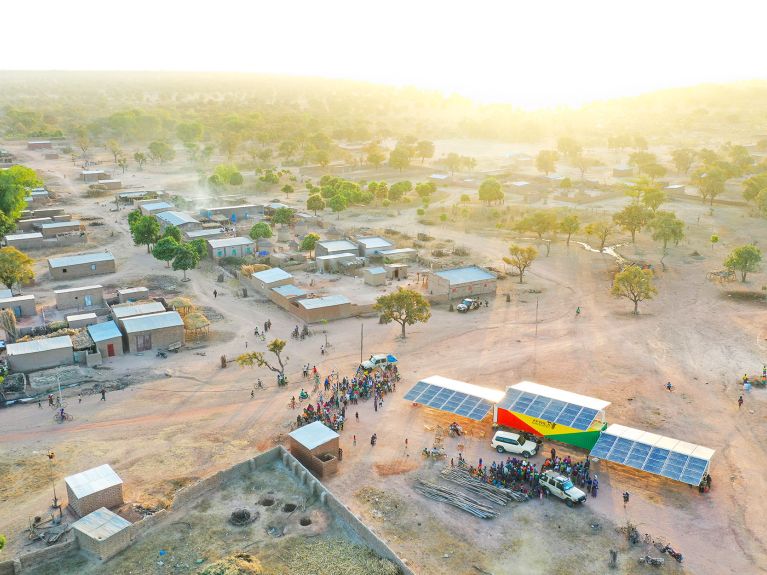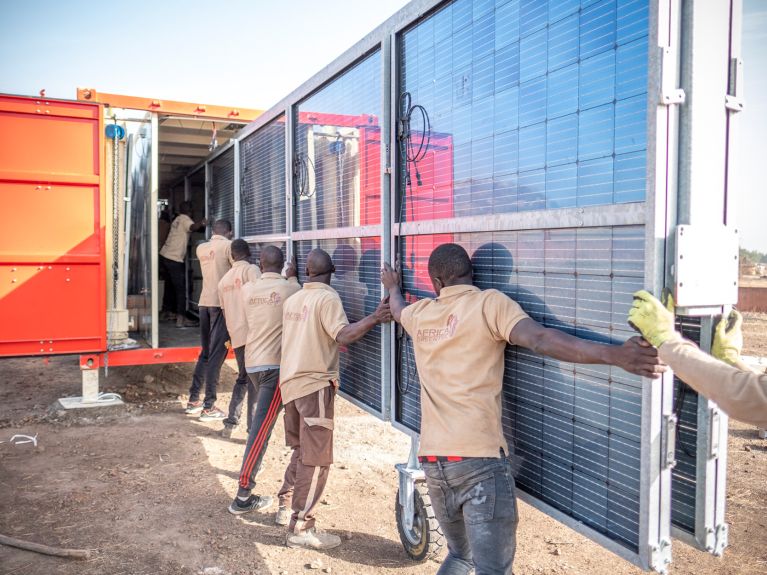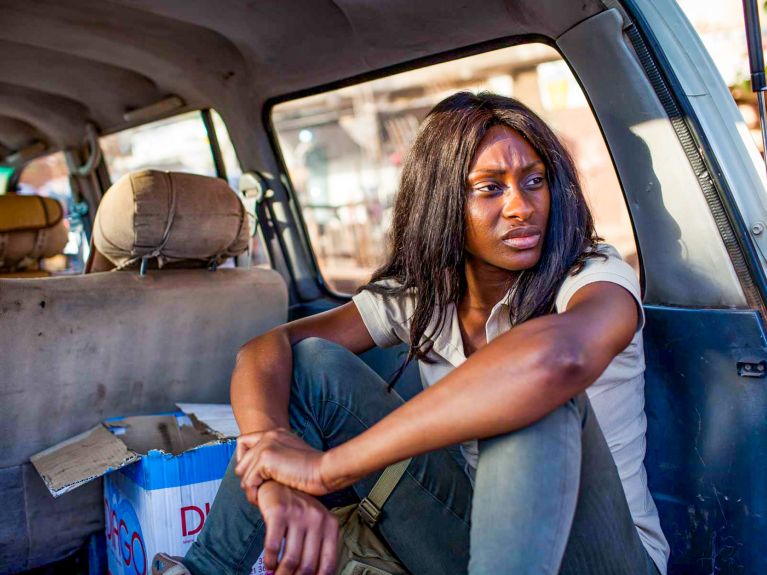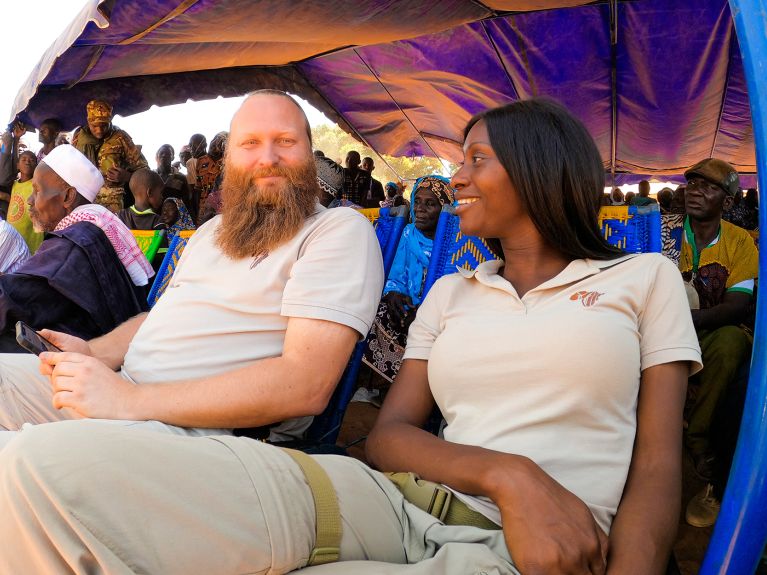 "Solartainer" is the name of the facility developed by Torsten Schreiber and his wife Aida
Together with his Malian-born wife Aida, he had the idea of bringing solar power plants to remote villages in the Sahel. "Solartainer" is the name of the system they have developed. These can be set up in just 48 hours and supply entire villages with clean electric power. This is a big change for residents: sometimes for the first time in their lives, they have a reliable source of light and access to clean drinking water; they are able to irrigate their fields, cool their crops and use the internet. The "Solartainers" provide a modern power supply infrastructure: the electricity generated in the village is intelligently distributed, controlled, monitored and billed via a digital power grid that uses smart meter technology.
New earning opportunities through solar power plants
It's not just the lives of Torsten and Aida Schreiber that changed fundamentally when they founded their solar company Africa GreenTec. The possibility of supplying remote areas with clean electricity opens up new perspectives for lots of people. One of them is Diessira Diallo, a kiosk owner in the Malian town of Djioloba. "During the rainy and harvest season, I hardly have any customers during the day. With electric power and light, I can open my shop in the evening, too" she says. With the help of Africa GreenTec, she also bought a refrigerator – so she can now keep her food products for longer. "My shop has become a meeting place for the village and my income has multiplied! Now I can feed more than 60 people in my family," she says.
Aida Schreiber feels it is particularly important to support women in the villages: "Most of our customers are women. We support them over an extended period of time and we notice again and again what big changes we're able to bring about with limited resources and how quickly progress can be made in education, for example. That's something I find particularly satisfying," she says.
Africa GreenTec makes use of crowdfunding
But how does Africa GreenTec work in terms of the idea and the business model? The company sells its Solartainers, which cost around 150,000 euros, and the electricity they generate to a village community. Where purchasing power is still lacking, AGT establishes a local operating company that pre-finances the purchase and resells the electricity. The company secures part of its finance through crowdfunding, in which anyone can participate. The product is assembled by the company's employees, most of whom live in the countries where Africa GreenTec is active. In addition to Mali, these are currently Madagascar, Niger, Chad and Senegal. And in the villages where electric power is supplied, new jobs are created for people who take care of the power plants provided by this German-African social enterprise.
Clean electric power for three million people supplied through miniature solar power plants
Since its inception, Africa GreenTec has electrified more than 20 villages, given more than 60,000 people access to clean, reliable and comparatively cheap electricity, avoided nearly 4,000 tonnes of carbon dioxide and supported almost 1,000 small entrepreneurs. Torsten and Aida Schreiber's goal in the medium term is to supply three million people in Africa with electricity, opening up new prospects for them and for the local economy.
Driving forward the energy transition in Africa
In the future, the idea is to relocate production and administration to Africa as well. For this purpose, AGT is building a new climate-neutral base in Dakar, the capital of Senegal. Torsten Schreiber emphasises how important cooperation across continental borders is and how much his wife and he are personally committed to the project: "If we want to advance the global energy transition, the main thing we need is an understanding of the different cultures and the situations in which the various regions find themselves. Countries in the global south have very different needs compared to countries that have progressed further in their development. Understanding, respect and the courage to really change things are required for the global energy transition to succeed."